Abra Church group gets fewer volunteers
By ARTHA KIRA PAREDES
BANGUED, Abra.—Although the police considered the elections in Abra "peaceful," volunteers for the church-based election watch group here have dwindled in number following reports of threats and intimidation of candidates and their armed followers before and during elections.
The number of volunteers has decreased compared to those in the previous years "because they are afraid," said Parish Pastoral Council for Responsible Voting (PPCRV) coordinator Fr.  Drexel Ramos.
A total of  547 people have signed up as PPCRV and NAMFREL (National Citizens' Movement for Free Elections) volunteers, but on election day, the town of Pidigan, Danglas, Lagayan, La Paz, Tineg, Lacub, Tayum and Bangued had either "very few or no PPCRV volunteers," Ramos said.
PPCRV is a "parish-based political but non-partisan lay movement established in 1991" while NAMFREL is the country's pioneer organization in election monitoring.
"We had difficulty recruiting, it was like nobody wanted to volunteer," Ramos said.
In previous elections, he said, many signified interest to volunteer, and immediately responded to announcements made in parishes and over the radio.
While it may be true that there are fewer instances of election-related violent incidents (ERVI) this year, he said instances of "intimidation" were frequently heard.
Jerson Turqueza, 37, who has started volunteering for PPCRV in 1995, also noticed that fewer volunteers were active during election day.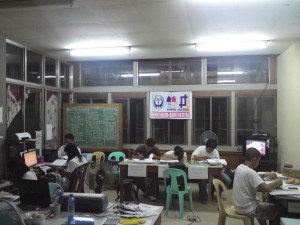 But aside from threats, Turqueza, who is also a member of the Concerned Citizens of Abra for Good Government (CCAGG), said this could be attributed to the fact that the process of voting changed from manual to automated.
Abra has been a consistent hotspot during elections because of reported killings of politicians and their followers. The Police Regional Office-Cordillera earlier released statistics showing reduced election-related violent incidents in Abra which totaled 14 in 2004, 17 in 2007 and only four in 2010.
This decline, however, did not stop the Commission on Election from placing Abra and several other provinces under its control on the evening of May 8.
On May 10, election day, Senior Superintendent Joseph Adnol, police provincial director, also said that  elections were "at least peaceful" based on index crimes.
While no shooting incidents or casualties were reported, citizens sent text messages to church-owned radio station DZPA Puso ti Abra (Heart of Abra) while voting was ongoing. The texts reported incidents that include a candidate slapping voters, private army members peeking through precincts dictating to people who they should vote for, goons sneaking guns inside clutch bags in voting places, and confrontations between candidates' relatives in voting areas.
Valerie Raoul, member of the People's International Observers' Mission (PIOM) group, which was based in Bangued on election day said they heard of "fraud and intimidation" while roaming several precincts in Bangued.
Two PIOM groups were in Abra for the elections; one was based in Bangued, while the other was in Malibcong town.
"There is a climate of intimidation," said the Canadian from the University of British Columbia, adding that the conflict was usually "within one family."
On the other hand, she said they observed that people cared and wanted to be able to make their votes count.
Despite fewer active volunteers, however, the church was still able to respond to reports of threats and intimidations through the roving "striking force" tasked to do election troubleshooting.
Bishop Leopoldo Jaucian, Ramos, CCAGG chairperson Pura Sumangil and NAMFREL volunteer and pioneer CCAGG member Carmelita Bersalona comprised the striking force. The team visited places where tension was reported but by the time they got to those places, the tension had already abated, Ramos said.