Always be responsible: challenge to media of increased public trust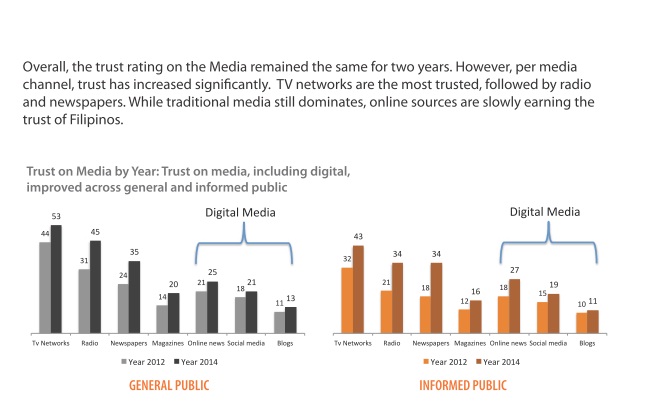 By ELLEN T. TORDESILLAS
THE PDAF and DAP scandals have a lot to do with the increase in the trust of the people on media, the decline of the same for the government and continued distrust for non-government organizations.
The 2014 Philippine Trust Index conducted by EON showed that media is third most trusted institution with 33 percent, up from 32 per cent last year. First is the Church, which includes not only Catholic Church but also other denominations, with 75 percent, up from last year's 68 percent.
Academe comes second with 53 percent, up from last year's 45 percent.
The least trusted institution is the government with 11 percent, down from 15 per cent last year, followed by NGO with 12 percent, the same as last year's.
EON conducted the survey from June through August this year when the media's headlines were on anomalous operations of pork barrel queen Janet Lim Napoles in connivance with senators and other elected officials.
The pork barrel expose was not triggered by a government investigation. In fact, government only took up the issue because of public outrage generated by the media expose.
The Napoles PDAF scandal gave a bad name to NGO which is unfortunate because there are NGOs that provide efficient service in areas where government service is inadequate.
The increase trust in media is a confidence booster much so because a few years ago a survey revealed that the public's trust on media was on the same level as they give members of Congress.
These days media is regarded by many as court of last resort, someone they run to when they become frustrated with government officials. This is unfortunate and unfair because media's role is to give information. It is not in a position to substitute government service.
The 2014 PTI showed that TV is the most common source of information for over 99 percent of the 1,626 respondents nationwide, followed by radio (60 percent). The internet-based media which includes social media and blogs have overtaken print media as source of information (over 40 percent).
The rise of online media as source of information for the public is both good and a matter of concern. Good because of the accessibility of information. Being informed is being empowered.
But empowerment comes only with being correctly informed.
How accurate are information sourced from social media, where speed, instead of accuracy, is the primary element? Where there is no standard discipline for verification of information?
The challenge of the increased public trust on media is to be more responsible. It is important for media to realize the importance of deserving that trust the public bestows on them.
As Junie del Mundo, EON chairman and CEO, said "The 3rd Philippine Trust Index clearly shows that trust-building is a never-ending process and commitment that all institutions should take seriously. "