Arroyo sons acquire U.S. homes, businesses after election to Congress
By ELLEN TORDESILLAS, AVIGAIL OLARTE, YVONNE CHUA and LUZ RIMBAN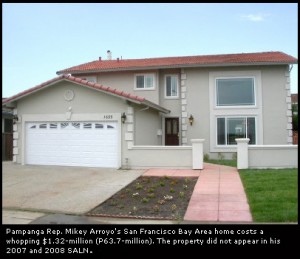 PRESIDENTIAL son and Pampanga Rep. Juan Miguel "Mikey" Arroyo has failed to declare in his Statement of Assets, Liabilities and Networth (SALN) for the last two years a $1.32 million or P63.7 million beachfront property in the San Francisco Bay Area in California, which he bought and then transferred to his wife Angela in 2006.
The house, located at 1655 Beach Park Blvd in Foster City in San Mateo County, is now up for sale, but does not appear in Mikey's 2007 and 2008 SALN.
Under the California Family Code, community ownership of a property acquired during marriage may be transferred or "transmuted" to one spouse by formal agreement. But even if Mikey relinquished to his wife any right to the property, guidelines for the filing of SALNs in the Philippines require public officials to declare property owned by their spouses.
The SALNs of both Mikey and his brother, Camarines Sur Rep. Diosdado Ignacio "Dato" Arroyo, show them both acquiring houses in the U.S., not to mention local business interests, after winning seats in Congress.
Dato and his wife Victoria Celina Manotok purchased a P26.7 million property in San Francisco barely a year after he won his congressional seat in 2007. Unlike Mikey, though, Dato declared ownership of the property in his SALN for 2008.
Mikey, the eldest of President Gloria Macapagal Arroyo's three children, did declare a "residential house" in the U.S. in his SALN for 2005 and 2006, during his first term as representative of Pampanga's second district. But he never reported the location of his U.S. property as required by filing guidelines.
The 2005 and 2006 disclosures do not say whether Mikey was referring to a single property or to two different houses. In 2005, he merely listed the acquisition value at P49.5 million in what he reported was an "installment sale." A year later, the value of the unspecified property was pegged at P63.7 million.
In his 2008 statement, Mikey did declare himself a "shareholder" in a company called Beach Way Park located on "Beach Park Blvd California," the same street where the Foster City property is located. Unlike his other business interests, he did not say when he acquired the shares in this company.
Mikey could not be reached despite repeated attempts by VERA Files to get his side by phone. He also did not reply to questions VERA Files texted several times to his two mobile phone numbers.
ABS-CBN quoted Mikey as saying he declared the San Francisco Bay Area property in his SALN but was waiting for his lawyer to return from Canada before he would issue an official statement.
He also issued a reaction to the Philippine Daily Inquirer:

Pampanga Representative Juan Miguel Arroyo insisted that he has been transparent in filing his Statement of Assets and Liabilities since he won a seat in Congress in 2004.

"I have declared everything I own in my SALN. It is self-explanatory," said Arroyo in a text message.

Arroyo suggested that those who had doubts should contact his lawyer who prepared it for him.

"If they still have doubts, they can sue me. I don't want to waste my time dealing with issues like this. There are far more important things to do such as helping the government find ways to lessen the impact of the global financial crisis," said Congressman Arroyo.
Mikey's houses
The house at 1655 Beach Park Blvd is a five-bedroom, three-bathroom, two-story house that sits on a 600-square-meter lot facing San Francisco Bay.
Data from the San Mateo County assessor's office show that Mikey transferred and registered the house under the name of his wife, Angela Arroyo Montenegro, in August 2006 in what is called an "interfamily transfer."
The Arroyos paid $1,452 in taxes when they bought the Foster City property in 2006. Last year, they paid $14,239 or P692,000 in property taxes.
Arroyo, 40, wed Angela, his second cousin, on June 24, 2002. They have two daughters, Mikaela Gloria and Marie Angelique. Arroyo's father, First Gentleman Jose Miguel "Mike" Arroyo, and Angela's mother, Rosario Arroyo, are first cousins.
California laws govern the Foster City property because that is where it is located.

Under Section 752 of the California Family Code, which pertains to property, "neither husband nor wife has any interest in the separate property of the other," unless provided by statute.

Section 850 also states that a couple may transform community property into the separate property of one spouse.

Subject to Sections 851 to 853, inclusive, married persons may by agreement or transfer, with or without consideration, do any of the following:

(a) Transmute community property to separate property of either spouse.

(b) Transmute separate property of either spouse to community property.

(c) Transmute separate property of one spouse to separate property of the other spouse.

750. A husband and wife may hold property as joint tenants or tenants in common, or as community property, or as community property with a right of survivorship.

751. The respective interests of the husband and wife in community property during continuance of the marriage relation are present, existing, and equal interests.

752. Except as otherwise provided by statute, neither husband nor wife has any interest in the separate property of the other.

source: http://www.leginfo.ca.gov
Angela's father, Herman Montenegro, was president of the Philippine Chamber of Commerce and Industry, and is chair and president of the H.M. Group of Companies.
Shortly after Mikey and Angela were married, Montenegro became treasurer and chairman of the ways and means committee of President Arroyo's party, Kabalikat ng Malayang Pilipino or KAMPI.
The Foster City house was built in 1969 and has a floor area of 250 square meters. Information about the property is publicly available on a number of Websites, among them www.zillow.com and www.ewalk.com. But the Websites do not list the owner of the property.
The ewalk Website has pictures of the house, including the front view, backyard, living room, master bedroom, family room, office and kitchen and dining room in 360-degree scenes.
Data from Zillow, which provides real estate information, indicate that the property's market value plunged to slightly more than $1 million last February amid the financial meltdown in the U.S., before climbing to $1.26 million in recent months.
The beachfront property, with the legal description "Lot 710 Foster City Neighborhood No 3 Unit No2 RSM 62/43 50," was bought from a certain George Skyllas. The transaction was recorded on Aug. 23, 2006 in the San Mateo County Assessor's Office under Document ID 2006-126984.
Data from the assessor's office also show that Angela had twice mortgaged the Foster City property since the couple acquired it in 2006. She redeemed it in April last year.
(UPDATED) Mikey bought the beachfront house almost a year after he and his wife bought in September 2005 a 160-square meter three-bedroom, three-bathroom condominium unit at 805 Mendocino Way or the Manors Condominiums in Redwood City, also in San Mateo County for $900,000. They sold the property in December 2006 for $880,000.
Information from the assessor's office shows that Mikey also placed the deed to the Redwood City property in his wife's name after buying it. The condo unit is registered with a legal description "Unit 805 The Manors Condominiums RSM 118/3-20."
Mikey's SALN for 2004 does not show him owning any property in the U.S. It lists only a house and lot in Lubao, Pampanga he reported acquiring for P4 million and a property at La Vista Subdivision in Quezon City with an P8 million acquisition cost.
Dato's condo
Dato's SALN does not contain details of his San Francisco condonimium, but VERA Files' research found it to be a 70-square-meter one-bedroom, one-bathroom unit (Unit No. 533) at the luxury high-rise, full-service Gramercy Towers located at 1177 California St. in upscale downtown San Francisco.
The database of the San Francisco Assessor's Office lists Dato and his wife, Maria Victoria Celina Manotok, as co-owners of the condominium unit. The couple were married on May 17, 2003 and have two children, Eva Victoria ad Miguel Luis.
Dato's wife bought the condo unit for $570,000 on Sept. 8 last year. In December, she declared her husband as co-owner through a deed recorded as Document No. I69529200 at the assessor's office.
The California Family Code applies to the Foster City property with regards registration procedures and other technicalities. But under the Philippine Family Code, property relations between a husband and wife state that property acquired during marriage, wherever it is located, is considered community property even if registered in the name of only one spouse, unless they entered into an ante nuptial agreement, also called a marriage settlement. Mikey and Angela are covered by Philippine laws on property relations between husband and wife since they are Filipino citizens.

Art. 75. The future spouses may, in the marriage settlements, agree upon the regime of absolute community, conjugal partnership of gains, complete separation of property or any other regime. In the absence of a marriage settlement, or when the regime agreed upon is void, the system of absolute community of property as established in this Code shall govern.</em>

(1) Absolute or universal community. All the property of the spouses, present and future, movable and immovable, acquired by onerous or gratuitious title, form a single patrimony.
The Gramercy Website describes the three-tower complex located between Jones and Taylor, across from Grace Cathedral and adjacent to the Masonic center as "a landmark of Nob Hill since 1972." Its slogan: "Living at the Top of Nob Hill."
Nob Hill is one of San Francisco's signature neighborhoods and is known for its landmarks and famous hotels.
The Gramercy Website boasts it has "a great athletic, spa and swimming facility," with a rotating roof over the swimming pool that can open to show a spectacular view of the towers.
Dato, 34, and his wife pay a monthly association fee of $744 or P36,000, a source knowledgeable about the property said. Their unit is being managed by Prudential California Realty based in Burlingame, California.
In his SALN for 2008, Dato reported a P26.7 million loan from his father-in-law, Rufino Luis Manotok, senior managing director and chief financial officer of Ayala Corp. The amount matches the acquisition value he declared for his San Francisco property.
The brothers' SALN
Mikey placed his net worth at P99.2 million in his SALN for 2008, slightly up from P96.7 million recorded the previous year. He reported P27 million in real property, P129 million in personal assets and P56 million in liabilities.
His 2007 and 2008 statements reflected only two properties: the Lubao house and lot and the La Vista property.
In 2005, when Mikey first disclosed owning a "residential house" in the U.S., he also reported a P27.1 million loan "from relatives" and an outstanding balance of P34.6 million for the purchase of his U.S. property. From zero in his first year in office, Mikey's liabilities suddenly ballooned to a staggering P61.8 million in 2005. Since then, he has been reporting multimillion-peso liabilities, ranging from P56.8 million to P78.4 million.
By omitting the U.S. property starting in 2007, Mikey's real property assets plunged from P90.7 million in 2006 to P27 million in 2007 and 2008.
All the business interests Mikey declared in his latest SALN were acquired when he was already congressman: president of Mikey's Horseman Bar and Grill, 2006; director of LPG Auto Gas and shareholder in Los Manos Verdes Inc., 2007; and shareholder in U18 Properties Inc. and stockholder of the La Vista Investment s and Holdings Inc. in 2008.
He listed his wife as having been a director of her family-owned companies—Pacific Activated Carbon Co. Inc., Titan Megatiles Industrial Corp., Pacific Activated Carbon Co. Inc., HM Montenegro Co. Inc. and Titan Megabags Industrial Corp.—since the 1990s.
Like his brother, Dato had little property or business interests when he assumed office in June 2007. His only business involvement was a seat on the board of the family-owned LTA Inc. which he held since October 2004.
The rest of Dato and his wife's financial interests had been acquired in 2007. In August that year, he and Victoria became directors of Guesalar Trading Inc. In October, Dato became shareholder of Sanarrvill Corp.
Besides his San Francisco condo, Dato declared in his SALN for 2008 a property—location unspecified—that he acquired in 2001, a detail he failed to include in declarations for June and December 2007. He classified the lot as "shared property" with an acquisition cost of P1.5 million.
The younger presidential son has another shared property in Libmanan, Camarines Sur, which he said he purchased for P7.9 million in 2005.
Dato also owns a shared property at the La Vista Subdivision, where improvements added up to P17.1 million in 2007 and to P21.3 million in 2008.
His SALN for 2008 also stated that he borrowed P7.5 million from his father and entered into an unspecified trust agreement worth P27 million with Pampanga (third district) Rep. and partymate Aurelio Gonzales Jr.
A trust agreement could be in the form of a property, loan or special contract, the SALN guidelines state. A trust "is an arrangement where property is registered in the name of one person (legal owner) but is, in truth, owned by another person (beneficial owner). A trust may also be defined as an arrangement where a trustor (a person who establishes a trust) reposes confidence in a trustee as regards property for the benefit of the trustor or of another person (beneficiary)."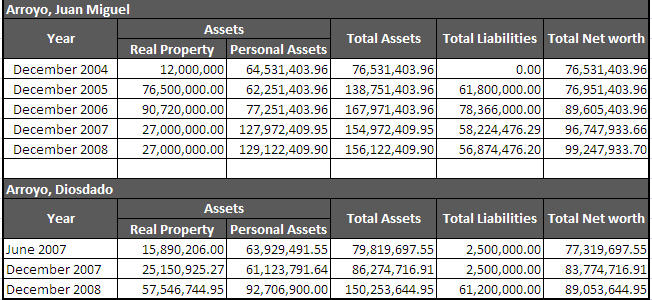 By 2008, like his brother, Dato became stockholder of La Vista Investments and Holdings Inc. His wife in 2008 was declared as treasurer of Celina Premium Lighting and Trading Inc. and trustee of Aurelio Gonzales Jr. Dato describes his wife as an "investor" in his annual declarations.
Partly because of the purchase of the San Francisco property, Dato's real property assets shot up by 262 percent, from P15.8 million in June 2007 to P57.5 million in December 2008. His net worth in 2008 is P89 million, P5.2 million more than what he reported in 2007.

Related Posts
California property still in Angela's name, records show
Mikey: Not hiding houses, just listing them under company's name
House resolution seeks probe on asset declarations loopholes
Mikey under fire on You Tube and other news
Following the Mikey trail: 2004, 2007 declarations show no campaign contributions
No record of Mikey's supplemental SALN in Ombudsman, Pampanga capitol
Mikey fixes Foster City problem–but not quite
BIR files P73.85-M tax evasion raps vs Mikey Arroyo, wife
Tagged mikey arroyo