'Bona' in the cyber age
By PABLO A. TARIMAN
Photos by PETA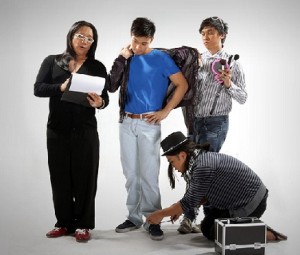 LINO Brocka's 1981 landmark film, "Bona" starring Nora Aunor,  has been  revived with a theater adaptation featuring Eugene Domingo.
In the early 80s, La Aunor didn't communicate through cell phones, beepers and Facebook.
In this adaptation made by Layeta Bucoy for the Philippine Educational Theater Association (PETA), which runs Fridays to Sundays until Sept. 23, 2012,  the Bona of Domingo is a caring woman who gets in touch with the world through Facebook easily accessible in her laptop. She is single, works in a call center, cares for her less fortunate kins to whom she is a walking DSW (Department of Social Welfare).
Her world revolves around her work and close kins and a few friends. Then she gets wind of a talent search called The Star of Tomorrow where she gets to know  Gino Sanchez, a contestant from Isabela. The body is impressive but the talent is simply picayune. Despite this obvious irony, the Bona of Domingo tries everything to make things work for her idol to whom she eventually falls in love. She ignores warnings from friends and kins, gets indebted for a movie production venture that is doomed from the very start. To make things worse, she is dumped by her talent for a younger woman from her home province.
Like its film version, the adaptation ends with Bona pouring boiling water on her ungrateful ward. As if this act of fury were not enough, she delivers a four-letter word before leaving his idol. Her late awakening begins.
It wasn't easy doing a theater version with an earlier film version that had the golden touch of Brocka.
"Though the movie Bona belabors on things Bona gives to and also gives up for her chosen 'god,' its essence does not only lie in the drama of Bona's losses… but in the web of factors which renders her an easy prey to cruel predators, " says Bucoy.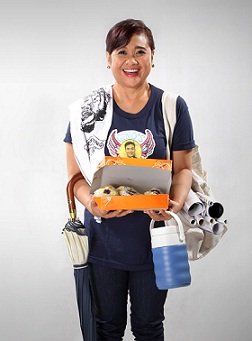 Like it or not, Bucoy says the main character's preoccupation with religious icons reflects on a kind of faith rooted on the country's colonial past. It also shows a country deep in poverty and with the country's TV networks offering short-term solution through the talent search.
There is much to admire in this theater adaptation which had collaborative inputs from its director, Soxy Topacio, and from the cast including Phil Noble and from Eugene Domingo herself. However, the first part of the play unfolds like scenes from a sitcom with dialogues meant not to illumine but to elicit endless laughter. Here you appreciate the comic timing of Domingo and an equally superb acting ensemble composed of  Phil Noble  (as Baldy), Raffy Tejada (as Ronald), Juliene Mendoza (as Bert), BJ Forbes (as Bingo) and Anna Luna (as Katrina), and Gabs Santos as Raf, among others.
The Gino Sanchez of Edgar Allan Guzman is perfect as the Gardo Villa (played in the Brocka film by Phillip Salvador) of the cyber age. The innocent provincial look is reflected on his face but it is his body that gets the cake. Portraying a typical contestant in a talent search, Guzman delivers complete with 'kilig" poses meant to elicit more votes from the viewing audiences. . Like it or not, he typifies the hopeless masses of this country trying to find economic redemption in the country's leading networks.
The best, if, defining, moments of   the play are savored in the last part where the sitcom-like dialogues take the back seat and where Bona's moments of truth begins. She savors what looks like a beginning of true love not matter how late. She is seduced by her idol in the bath tub and she willingly succumbs. Until she is told that what transpired didn't mean anything; it was in fact his way of saying thank you to her endless attention. It was the same body he used to lure his manager.
While the first part showed the subtle comedian in Domingo, the second part of "Bona" showed the focus and sensitivity of the lead actress. She is incandescent praying and making wishes on her favorite religious icon; she reveals several layers of vulnerability as a loving friend on one hand and a caring aunt on another. She should do more theater in between her box office hits.
On the whole, Topacio did justice to the original Brocka  film masterpiece.
For once, the director and the playwright remind us that there is a "Bona" in all of us – the movie fan, the music fan, the theater fan and the opera fan.
Only the level of worship (or madness) differs.
Editor's note:
VERA Files  has taken down the bath tub scene photo by Jory Rivera as it was sent to us by the author and  published without the photographer's permission.
We apologize for the oversight.
Tagged Bona, Eugene Domingo, Nora Aunor