Cristine Reyes on love, friendship and stormy weather
By PABLO A. TARIMAN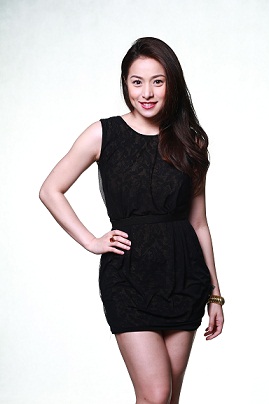 ON the night Typhoon Yolanda is expected to hit the country, sexy star Cristine Reyes obliges with a short chat with media persons most of whom are curious about her recently ended love affair with actor Derek Ramsey.
She is aware of the typhoon signals and for the record, she actually had a close encounter with  nature's wrath when she was caught hanging on to dear life on the rooftop of her Marikina residence at the height of the floods spawned by Typhoon Ondoy four years ago. She was happily rescued by actor Richard Gutierrez who braved the flood waters with his versatile motorboat.
That near-death experience taught her an unforgettable lesson on life and living.
"That frightening experience taught me to start living a full life and to live the moment," she says. "Because you'll never know when your time is up. It taught me to spend more time with my loved ones."
In a blue outfit that reveals her quiet sensuality, she is fair game to media persons prying on her private life.
It is a month full of work and the stress and fatigue is taking a toll on her immune system. She is actually on her way to the hospital to have a physical check-up and notably to have her uric acid examined.
For now, the country's spate of stormy weather somehow found reflections on her equally 'stormy' love life.
Of her recently ended love affair, she declares she is not keen on saving the relationship but then she is equally determined to save the friendship.
They had time to bond again in Hawaii and to review their priorities.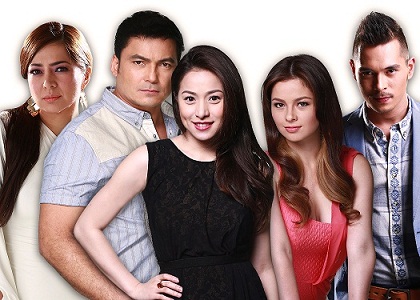 "Perhaps it is for the better," she says. "For now, my present love is my work and the coming projects. We are agreed on the fact that for now, it is better to seize the opportunities coming our way."
Only 24,  Reyes was discovered in the reality show, "Star Struck" and was soon built up as a sexy star with the success of the remake of "Eva Fonda" and her subsequent appearances in top-rating teleseryes like  "Dahil Sa Pag-ibig" and "Bukas Na lang Kita Mamahalin."
She was crowned one of the country's box office queens with the movie blockbuster, "No Other Woman."
Like it or not, Reyes' films are cases of art imitating her love life.
By coincidence, the title of her latest film opening on November 27 is "When Love is Gone" where she is paired with Gabby Concepcion along with Alice Dixson and Andi Eigenmann.
In the film, she finds a new love in a married man played by Gabby Concepcion, when she discovers her young husband played by Jake Cuenca is gay.
Cuenca says he is thankful for this different role as it allows him to explore new challenges way above his image as showbiz playboy. Indeed he has gone far in gay roles with his earlier revealing film, "Lihis" directed by Joel Lamangan, about two gay revolutionaries.
"When Love Is Gone" director  Andoy Ranay says the film is a remake of the Danny Zialcita classic, "Nagalit Ang Buwan Sa Haba Ng Gabi."
Reyes says she was equally challenged to finally work for the first time with Concepcion and Dixson. "They have made a mark in the industry and I am honored to be in that film with them," she adds.
She describes the year 2013,with the many projects she has done and the many love affairs she has figured in the past and present, as "makulay" (colorful).
For now, her work comes as her first priority although she is not closing the door on past relationships. "If that someone makes effort to show that a relationship can still work, I will probably give it a second chance. But busy as I am now, the move will not come from me."
It is possible Reyes's life is replays of her past TV projects like "Precious Hearts Romances" and "Bukas Na Lang Kita Mamahalin."
But through it all, she has found a way to find  her own brand of happiness.
"My idea of happiness is really so simple," she concludes. "All I need is fulfilling work and the company of true friends."
Tagged Cristine Reyes, When love is gone