Family buries hazing victim, braces for legal battle
BY LUZ RIMBAN
RAMOS, Tarlac—The family of 20-year-old hazing victim Marc Andre Marcos brought him to his final resting place today and now faces the daunting task of finding his killers and haling them to court.
But the Marcos family expects to find itself up against powerful people in a battle whose resolution may take years, or even decades, as they know from the experience of families of other hazing victims.
Barely two months into his freshman year at the San Beda College of Law in Mendiola, Manila,  Andre died July 30 of multiple organ failure caused by hematoma—the bruises that covered his arms and legs—which cut off the supply of blood to his vital organs.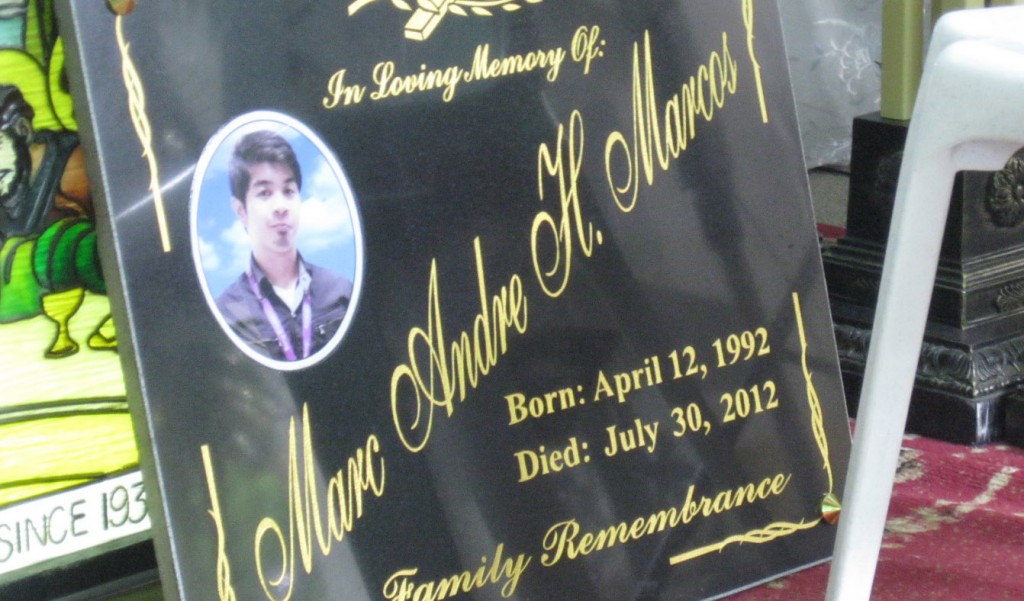 The family said they were told that the bruises were inflicted by members and alumni of the Lex Leonum Fraternity during initiation rites held at a cock-breeding farm owned by the family of Gian Angelo Velus, one of the members, in Dasmariñas, Cavite.
San Beda officials offered to cooperate by providing the police with a list of frat members, said Andre's father Mac Ferdie Marcos.  But the list covered only frat members enrolled at the San Beda campus in Mendiola.  Officials at the San Beda campus in Alabang had yet to come up with their list, he said.  Velus was a student at San Beda Alabang and is one of those who have been charged with murder and violation of the anti-hazing law.
"That's so far the only kind of cooperation we got from San Beda. But they said they've created a board of inquiry to investigate and gather information the police could use," Marcos said.
A middle-class family
Andre belongs to a well-to-do family of professionals. His grandfather is a retired judge, his father a civil engineer, one aunt is an accountant while another is a lawyer.  His grandparents and aunts helped raise Andre, whose mother died when he was four years old and whose father used to work in the Middle East.
Andre had been staying with his aunts in Manila since his undergraduate years studying legal management at the University of Santo Tomas. Instead of continuing his studies at UST, however, Andre enrolled at the San Beda College of Law partly because of the school's consistent good showing in recent bar examinations which was attracting many aspiring law students, his father said.
When Andre went missing July 29, his father and aunts burned phone lines trying to determine his whereabouts.  At some point, his aunt Madeleine Marcos-Corpuz said she thought of calling the hospitals in the Antipolo area but could not get herself to dial the numbers because her hands were shaking with the realization that something dreadful had happened to Andre.
Andre's father and another aunt finally found him at the De La Salle University Medical Center in Dasmariñas, Cavite around 5 p.m. of July 30. They were two hours late; Andre died at around 3 p.m.
Too late and misled
Andre's aunts seethe at the thought that the fraternity members waited till it was too late before informing them he had been through hazing and in fact misled them into thinking he survived the ordeal.
"If we had only arrived while he was still breathing, we could have provided him moral support and encouragement to make him fight for his life," Corpuz said.
Police records show that Andre was brought to the DLSUMC at around 2 a.m. July 30 by people whom the police identified as helpers of the Velus farm in Dasmariñas.  The initiation rites had begun the day before, when frat members brought Andre and eight other neophytes to the farm blindfolded for an orgy of violence.
By Sunday night, the Marcos family was already in a frantic search for Andre. Family members eventually received a call from someone who admitted Andre had gone through the fraternity's initiation rites, but told them he was in stable condition.
The person said fraternity members would meet the Marcoses in a fast food restaurant near San Beda Mendiola. But when the meeting took place, the family was disappointed to see that the persons who met with them were Andre's fellow neophytes and not officials of the fraternity.  They still wouldn't tell the family where they could find Andre.  The family was eventually able to extract the information that Andre was at DLSUMC.
Andre's family bristles at criticisms that what befell him was his own undoing. While neophytes expect violence, they don't expect to die, or be left to die alone without as much as a call to their families.  Clearly, they said, there are people who need to be held accountable.
Wielding clout?
What also angers the Marcoses is the information they received that the group involved in the initiation had already travelled towards Manila, bringing Andre with them in the hours after the hazing. But they decided to turn back and leave him at the DLSUMC.  The family surmises this could only be because the frat members probably had some influence in Cavite they thought they could use in case the fraternity gets into trouble.
Velus' father, Angelito, is a former Dasmariñas councilor who owns the 10-hectare farm where the initiation was held. He also reportedly owns a cockfighting arena in Bacoor, Cavite.
The Marcoses are trying to muster support to get justice for Andre.  Upon his death, Corpuz immediately went to the Senate to seek an investigation into the Lex Leonum hazing, hoping government agencies would act to stop suspects from fleeing the country. She found sympathy among senators, some of whom were themselves fraternity members.  The Marcoses also waged a social media campaign to draw attention to Andre's story. As a result of these efforts, Andre's wake and the initial investigation into his death were well covered by the media.
Andre's father has also filed a murder case against the Velus father and son and other respondents in connection with Andre's death.  The case was filed in the Marcoses' home province of Tarlac.
And so Andre's family is bracing for legal battle. In the meantime, they have just begun grieving for a young man barely out of his teens who, like others before him,  suffered the consequences of joining a fraternity he mistakenly thought would bring him closer to his dreams.
Tagged fraternity violence, Hazing, Marc Andre Marcos