LP-Aksyon Demokratiko showdown in Rodriguez, Rizal mayoral race
By URBANO S.D. CORDERO JR.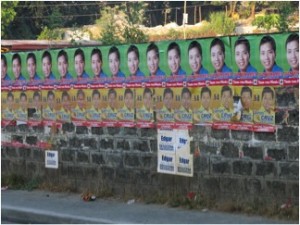 RODRIGUEZ, Rizal.—Two main political parties are striving to hit the electoral homerun here as the May elections draw near.
Cecilio "Elyong" Hernandez, president of the Association of Barangay Captains (ABC) and the Liberal Party's bet, is running against Aksyon Demokratiko candidate Roy 'RC" Cuerpo, the son and administrative assistant of incumbent Mayor Pedro "Ping" Cuerpo.
Two other candidates, Belen Arcilla and Alex Ignacio, are running as independents.
Hernandez has been linked to and criticized for the issue of quarrying in this town. Mayor Cuerpo and his son, meanwhile, were investigated by the Commission on Audit for questionable expenses reimbursed by the city. The Sandiganbayan subsequently suspended Cuerpo.
Incumbent Vice Mayor Jonas Cruz took over as mayor when Cuerpo was suspended. Cruz, a member of the Nationalist People's Coalition, is running for reelection.
His opponent is Bonna Sanguyo, an in-law of the Cuerpos who topped the 2007 council elections.
Thirty-one candidates are vying for eight slots of municipal councilor. Deck Lazarte of the NPC topped the surveys for councilors.
One candidate running under the NPC is Opine San Diego, wife of former Mayor Rafaelito San Diego.
Former Mayor San Diego and Mayor Cuerpo had been contending for the post of Rodriguez mayor for two terms. Cuerpo was mayor when San Diego beat him in 1998. But Cuerpo returned to power three years later.
Rodriguez, formerly known as Montalban, has a population of 223,000, half of whom are estimated to be voters.
(The writer is a communications research student of the University of the Philippines who submitted a version of this article as part of his Journ 101 class under VERA Files trustee Luz Rimban.)