"Priority numbers" given to Shariff Aguak voters
By CAROLYN O. ARGUILLAS, MindaNews 
SHARIFF AGUAK, Maguindanao  –  There wasn't a long queue at the social hall of the Kamasi Elementary School in Ampatuan town although around 20 residents from two clustered barangays lined up to receive their registration forms at the voters' registration center (VRC) some 20 minutes before registration officially started at 8 a.m. Monday.
In contrast, it looked like a typical election day in the Shariff Aguak Central Elementary School whose two erstwhile famous voters — Datu Andal Ampatuan, Sr., and Datu Zaldy Ampatuan  who are presently detained in Bicutan in connection with the November 23, 2009 massacre of  58 persons — last trooped to the polls in the August 2008 elections for officials of the Autonomous Region in Muslim Mindanao where the latter was reelected for another three-year term.
Outside the main gate at around 8:15 a.m. two long queues of about 150 persons had waited on the roadside, holding small squares of paper containing numbers. They would be called to enter, according to priority, until around 8:20 a.m. when the Army and police personnel agreed to let them queue for their turn outside the registration center.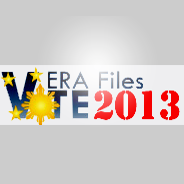 Tagged ARMM, armm elections, maguindanao