Rallies vs coal plant, mining mark Earth Day in Soccskargen
By DANNY SABINO
Kapayapaan Kapatid Council/Enigma and Panukad Student Volunteers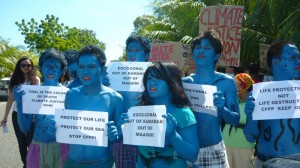 GENERAL SANTOS CITY.–Some 4,000 environmentalists marked World Earth Day Wednesday with simultaneous rallies in Tampakan, South Cotabato and Maasim, Sarangani to protest the planned construction of a coal-fired power plant and mining activities in these provinces.
Leaders of religious groups, fishermen, indigenous people and other sectors condemned the coal-fired plant project of CONAL Holdings, saying it will greatly harm the environment and people.
Bishop Dinualdo Gutierrez urged the protesters to continue opposing the planned power plant in Maasim.
Elson Helsa of Maasim Peoples Coalition on Climate Change (MP3C) expressed fears CONAL might finance local candidates who supported the setting up of the plant.
Sarangani Gov. Miguel Dominguez, Maasim Mayor Aniceto Lopez Jr. and Kiamba Mayor Rommel Falgui announced their support to the project during a community consultation held late last year.
Also, foreign divers participated in the protest, saying that the project will destroy the waters of Maasim, which they described as "a haven" to them.
"Here lies the best coral reef in Southern Mindanao," said diver John Heitz. "This is the wrong place to put up a power plant."
A slight commotion occurred when four unidentified men suspected to be working for CONAL were seen with cameras, video recorders and handheld radios at the rally.
"Avatar" youth members of the Mindanao State University marched toward the fenced property of the proposed plant site.
The protesters and media trying to get CONAL's side were refused entry to the Community Development Office.
In Tampakan, the protest started with a prayer rally followed by a press conference calling for a stop to the mining activities of XTRATA-Sagitarious Mines Inc.
The protesters demanded the pullout of XTRATA-SMI and called for sustainable development, the protection of watersheds and respect for indigenous people's rights.