Amidst anxious times marked by the third year of the global pandemic and five weeks into Russia's invasion of Ukraine, the Cultural Center of the Philippines, after a long closure, opens to the public with a group exhibition of the 2021 Thirteen Artists Awards. It runs until June 5, 2022.
Out of 88 artist portfolios, the CCP has selected the 13 artists, namely, Allan Balisi, Nice Buenaventura, Gino Bueza, Mars Bugaoan, Rocky Cajigan, Geloy Concepcion, Patrick Cruz, Ian Carlo Jaucian, KoloWn, Czar Kristoff, Lou Lim, Ryan Villamael, and Catherine Sarah Young.
Outstanding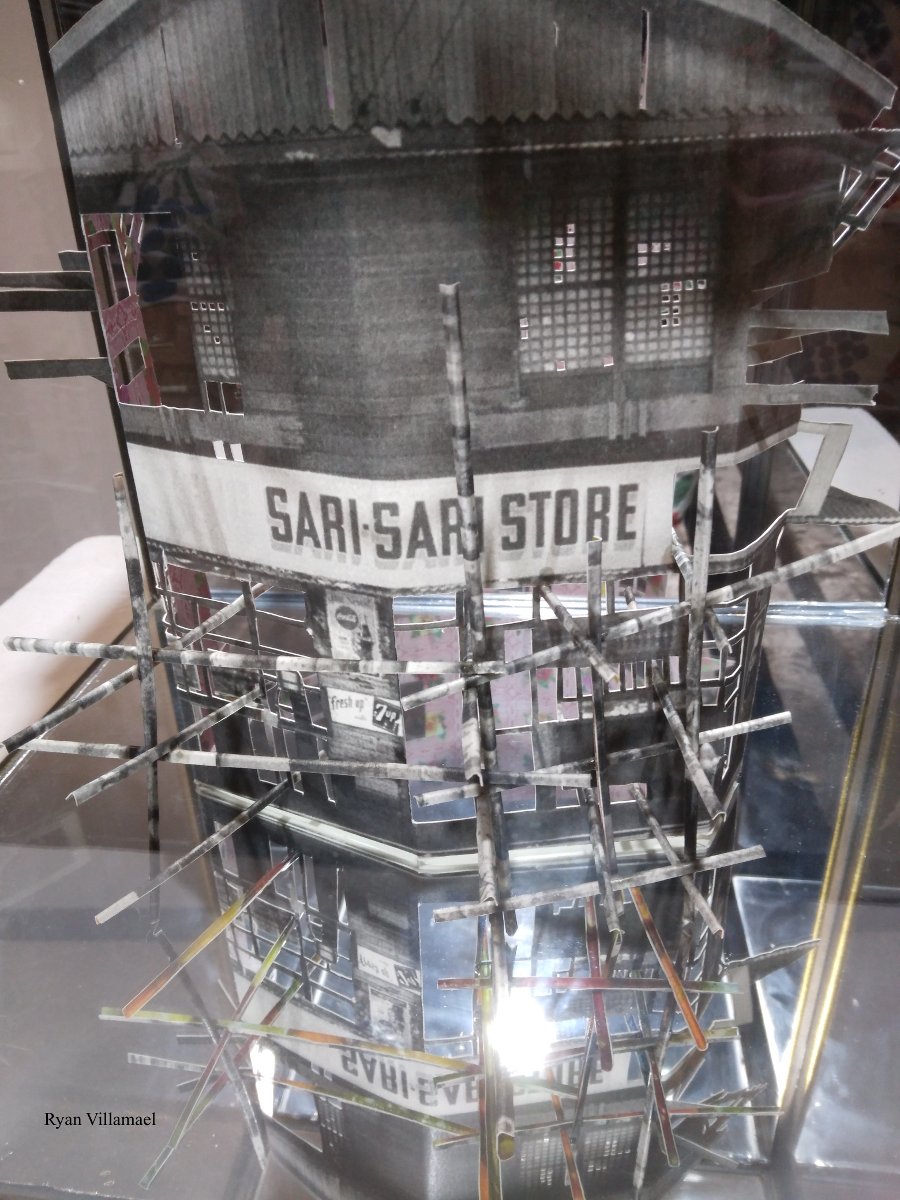 In Ryan Villamael's (b. 1987, Laguna) Index (series), seven vitrines enclosed fragile structures in ruins (church, house, monument, sari-sari store, nipa hut….) all made of cut paper. Surrounded with scaffoldings, its facade bear witness to history, geography, and memories through the cycle of war and destruction. Villamael describes the works as a response to the "construction and deconstruction of history."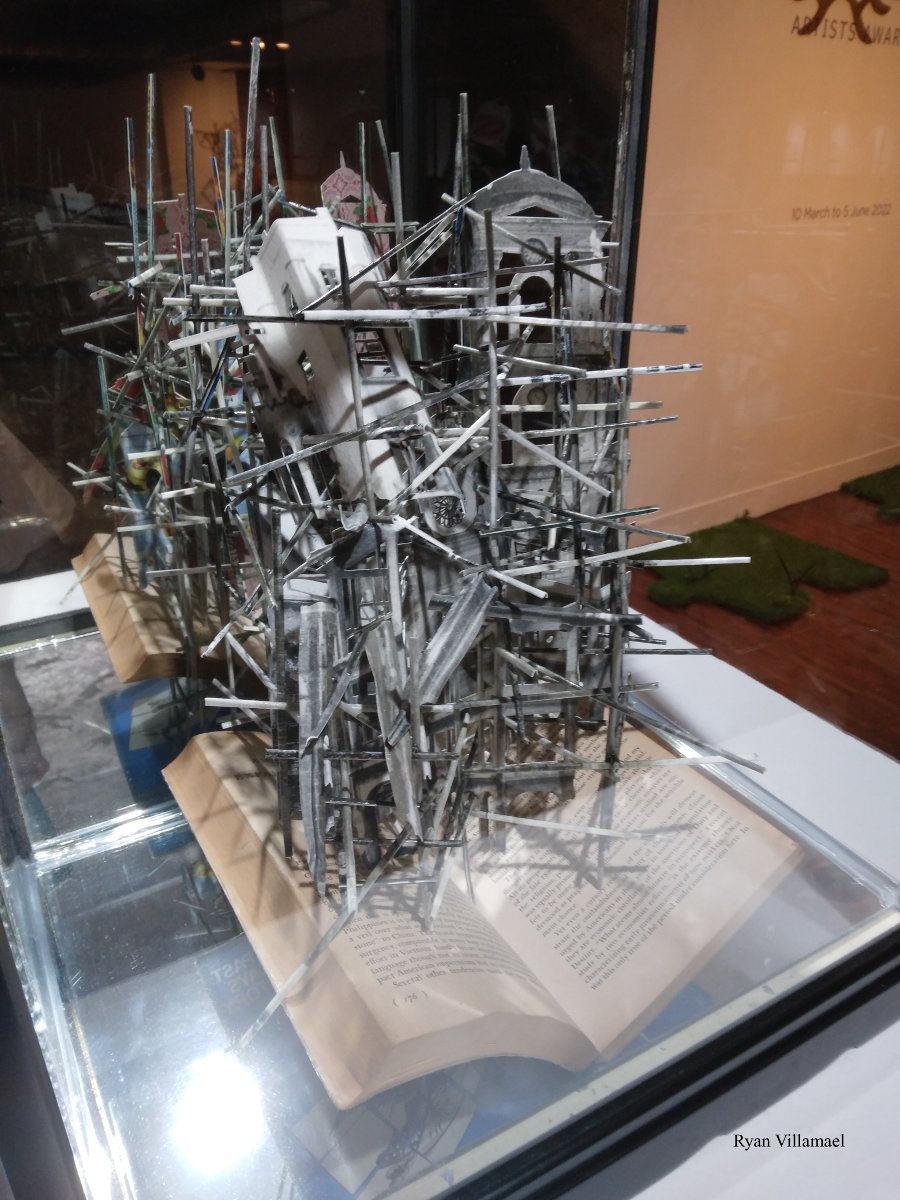 Working with paper as a sculptural medium, Ryan Villamael has been exploring the strength and versatility of one of the world's oldest inventions, in the form of archival materials, old maps, books, photographs.
A painting major, he is a graduate of the University of the Philippines Diliman. He received the Ateneo Art Award in 2015 with three international residency grants: La Trobe University Visual Arts Center in Bendigo, Australia; Artesan Gallery in Singapore; and Liverpool Hope University in Liverpool, UK.
In Props & Problems, Gino Bueza's (b. 1987, Binangonan, Rizal) love of building things is a tribute to his father, a carpenter who had made wooden toys for him. Equating work and craft as fun, his art works for this exhibition are meant to be skated on for another installation project, where the public will get to play with the art pieces.
Looking like collage, his oil paintings consist of fragmented and layered images in strong colors, with text and faces superimposed against each other, a mix of figurative and abstract images.
Geloy Concepcion (b.1992, Pandacan, Manila) presents his experience as a new immigrant in the United States through his ongoing photography series, Sanctuario: Ang Pakikipagsapalaran ni Isagani sa Bansang Amerika, through six flatscreen TVs. He asserts that photography in social media is a tool to combat isolation, and believes in being inclusive in photography, by inviting the public to share their messages and images in another project, on things you wanted to say but never did.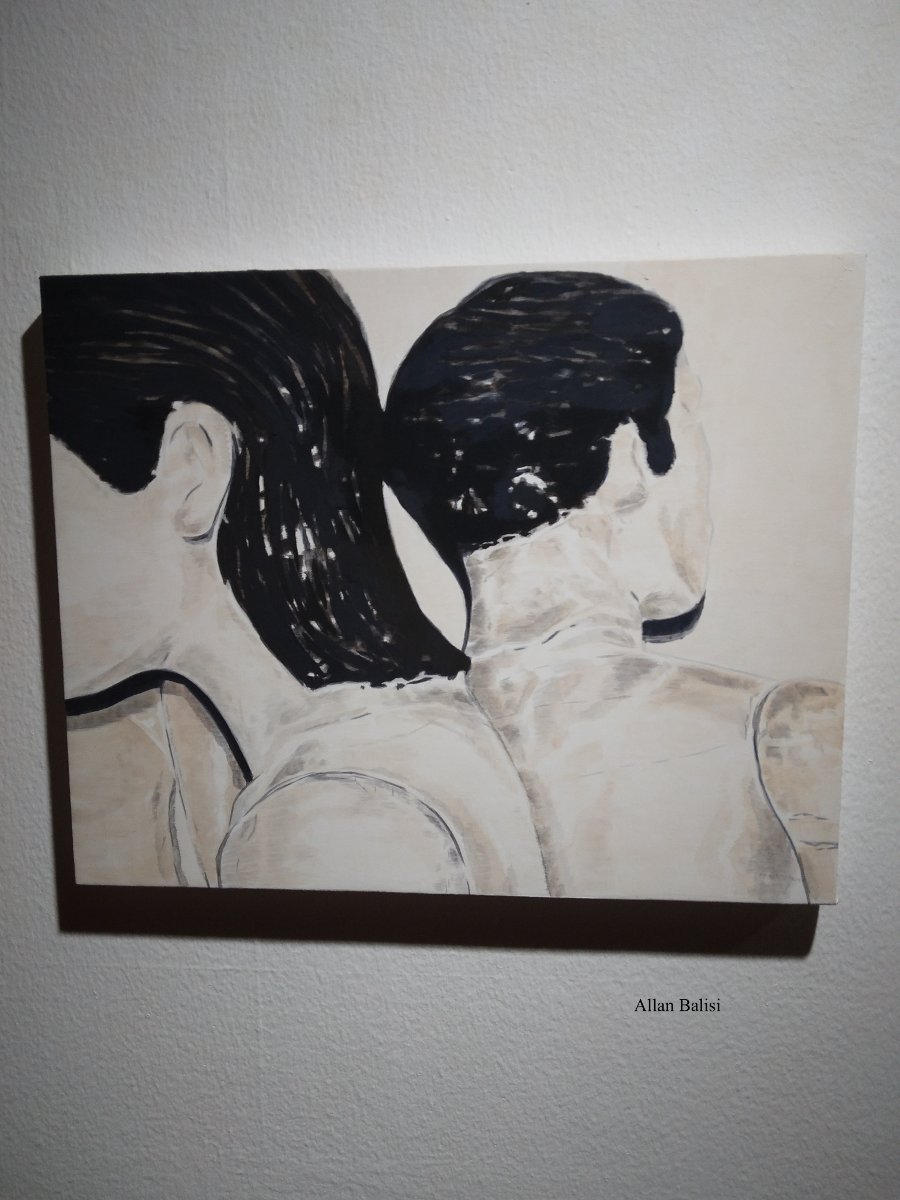 In Autonomy of Painting, Allan Balisi (b. 1982, Isabela) presents a site-specific set of small paintings of mannequins in storage that he discovered at the CCP. The work is focused on the details of missing limbs, parts of bodies, paint rubs, in black, off-white, and tan. In his work, faces are usually turned away and hidden from viewers.
Behind closed doors, the mannequins reveal the starkness of life in storage, dusty, naked, and always waiting for some action.
Balisi speculates on their after-lives, mannequins waiting to be dressed and displayed, again. He also alludes to the missing others, to those who have disappeared from their families, amidst the violence in our midst.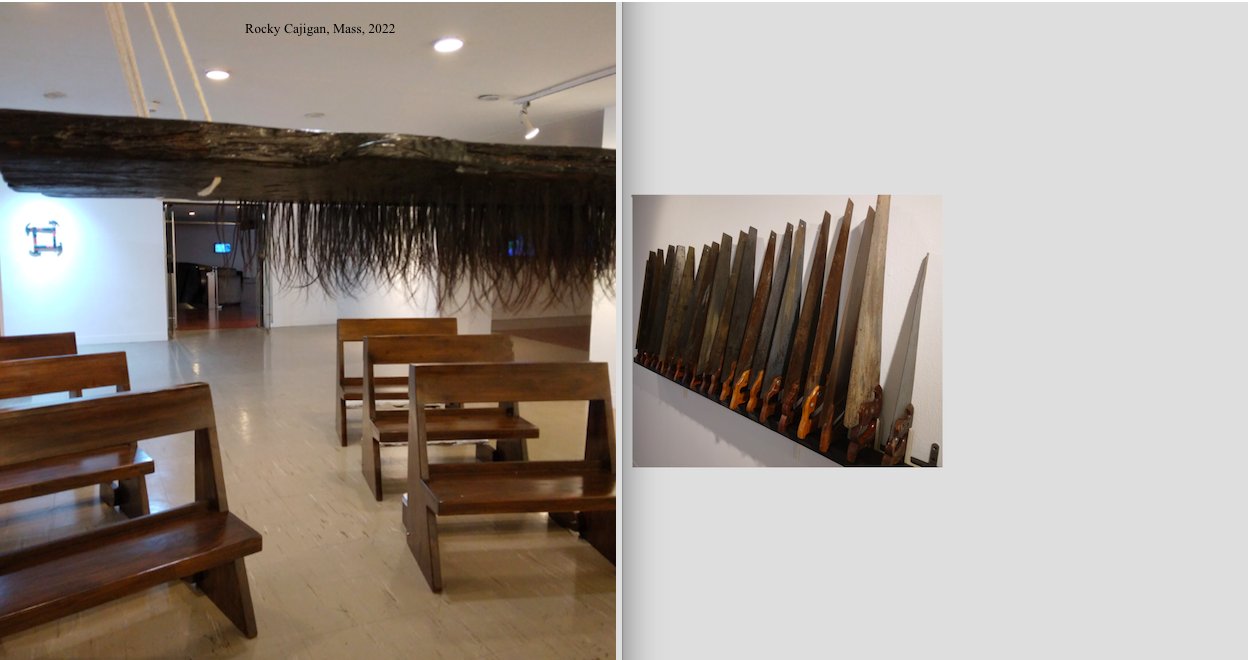 A multimedia artist, Rocky Cajigan (b.1988, Bontoc) presents Mass, an installation of burnt wood planks, human hair, church pews, handsaws, and other objects that explore identity questions and the effects of colonialism in the indigenous cultures of the Cordilleras. Cajigan's Mass is a symbolic indictment of the Catholic liturgical rite, the triumph of the Cross over the Sword, and the loss of indigenous lifeways.
Cajigan is the recipient of 2020 Agents of Change art, the 2016 Ateneo Art Awards, Fernando Zobel Prize for Visual Art for his solo show, Museumified that probes into the complex interplay of being indigenous and the culture of commodification. In the ongoing 10th Asia-Pacific Triennial of Contemporary Art, he presents Hairloom, a 10-meter long loom of human hair, a critical comment on the state of the Cordillera region.
The Thirteen Artists Awards

Now on its 18th year, the TAA was founded by the CCP in 1970 to recognize artists in contemporary visual art. It started as a biennial event and curatorial project by its first curator, Roberto Chabet (1937-2013), a renowned conceptual artist. The exhibition was mounted every two years from 1970-1980; it was revived in 1988, 1990, 1992, and 1994. Since 2000, it has become a triennial event.
The nominees are Filipino citizens under 40 years old, and should have a body of work characterized by "artistic integrity, innovativeness and forcefulness of ideas." Moreover, a nominee should have sustained artistic activity through individual exhibitions and group shows for at least the past three years, according to CCP rules. In short, the TAA has become a crucial gauge of Philippine contemporary art.