By MYLAH REYES ROQUE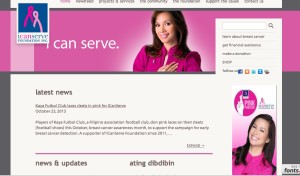 I was diagnosed with breast cancer following a routine laboratory check-up last August. I was not expecting it; I did not see any signs and never felt any symptoms. But we acted quickly. Within two months, my husband and I consulted doctors, had more tests, and thought long and hard before deciding on a treatment plan, which culminated in surgeries.
I have been quiet but I want to tell people my story because I discovered something along the way: I am not unique, I am one statistic among many, yet our numbers represent the best argument for early breast cancer detection.
1. It is more common than I thought. I discovered many other women undergoing treatment—someone's wife, a friend's mother, an aunt, somebody else's daughter or cousin.
The Philippine Cancer Society (PCS), a non-government organization that keeps a cancer registry and helps craft public health policy, says breast cancer is the most prevalent among the different types of cancers, and that the Philippines has the highest incidence in Southeast Asia.
What puts the Philippines at the top of the list in Southeast Asia are the 10,000 new cases that, according to the Philippine Health Insurance Corp. (Philhealth), are detected every year. This also puts the Philippines in the ninth spot worldwide.
As the fund manager of the National Health Insurance Program, PhilHealth must efficiently and effectively use the funds to cover the most number of beneficiaries. As such, only diseases that have around 80 percent chance of 5-year survival have been included in the initial set of benefits. This includes breast cancer.
2. Of all cancers, breast cancer is the most curable especially if detected early. It is not a death sentence. The government itself believes that breast cancer is highly curable. Philhealth now includes it among the illnesses under its "Z Benefit" package, launched last July.
If illnesses were ranged from A to Z, the Z illnesses are the so-called catastrophic diseases requiring prolonged hospitalization and expensive treatments but are proven to have a good survivability rate. The other Z illnesses are prostate cancer, childhood leukemia, kidney transplant, coronary artery bypass graft surgery (CABG), surgery for Tetralogy of Fallot (TOF) and Ventricular Septal Defect and cervical cancer. The illnesses have varying amounts of coverage, ranging from P550,000 for CABG and P100,000 for breast cancer.
Before the Z package, patients got standard Philhealth subsidies. Now, members and dependents can avail of the P100,000 benefit to cover the cost of treatment (including chemotherapy and radiation), hospitalization and professional fees. The patient needs to get treatment at any of 20 government hospitals identified by PhilHealth. Philhealth pays the Z benefit directly to the hospital; members will have their benefit automatically deducted from their total hospital bill. Patients who get treatment from other hospitals will receive the usual subsidies.
Carla Paras-Sison of ICANSERVE Foundation notes that many of the organization's new members have Stage 1 and 2 cancer. "This is completely different from what happened in 2004 to 2005 when new members were diagnosed with Stage 3 or 4 breast cancer," Sison said. "Perhaps, in a way, the awareness campaigns on the need for breast screening are getting effective. We know however there is still a lot more to be done. Every week, there are always new members."
Aside from the government, non-government organizations like Soroptimist Ortigas and Pink for Life Foundation provide financial subsidies for chemotherapy specifically for indigent breast cancer patients in Stage 1 and Stage 2.  In Metro Manila, indigent patients can also get free medical services from the Philippine General Hospital's (PGH) Breast Care Center and Cancer Institute (CI), as well as the Philippine Foundation for Breast Care, Inc. based at the East Avenue Medical Center.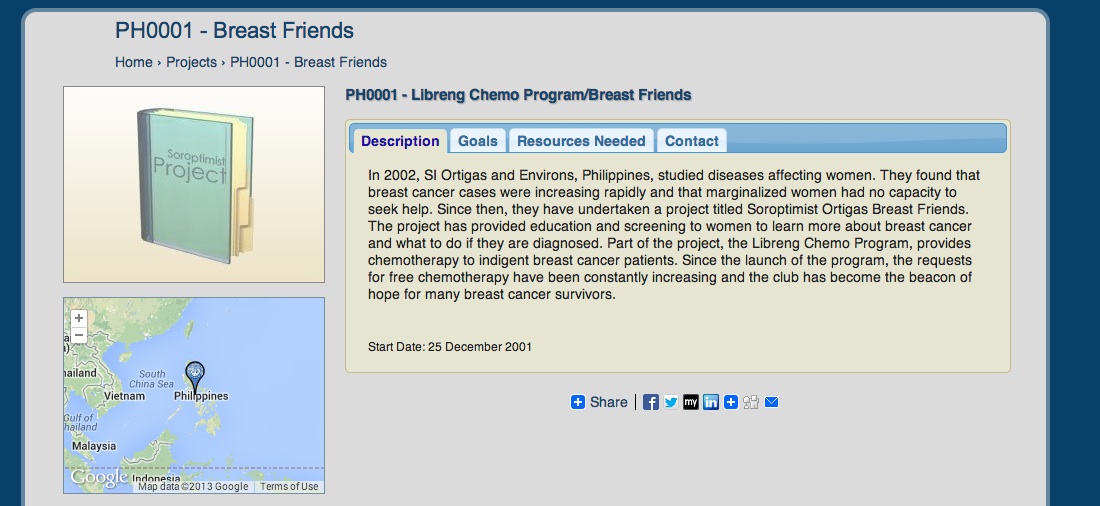 3. The worry is alleviated when you talk to people who have gone through the same experience and survived. My good friend Ellen Tordesillas introduced me to ICANSERVE which is composed of breast cancer patients and survivors. The group is known for its awareness campaigns in different parts of the country but it also has an e-group composed of breast cancer patients and survivors.
From discovery until my surgery two months later, I found the moments that caused me the most uncertainty were those in which I waited for the results of tests or a doctor's appointment, choosing a doctor, choosing the best treatment, thinking about the costs. The unknown becomes less worrisome when someone who has gone through the same decision-making challenge shares her experience.
It is common to have new members asking the group about the side effects of certain anti-cancer drugs or practical tips to sustain oneself through chemotherapy cycles. Members exchange information about the costs of treatment and doctors' fees. Information about breast cancer abounds in the Internet but what distinguishes ICANSERVE is that the information shared is from the perspective of Filipino cancer survivors.
4. There are usually no symptoms, especially in the early stage. I didn't see any physical signs or had symptoms; I did not perform self examination. I don't smoke. I don't drink. I am not overweight. I try to eat healthy but indulge in the occasional buffet. I don't know of a relative who had breast cancer. The doctors I consulted all asked about these risk factors, and I would learn later these are what seem to predispose one to the disease. The American Cancer Society says the causes of breast cancer are not fully understood but there are risk factors, some that can't be changed like age, gender and family history; others are lifestyle-related. Hormones seem to play a role in many cases of breast cancer.
5. Do not hesitate to seek second, third or fourth medical opinions. I saw three surgical oncologists and they had different opinions on how to treat me. Paras-Sison sought nine opinions before she found a surgeon she was comfortable with. This is a common observation among cancer survivors who sought private care. You need to find a surgeon to trust with your care.
The US National Breast Cancer Foundation says breast cancer is the most commonly diagnosed cancer in women. I was initially diagnosed with Lobular carcinoma in situ (LCIS) until another doctor saw the inconsistency between my lab tests. My biopsy slides were referred to another pathologist for review. The second diagnosis was Ductal Carcinoma In Situ (DCIS). There is a big difference between the two conditions; the first condition was not cancer and did not require any treatment.
6. Respect other people's treatment plans. The moment one gets diagnosed with cancer, there will be a barrage of suggestions from well-meaning friends for natural and alternative forms of treatment. There are some patients who do not believe in the effectiveness of invasive types of treatment such as surgery and I respect that. I suggest discussing these alternative treatment approaches with your doctor.
There is a wealth of information about cancer in the Internet, especially Facebook. I have encountered posts attributed to the Johns Hopkins Hospital which the institution now refers to as a hoax. http://www.hopkinsmedicine.org/kimmel_cancer_center/news_events/featured/cancer_update_email_it_is_a_hoax.html
The Mayo Clinic on the other hand discusses at length some popular myths about cancer causes http://www.mayoclinic.com/health/cancer-causes/CA00085.
7. Life will return to a new normal.  It's back to normal, but with a deeper appreciation of my husband, family and friends more than ever. There will always be a fear of recurrence but I have become more prayerful, quicker to forgive and just as quick to say sorry.
I believe things happen for a reason. Earlier this year, my family and I finished watching Borgen, a TV political drama series in Danish with subtitles in English. One of the characters, a mother with kids, was diagnosed with breast cancer. We watched her go through her fears. We saw what kind of treatment she had and how she tried and sometimes failed to maintain her professional schedule. We saw how keeping information away from the children may not be right. After watching the show, the concept of having the illness and surviving it became easier to embrace and explain to the children.
(Mylah Reyes Roque is a former broadcast journalist who is married to lawyer Harry Roque. They have two children.)