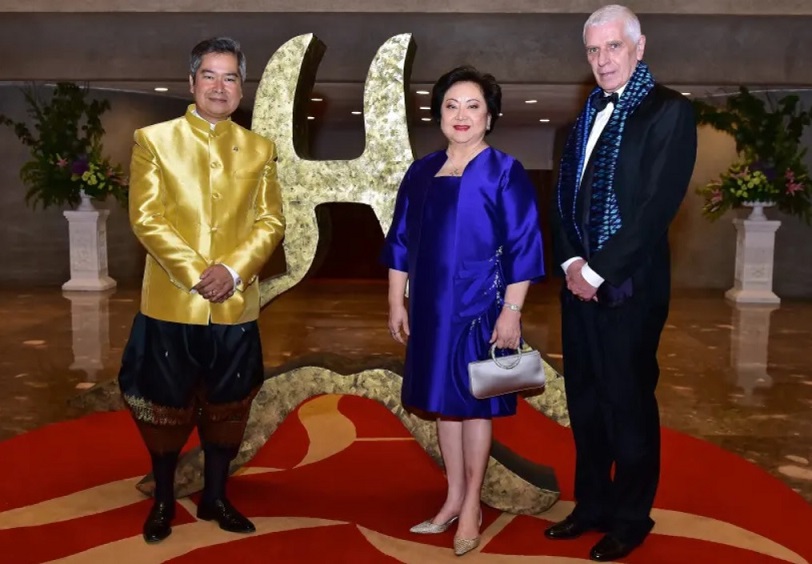 The cast of Turandot which opens December 9-11 is a gathering of opera luminaries from all over the world.
Singing the title role is Korean soprano Lilla Lee as Princess Turandot and Calaf is Italian tenor Alessandro Liberatore while the role of Liu will be sung by Filipina soprano Rachelle Gerodias.
Ensemble singers will come from the Viva Voce Voice Lab of Camille Lopez Molina.
Over-all direction is by seasoned Italian opera director Maestro Vincenzo Grisostomi Travaglini with his assistant director who happens to be Prince Sisowath Ravivaddhana Monipong of Cambodia.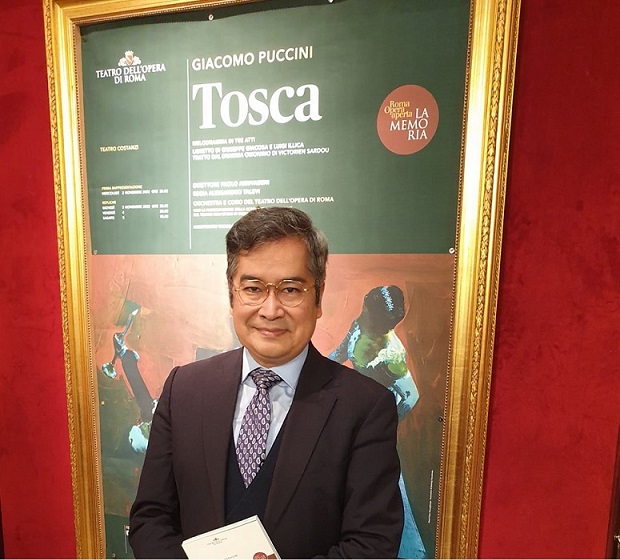 Prince Ravi – as he is known to his Manila friends – recalls with fondness his last opera outing in Manila in 2020 as assistant director of Lucia di Lammermoor: "The experience was absolutely great! We had such a nice time, sharing and discussing concepts with our fellow artists. The presence of Filipino tenor Arthur Espiritu was crucial. We felt so warmly welcomed and the good vibes we shared not only among the artistic team, but also with the technical people of CCP. The PPO gave its best to Maestro Alessandro Palumbo and the result was so rewarding. I remember with emotion the crowd of young and passionate opera-lovers, when we went to greet them at CCP stairs during the matinee. The joyful smiles and adulations were so sincere!"
If the Cambodian assistant director's name is familiar, it is because Prince Ravi is the same assistant director in the staging of  L'Elisir d'amore  at the CCP in October 2017 and Lucia di Lammermoor also at the CCP in 2020.
 (His grandfather, Prince Norodom Monissara, together with his cousin, Prince Sisowath Sirik Matak were state visitors  of then President Ferdinand Marcos Sr. in 1968.)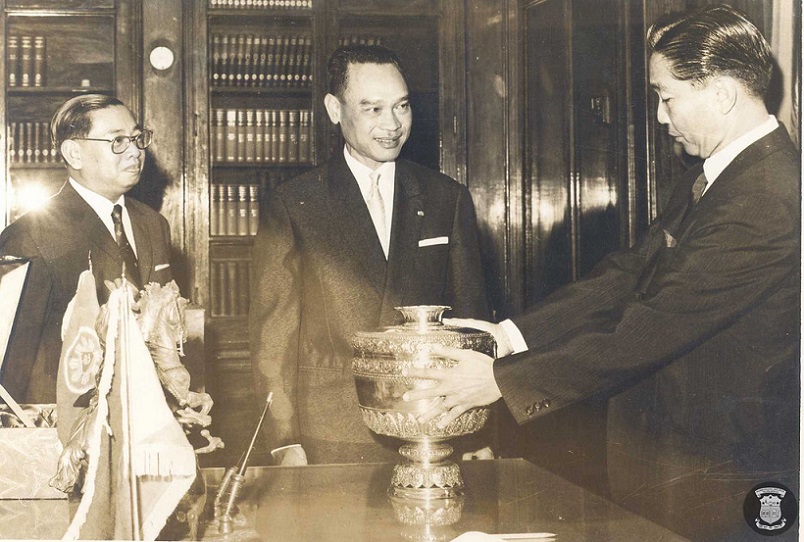 In 2018, he also helped mount Mascagni's Cavalleria Rusticana and Leoncavallo's Pagliacci in his native Phnom Penh on the occasion of the Sofitel Classical Music Festival as a member of Cambodia Opera Project.
As it turned out, Prince Ravi was brought up in a very artistic environment. "My mother used to dance and sing classical Cambodian songs and my father was a great passionate admirer of Western classical music. As a young boy, I was introduced to opera thanks to the huge collection of LPs my father owned."
The first opera he saw live was Mozart's Don Giovanni. "I was a history student at Paris University and we were given the opportunity to attend for a very cheap price the general rehearsal of this Mozart opera at the Opera-Comique. It was thrilling and as an 18- year old young man, I was mesmerized by everything: the music, the singing, the staging, the costumes and sets, the light."
Prince Ravi's fascination with opera started as a teenager in France where his family created several associations to maintain and preserve Cambodian culture and arts. "Opera was a hobby at that time. When I moved to Italy and learned to speak Italian, opera was even more present in my life. My encounter with Maestro Vincenzo Grisostomi Travaglini was decisive. As a faithful student of Luchino Visconti and Franco Zeffirelli, he transmitted to me his duty to fulfil his art by staging opera in a traditional way, but always rendering it accessible to the audience with particular attention for younger generations."
His passion for opera grew when he moved to Italy twenty-five years ago. "I had the opportunity to meet many artists. As I lived near the Rome Opera House, I just had to walk a few hundreds of meters from my place to watch these marvelous productions. When you are in love with opera, it usually lasts your whole life long."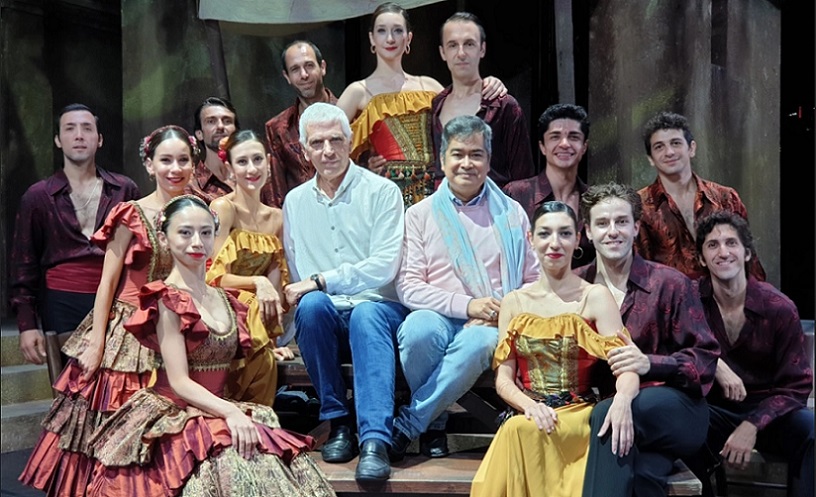 Working with Maestro Travaglini is not really all that serious stuff.
Prince Ravi shared that in the creative team, they are usually joking by saying that the director is God on stage and that the members of the creative team are all his angels.  "Seriously speaking, we are all respectful of his authority and he is always deciding everything at the end. As an assistant director working with him for more than twelve years now, I usually give him my advice on the whole production in the areas of staging, set and costume conception, light designing. My duty is a little more crucial in dramaturgy, especially in the historical genesis of an opera. I do all the researches on the myths, the original stories, the concepts to be put ahead of the staging process, the historical and social context of the creation of the opera. We discuss all that several hours a day, even when we go together to watch operas staged by others. Maestro Travaglini is very precise and wants the utmost care on following the libretto markings in all operas."
The collaborations turned out very rewarding in past and latest projects. "I increased my knowledge of musical concepts and techniques. Maestro Travaglini is tireless when an opera is about to be staged. He always wants the best in every field but he is also very close to his colleagues, artists and technicians. Even though he could have strong reactions once in a while, he always listens to others with polite attention and care. He toured the world by staging operas in Argentina, Florida, Japan, Spain, Turkey, Cambodia and of course, the Philippines and he appreciates all these countries for their genuine open-ness to Italian music and art. Our challenge to introduce opera in Cambodia, for instance, was very difficult to achieve but at the end, we made it."
Cavalleria Rusticana in 2018 was the first full length opera seen on a Cambodian stage.
He admits staging opera – or any opera for that matter — is always a big challenge. "Turandot is even much bigger as a challenge because of our high regard for the Philippines and the Filipino artists and Filipino audience. There is so much respect and affection towards performing arts in your country that we cannot afford to  fail in our mission. We take it as a big honor to join Filipino audiences in a night of opera mounted as pure labor of love in full partnership with Filipino artists."
Soprano Rachelle Gerodias sings the role of Liu, baritone Byeong In Park takes the part of Ping the grand chancellor with tenor Ervin Lumauag as Pang the grand administrator and tenor Ivan Nery as Pong the grand intendant. Also in the cast is tenor Nomher Nival as Emperor Altoum and baritone Greg de Leon as Mandarino.
The Turandot ensemble will come from the members of  the Viva Voce Voice Lab and the Tiples de Mandaluyong Children's Choir. Dancers will come from the ranks of Alice Reyes Dance Philippines.
(The two-day opera gala of Turandot is sponsored by LCS Group of Companies, San Miguel Corporation, Sta. Elena Construction and Development Corporation, BPI and Danny Dolor. Ticket prices are: orchestra center P6,000.00 P4,000.00; orchestra sides (right and left) at P5,000.00 P3,000.00; balcony I center P2,500.00 P1,500.00 and sides (right and left) P2,500.00 and P1,500.00. Contact Numbers and email addresses for inquiries: Lulu  Casas  09175708301; lgcasas@rgoc.com.ph; Maricar Alamodin 09175384508; esalamodin@rgoc.com.ph; Rustan's Makati –  8813-3739 Loc 280; Rustan's Shangrila – 8633-4636 Loc 400; Rustan's Alabang – 8850- 5592; Rustan's Gateway – 8931-2460; CCP Box Office 8832-3704 and TicketWorld  8891-9999.)