Text and photos by ELIZABETH LOLARGA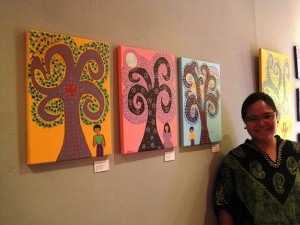 NOW here's a lawyer who puts a shine on that litigious profession: Kay Malilong Isberto.
By continuing to make trees and forests the subjects of her paintings (she recently held a solo show at San Beda Museum in Alabang Hills, Muntinlupa City), Isberto is able to promote a passionate advocacy to overhaul Philippine forestry laws.
"I never thought of abandoning law (to be a full-time painter). Painting was just another way (of expression) that if words did not work, maybe pictures will," she said.
Just last year, she met another visual artist, Aze Ong, while she was setting up for a solo exhibit at Likha Diwa in UP Diliman campus. Ong asked her if she wanted to exhibit in another venue.  Her exhibit then at Likha Diwa was entitled "Rainforest Caravan."
Without hesitance or even considering her load as lawyer and mother to young children, she immediately said "Yes!" without knowing where the venue was (in far-flung Alabang).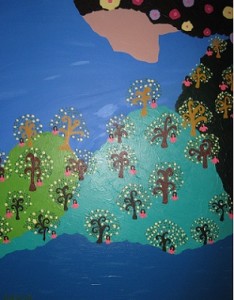 She explained that she wanted to bring her forest advocacy to a wider audience. She submitted an exhibit proposal to San Beda Museum curator Joseph Renta. He challenged her, saying  that she just had a month to get ready.
She didn't panic; instead, she focused on painting "until I felt I had enough to tell the story of the Rainforest Caravan. I painted as soon as I woke up and painted at least eight hours a day for the next found weeks. It helped that acrylic dries fast."
Isberto, 38, who has degrees in economics and law from UP Diliman, had always been keen on the arts. She took an art workshop at age13 in Cebu under Meowix Flores, then another one at 17 at run by fine arts students of UP Cebu. When her son took art classes under Mimsy Sermonia Jundis in 2008, she did some of the exercises that the workshop teacher gave him. The young mom also had a few drawing classes with Jundis.
This persistently studious women was already working on her masters in art history, also at UP Diliman, but temporarily stopped when she got pregnant with her second baby in 2010.
As for her deep concern for the country's dwindling forest cover, she said, "I worked on a project to amend the Philippine Forestry Code. I learned that our forest cover is estimated at 21 percent when the ideal should be at least 45percent or for some scientists, 54 percent. When I think about the implications of that for the future in terms of availability of clean air and water, biodiversity, prevention of landslides and the threats from climate change, I realized that we have to work fast to change paradigms about the forest and to act accordingly."
While she worked on that draft bill, she realized that "the idea that the forest is valuable in itself, not merely as a source of timber, is abstract for a lot of people. It is so different from the attitude of indigenous peoples, the same attitude that chroniclers wrote about when the Spanish colonizers arrived here."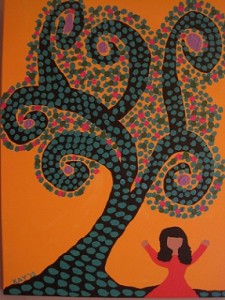 She added, "There was reverence and love for the forest. I thought that I should depict what the Philippines would look like if we found that love for the forest again. I imagined a Rainforest Caravan moving across the country. Through this, we could connect the forests and forest communities in the Philippines, share stories about them, including best practices on taking care of them, the hopes and dreams of communities taking care of them, and find ways for people in urban areas, even abroad, to help with forest conservation. Helping a forest community send children to school, for example, is one way to do that. When we make the lives of people taking care of the forest easier, we indirectly help take care of the forest."
Isberto considered herself lucky because her husband Dominic is very supportive. "He not only buys my art materials, he gives me space and time for my forest advocacy and art," she revealed.
Her  teenage son Francis Ruben critiques her work. "He and my toddler Leandro are daily reminders that I need to keep going on my forest advocacy," she said.
She seizes opportunities "to tell the story of the forest and of the need to take better care of it." The recent show at the museum was meaningful for her because she was able to reach more children and young people.
She said, "It is their future at stake. I want them to enjoy the ecosystem services that forests provide. If I can convince them of how important it is to love our forests and to take care of them, maybe they can influence the adults in their lives to act differently."