The musical landscape of Spain will be revisited when two classical guitarists mount a concert called Spanish Serenade (Serenata Espanola)  at the Yuchengco Museum, Wednesday July 20  at 6 p..m.
In the intimate concert, classical guitarists Adrik Cristobal and Ramoncito "Monching" Carpio explore the seldom heard gems of Spanish guitar music through the ages. 
For one, Carpio interprets the supremely haunting  Capricho Arabe by Francisco Tarrega while Cristobal revisits Alhambra through the same composer's Recuerdos de la Alhambra which is also the sound soundtrack of the immensely popular K-drama of the same title  starring the immensely popular  heartthrob Hyung Bin.
Having studied in Conservatory of Seville, Cristobal said he has personally visited Alhambra in Spain and thus he could relate at  once. "The piece is one of the most popular in classical guitar repertoire and I understand why. I have experienced first hand the scenery that Tarrega saw while he was passing  through the Alhambra Palace in Granada. Some people express through words, some through painting,and some through music just as Tarrega did after seeing the Palace for the first time."
It was timely that Carpio happens to be working on his Spanish repertoire and the musical collaboration happened. " He (Carpio) asked if I wanted to work on a project together since I also had quite a few Spanish pieces under my belt. We eventually decided to make this a live event. Working with him is always a privilege."
Cristobal admits he started classical guitar quite late at age 12. "This was after a few years of electric guitar. I don't think anyone directly inspired me but I was getting curious on the guitar's classical side. I eventually started discovering various guitarists . I slowly learned more about their individual unique style."
His first five years  as classical guitarist were quite intensive since he was in a home school during high school. "I was with  Prof. Lester Demetillo during my early years and learned a lot about music in general. He was one of my early inspirations to continue guitar into college and eventually  joining the UP guitar orchestra which he leads up to this day. I enjoyed  and learned a lot from our time together."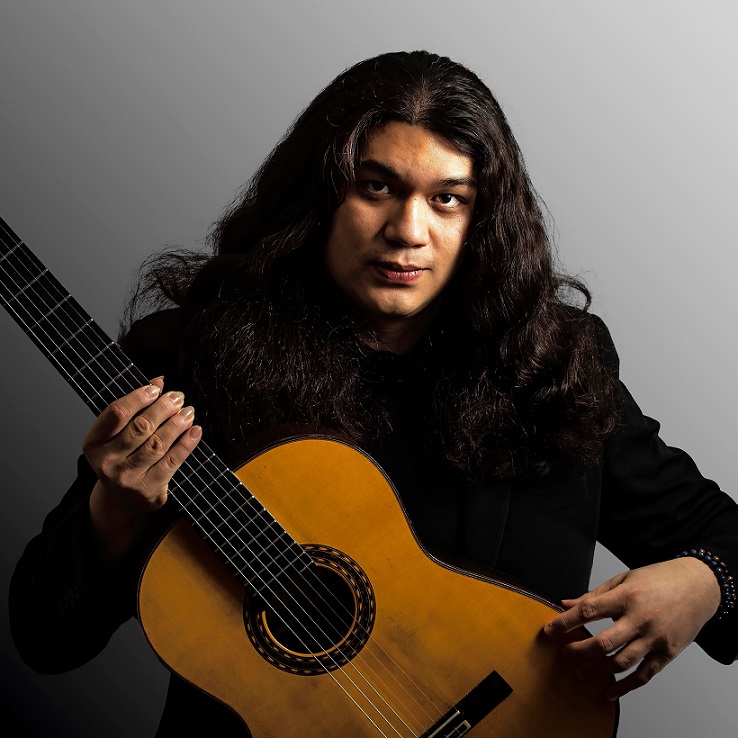 He admires many classical guitarists but the most influential to him were his two main professors abroad –Francisco Bernier at the Conservatory of Seville and Carlo Marchione from the Conservatorium Maastricht in The Netherlands. "I also had the privilege of taking private lessons from Cuban guitarist Marco Tamayo. Aside from their great playing, learning from their distinct styles helped build my own style. Each one offered a lot of information which I needed at the time. Bernier helped me improve my technique immensely. In the process, I found my sound and character as a player. He also helped me imbibe a more Spanish  style of playing which is what I wanted to be.  Marchione deepened my views on music as a whole and showed me how to play baroque and classical music at a more stylistic level. Marco Tamayo the other hand helped me refine my playing as a whole and simplified the approach of learning pieces. The Japanese maestro Shin-ichi Fukuda also shared some very insightful pieces of knowledge during my encounters with him in masterclasses. and social gathering. In my opinion, his style of playing represents not just the Japanese guitarist but the Asian guitarist I am proud to be."
He knows that the guitar is by itself  a highly flexible instrument and has its advantages. "It's classical yes but not as 'rigidly' classical compared to orchestral instruments. Careful selection of repertoire that can reach out to wider audiences inspires me to stick to music making and hopefully I get my financial reward later."
Cristobal is realistic about the state of appreciation for classical guitar in this country. "Obviously covid has hurt everyone and took time away from all of our lives. Athough enrollees have been less, I think there are more quality students now. When it comes to events,  I think we need to wait till the public events/gatherings probably get closer to 100% capacity."
He is happy he found the same people supporting the small guitar community and  he is hoping it grows.
The pandemic period from 2020 to 2021 found him in the Netherlands. "With limited performances and activities, I was able to think of another way of doing things. I hosted online concerts with various themes and  guest artists. Fortunately thanks to people looking for online content and with the help of my family and friends, we were able to reach quite big audience. Each performance thankfully was also financially rewarding. We also experimented with audio visual effects when making the concerts. With times changing now and the transitioning back to  live performances, I hope we can bring the same concept live."
The long lockdown also uncovered the chef in him  with his very personal chicken recipe. "Aside from my interest in classical guitar, I'd like to think I was cooking one of the best fried chicken recipes that ever hit the small town of Maastricht, Netherlands. It was never a real business but in a small town with very little food choices,my hobby kept me busy as many students and families would order. I'm working on bringing it to Manila on a bigger scale sometime in the future."
With several duo numbers in the program, Cristobal reveals the adjustment  which takes sometime to develop. "The player's impulse is usually to go fast. But when you play duo, you must learn to synchronize. The main difference of playing solo is more of focusing on yourself which can be a little more challenging as you are mainly responsible for yourself. But in playing duo, you have to be responsible for one another. Collaborations are more  enjoyable because of the learning process you share and gain from one another."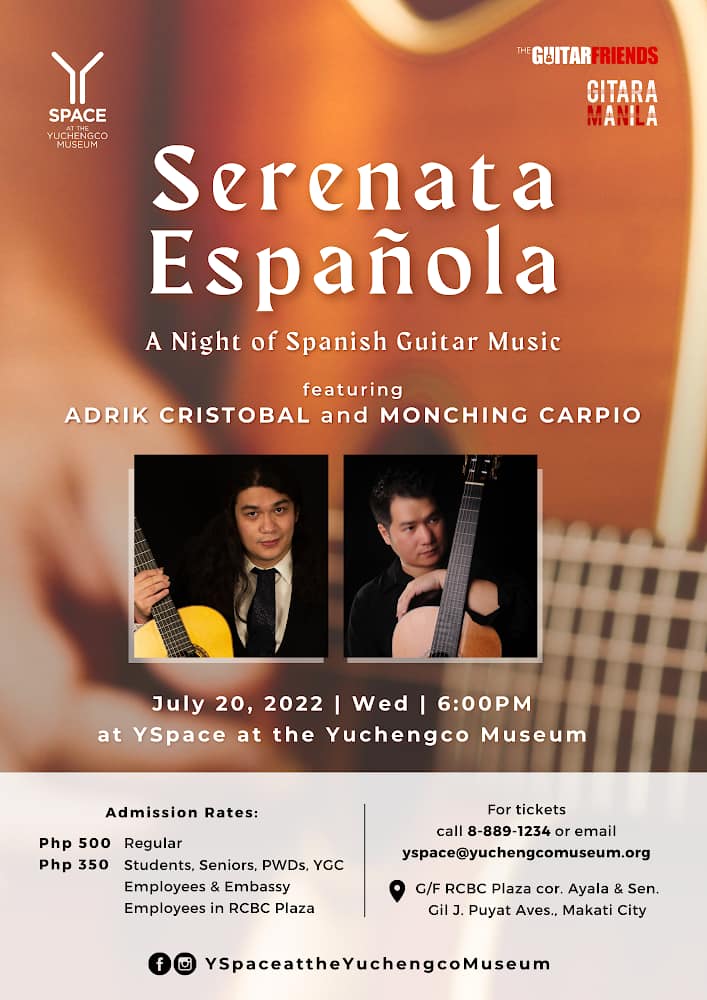 (Adrik Cristobal and Monching Carpio would like to thank the Guitar Friends, the Yuchengco museum team, and Gitara Manila for the collaborative efforts. Their full program includes Intermezzo and Danza Espanola No. Capricho Arabe  by Francisco Tarrega; Serenata Hispañola  by Joaquim Malats; Danza Española No. 5 – by Enrique Granados; Asturias  by Isaac Albeniz; Usahay – G. Labja (arr. J. Valdez); San ka man naroroon – R.Umali and L.Celerio (arr. J. Valdez); Maria and Recuerdos de la Alhambra  by Francisco Tarrega; Sevillana (Fantasia)  by Joaquin Turina; Sonata K.380 – by Domenico Scarlatti and Introduction and Fandango by  Luigi Boccherini.)