Photos by Resa Calimon
A philosopher once acknowledged that women hold up half the sky but their narratives are often neglected. They are not as privileged as their male counterparts and their contributions generally unappreciated.
The establishment of the Ateneo Library of Women's Writings (ALIWW) by professors Edna Z. Manlapaz and Soledad Reyes 16 years ago was an effort to correct this oversight.
Since then, ALIWW, an archival facility originally for women in literature, now occupies a bigger space at the former Ateneo Art Gallery at the Loyola Heights campus, Quezon City. It houses the papers of at least 160 women writers.
Rica Bolipata Santos, executive director, is proud of recent acquisitions that enrich the collection and serve as mine for scholarly research: ex. the papers of dancer Edna Vida and civic leader Nini Quezon Avanceña, which include photos with her parents (Philippine President Manuel and Aurora Quezon); a book autographed by Gen. Douglas MacArthur; the late President Corazon Aquino's personal books; and Cory Aquino memorabilia from Monina Allarey Mercado.
Broadcaster Cheche Lazaro also committed to turn over the papers of her mother, Estefania Aldaba Lim — the late social services and development secretary and the first Filipino woman to hold a Cabinet-level post.
Bolipata Santos, 42, who teaches at the Ateneo de Manila University (ADMU) English department and is an author herself of two books (Love, Desire, Children, Etc. and Lost and Found and Other Essays), agreed with her predecessors and even the late Virginia Woolf, that for a woman to write, she needs money and a room of her own.
She reported how Bienvenido Nebres, S.J., former ADMU  president, put ALIWW among his priorities, enabling it to have twice the size of its old space at the Rizal Library. The venue is now more accessible to people and has a bigger exhibit space.
Manlapaz and Bolipata Santos worked on the home-like layout of the place, bringing in living room sets and old dining tables from the former's collection.
The latter said: "We have made major gains in making sure that women's histories and narratives are kept for future researchers and historians through our archives. We've slowly been moving into collecting (papers) from women across all disciplines. We want to show that this is a place for women who can turn in their papers, even sketchbooks, if their families are not interested in them."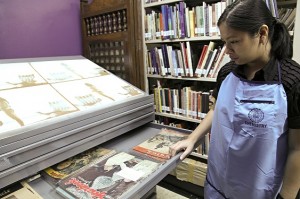 She will actively link ALIWW with the university's fine arts department, the school of humanities, and the Pilipino department by having them use the space for lectures.
"We want our English teachers to encourage students to do research on Philippine women writers in all Philippine languages," Bolipata Santos added.
For this first semester of academic year 2011-2012, "Matrix Redux" is on exhibit at ALIWW, featuring women artists 'works that are part of Ateneo Art Gallery's collection. Among those featured are Yasmin Almonte, Maria Cruz, Araceli Dans, Francesca Enriquez, Brenda Fajardo, Imelda Cajipe Endaya,  and Julie Lluch.
Heidi Dizon, ALIWW librarian, said the total collection has 245.33 linear feet, explaining that "our measurement is based on how long the archives are and not by the number of documents. ALIWW grew by 24 linear feet from April 2010 to Nov. 30, 2010."
She said students from within ADMU, from the University of Santos Tomas, University of Asia and the Pacific, De La Salle University, Philippine Normal University, Baliwag State University and the University of Washington, and even members of Ballet Philippines, have dropped by to do work at ALIWW.
For a place that is home to, as Dizon put it, "more than a hundred living and gone women," ALIWW has a lean but efficient team that also includes library assistant Gemma Roces and Paul Andrew Mendoza.
Bolipata Santos has earned her spurs to qualify as ALIWW head by understudying with Manlapaz for some years, going through her own writer's and womanly apprenticeships that included 15 years of teaching, bearing and raising children, getting published as freelancer and then as a columnist and author.
Bolipata Santos was born to a family known for music prodigies like brothers Alfonso ("Coke") the violinist-music teacher, Ramon ("Chino") the cellist and Jaime ("Jed") the pianist (the last had actors Robin Williams and Christopher Reeves as classmates at Juilliard)/
She recalled: "We were raised on the arts. As kids, we put up plays with scripts, posters and tickets. We had set design. We were serious with our Young Players Group. We made tickets for our parents, our only audience. We were lucky to be encouraged to pursue the arts."
The brothers got accepted in conservatories abroad on the basis of demo tapes. The girls, like Rica and her older sister Plet, now a multi-media artist after starting out as a painter, think of themselves as "late bloomers."
She, Plet and their other sister Non, a lawyer, are not competing with the brothers. Each is fulfilled in her own way in her corner of the world.