By NORMAN SISON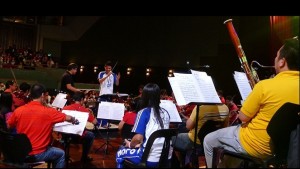 WITH a conductor's baton in his right hand, a boy – no more than 12 years of age – leads a 40-piece orchestra to the cheerful tune of "Sleigh Ride". Mind you, this is at a Christmas concert.
But, no, the boy isn't a child prodigy. About two minutes later, his arm begins to tire and slow down. The orchestra obediently follows the tempo and begins to sound like broken old-fashioned vinyl record. Some in the audience of 300 chuckle and several musicians in the ensemble smile as they play on faithfully.
The boy recovers and picks up the pace, and the orchestra is back up to speed, and everybody in the audience gets the idea about the conductor's job.
This is one of Gerard Salonga's ideas of introducing orchestra music to a musically inclined nation that is used to marching brass bands with leggy majorettes in town fiestas, offensive karaoke singing or ear-shattering music player headphones.
Orchestra music isn't exactly new to Filipinos. The Philippine Philharmonic Orchestra has been around since 1973 while the Manila Symphony Orchestra goes back to 1926, making it one of Asia's oldest orchestras. But orchestra music remained outside the radar of ordinary Filipinos.
Salonga wants to break the notion that orchestra music is only for society's upper crust or the sosyal.
"It's for everyone to enjoy. There is no footnote in Mahler Symphony No. 5 that says 'if your annual income is below this figure, you cannot listen to this piece'," says Salonga, conductor and music director of the ABS-CBN Philharmonic Orchestra, and younger brother of international star Lea Salonga.
But since over 70 percent of the Philippine population is from the poor or the masa, he doesn't believe that shoving it down people's throats by playing pieces from Bach will work. "Our approach is to get people used to the idea of an orchestra first, get them to know us, that we are regular people playing music."
ABS-CBN Philharmonic's free Christmas concert last Sunday at ritzy Rockwell Center revealed the kind of audience that Salonga is facing.
Their 2 p.m. performance was for the general public. "You can clap or holler whenever you feel like it," Salonga told his audience with his boyish enthusiasm, assuring that orchestra music didn't necessarily have to be formal.
"People didn't know how to react. They were really quiet. Some clapped but only for a few seconds," relates Salonga, complete with a demonstration of someone too shy to applaud.
At their 6 p.m. performance, many in the audience were well-to-do. However, the atmosphere was likewise initially stiff because they are used to the prim and proper orchestra concerts.
But the façade of proper conduct collapsed when actor Xian Lim, who plays the trombone among other musical instruments, emerged for his number – to the delighted shrieks of the women, firing away with cell phone cameras.
By the time the ABS-CBN Philharmonic was playing a "classicalized" medley of select 2012 hits, the audience was clapping along and responding with "oppa Gangnam Style!" And when it was all over, they got Salonga's idea of orchestra music appreciation.

To make people appreciate it even more, in small performances such as last Sunday's, Salonga invites a brave soul from the audience during interludes to experience conducting an orchestra. He cooked up the idea initially for schoolchildren who visit the orchestra at the 270-seat Dolphy Theater, where they practice and rehearse.
In his estimation, it may take about five years for Salonga and the ABS-CBN Philharmonic to bring down the social barrier and get a sizeable portion of the public used to orchestra music.
Salonga's utopia is for the Philippines to be like Germany, where people go to orchestra performances as they would to the movies. But he acknowledges that "it's a bit of a stretch" because orchestra music is part of German heritage. Beethoven did come from Germany, after all.
The Philippines doesn't even have a proper music hall. But that will change when Rockwell's luxurious five-tower project, the 3.6-hectare Proscenium, is completed. The complex includes a world-class, 600-seat music hall, ABS-CBN Philharmonic's future home.
But the question remains: what is the point of pushing orchestra music to a masa culture whose first worry is putting food on the table?
"There is something about great art that uplifts one's soul. I can't put my finger on it. It's not just entertainment," Salonga muses, believing that an orchestra can be an instrument in building a nation.
"A good orchestra exemplifies a good society. Look at the qualities necessary for a good orchestra," he says. He quickly rattles off discipline and unanimity – discipline in mastering an instrument, and unanimity when the orchestra plays as one with not an instrument out of tune or step.
He points to his musicians, emphasizing that they come from different backgrounds but impossible to tell apart when they are performing. They chat and exchange laughs like a family during practice sessions. But when the music starts, it's strictly business.
"Discipline and unanimity aren't exactly what Filipinos are famous for," Salonga notes. "An orchestra playing good music can provide an example of what can happen when people listen to each other, when they give up their individualism in pursuit of a common goal."