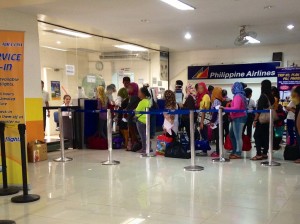 By FERDINANDH CABRERA and ARTHA KIRA PAREDES
COTABATO CITY— All she knew was that she was on her way to Manila to train as a domestic helper abroad.
Waiting for her flight at the Cotabato airport's pre-departure area, the frail-looking girl who was probably in her late teens, sniffed every so often while keeping her veil in place. She said she was from Maguindanao and was just recovering from a bug.
She was keen on making the trip, she said, so she could start earning money to cover the expenses she has incurred in applying for a job abroad. She came with a group of at least 12 young girls, all presumably riding an airplane for the first time.
That wasn't the only thing they had in common, though. Looking too young to be overseas workers, they were all likely carrying falsified documents.
That particular day in fact, while the young woman managed to board the plane to Manila, two of her companions were barred from taking the flight because they had identical names in the documents they presented.
Airport workers here have observed that in many instances, young women who huddle and queue in groups are victims of human traffickers. They bear "manufactured" names and falsified birth certificates known as baklas.