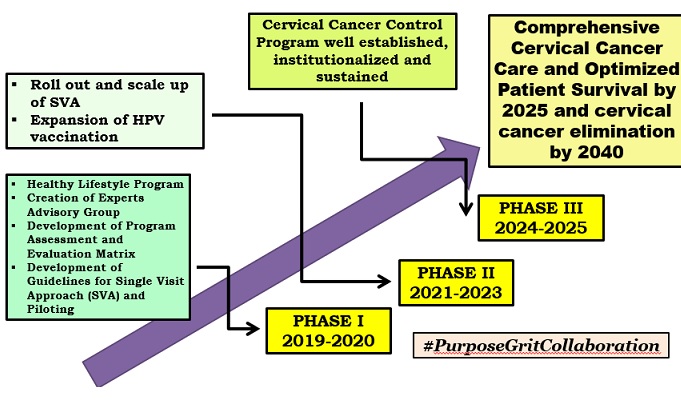 From Dr. Clarito Cairo's presentation
The Department of Health is aiming high: By 2040 they want a cervical cancer-free Philippines.
That means there no more new cervical cancer cases that number about 7,000 a year.
That means thousands of husbands would be spared of the grief of losing a wife, of children losing a mother, of parents losing a daughter, of kins losing a sister or aunt.
Dr. Clarito Cairo, DOH cancer manager, presented at the 8th HPV Summit last May 30 at the Diamond Hotel, the burden of cervical cancer in the country: cervical cancer is second only to breast cancer as the most common malignancy that afflicts Filipino women. But cervical cancer is more deadly: for every four Filipino women who survive cancer of the breast, only two or three will survive cancer of the cervix.
One of the medical breakthroughs in modern history is the discovery that cervical cancer is caused by a virus- the human papilloma virus (HPV). Thus, preventable.
Cervical cancer got a much- needed push from the director general of the World Health Organization, Dr.Tedros Adhanom Ghebreyesus, who issued a call to action on May 19, 2018 to ensure that "that all girls globally are vaccinated against HPV and that every woman over 30 is screened and treated for pre-cancerous lesions."
The roadmap that Cairo presented towards a cervical cancer-free Philippines underscores the importance of early detection. He mentioned Single-Visit Approach (SVA), which combines screening and treatment in one visit including cryotherapy- treatment that involves the use of freezing or near-freezing temperatures- and the expansion of the HPV vaccination.
Several speakers expounded on the importance of prevention. Cecilia Llave, director of the Cervical Cancer Prevention (CECAP) Network Program and the overall facilitator of the HPV summit, said the cost of preventing cervical cancer through early screening could only be as high as P800 for a Conventional Pap Smear test in private hospitals, and –through an inexpensive acetic acid-based visualization screening method that could be as low as P50 only.
It was also noted by speakers that cervical cancer has a long pre-cancerous period during which it may be detected and stopped. An infection generally takes as long as 10 years, and may even take 30 years, to develop into a full-fledged malignancy.
The HPV summit was enlivened by the sharing by volunteers at Lila Clinic in Tondo, a project of Likhaan, a non-government organization engaged in providing direct health care services to women in marginalized communities, of the many misconceptions that they had to deal with about cervical cancer and the measures they use for early detection.
One factor for the DOH and the medical community's optimism for a cervical cancer-free Philippines by 2040 is the passage of the National Integrated Cancer Control Act (R.A. 11215) which was signed by President Duterte last Feb. 14. The Implementing Rules and Regulations were finalized last week, according to Paul Perez, founder of Project Brave Kids and spokesperson of Cancer Coalition of the Philippines.
One of the provisions of the NICC is the establishment of the Cancer Assistance Fund that will cover expenses in the treatment not covered by PhilHealth. The law even covers expenses for "innovative cancer drugs."
Cairo said if the Road Map is implemented without a hitch by 2025, a comprehensive cervical cancer care would be in place, optimizing patient survival. By 2040, cervical cancer would be a thing of the past and "Filipinos will live long, healthy and productive lives."