By RONN BAUTISTA and KRIXIA SUBINGSUBING
(First of two parts)
SUPPERTIME in the Philippines is often accompanied by the start of local primetime newscasts in Filipino homes.
At 6:30 p.m., media networks ABS-CBN, GMA-7 and TV-5 begin broadcasting their flagship news programs.
While the rest of the country follows the rundown of the day's newsworthy events, a significant part of the population will not understand a single thing that anchormen will say: the Deaf community.
Despite laws and international conventions encouraging them to do so, most private TV networks continue to deny information to Deaf persons by opting not to include regular sign language insets during their daily newscasts over logistical and aesthetic concerns.
Republic Act 7277 or the Magna Carta for Persons with Disabilities (PWDs) states that "television stations (are) encouraged to provide a sign language inset in at least one newscast program a day."
This is in line with the United Nations Convention on Rights of Persons with Disabilities (UNCRPWD), which the country is a signatory of, that acknowledges the right of PWDs to "receive and impart information and ideas on an equal basis with others."
At least 500,000 Filipinos are deaf or have difficulty hearing, according to the De La Salle-College of Saint Benilde School of Deaf Education and Applied Studies (DLS-CSB SDEAS).
"(Deaf persons) need valuable information to make informed decisions. Every bit of information has the potential to be life-changing for them," said DLS-CSB SDEAS Dean Veronica Templo-Perez.
Despite recognizing the merit of such measures, media giants ABS-CBN and GMA-7 opt not to implement provisions in the Magna Carta for PWDs and the UNCRPWD on accessibility to deaf persons as insets have yet to be prioritized in the newsroom agenda.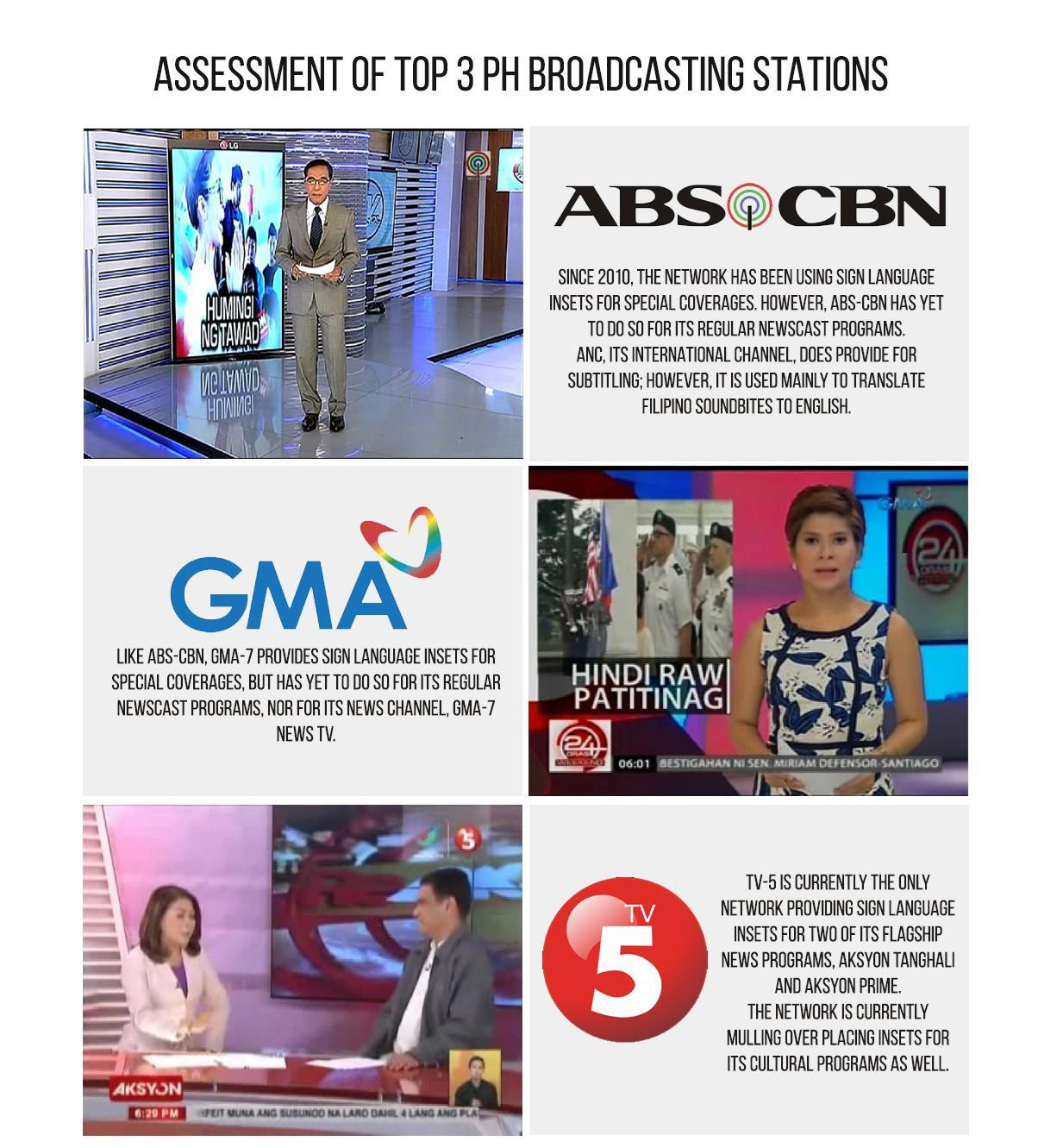 "(GMA) has yet to make sign language insets a priority because usually if it's an urgent need, you would hear from the sectors. We are studying how to make it a regular part of our programming," said Howie Severino, GMA-7's Vice President for Professional Development, in Filipino.
Severino added that making insets regular additions to news programs would also entail large changes in the newsroom such as hiring sign language interpreters and finding additional space in the studio for them.
Arlan Alfonso, head of ABS-CBN News Engineering, echoed the same sentiment, saying that adding sign language insets in newscasts would require several aesthetic adjustments to avoid screen clutter.
"(Insets) would definitely eat up the video. We have a running news crawl, we have graphics, we have a logo—when you put a deaf interpreter inset, you have to adjust our boxes to give way to other elements of the screen, and that could distract from the information we are trying to provide," Alfonso said.
Even resolving aesthetic concerns, the needs of the station's wider and primary audience have to be considered as well, said Francis Toral, head of ABS-CBN Breaking News and Live Events.
"We can and we are considering the needs of the Deaf community, (but) we are not yet implementing sign language because our wider audience has no need for it," she said.
As of April this year, both networks enjoy the bulk of Philippine viewership with an average audience share of 42 percent for ABS-CBN and 37 percent for GMA-7, according to Kantar Media.
Hesitation to use insets means failing to hear out the Deaf community's need for information, Templo-Perez said.
"How about the actual need to provide information to an audience who cannot get accurate and important in any other way than a sign language inset in a news program?" she asked.
Last February, Sen. Paolo "Bam" Aquino filed Senate Bill 2117 which seeks to amend the original Magna Carta and require all free-to-air TV stations to include sign language insets in at least one newscast a day.
"The term 'encouraged' (in the original Magna Carta) is very weak compared to actually requiring networks (to include insets)," said Randy Calsena, officer of the National Council on Disability Affairs subcommittee on laws and policymaking.
So far, only TV-5, the youngest of the three major broadcasting networks in the Philippines, includes insets in their newscasts.
In partnership with the Philippine National Association of Sign Language Interpreters since 2011, TV-5 provides insets in two of its flagship national news programs, Aksyon sa Tanghali and Aksyon Prime, which airs weeknights at 6:15 p.m.
"We recognize that there is a need for wider access to our newscast programs, especially for the PWD sector. (It's) not a question of cost, it's a question of how willing you are to (provide for insets)," Patrick Paez, production head of TV-5, said.
Although TV-5 follows the Magna Carta, the station may still need to make its sign language insets more accessible, Templo-Perez said.
The network's inset takes up less than one-forty-eighth of the screen.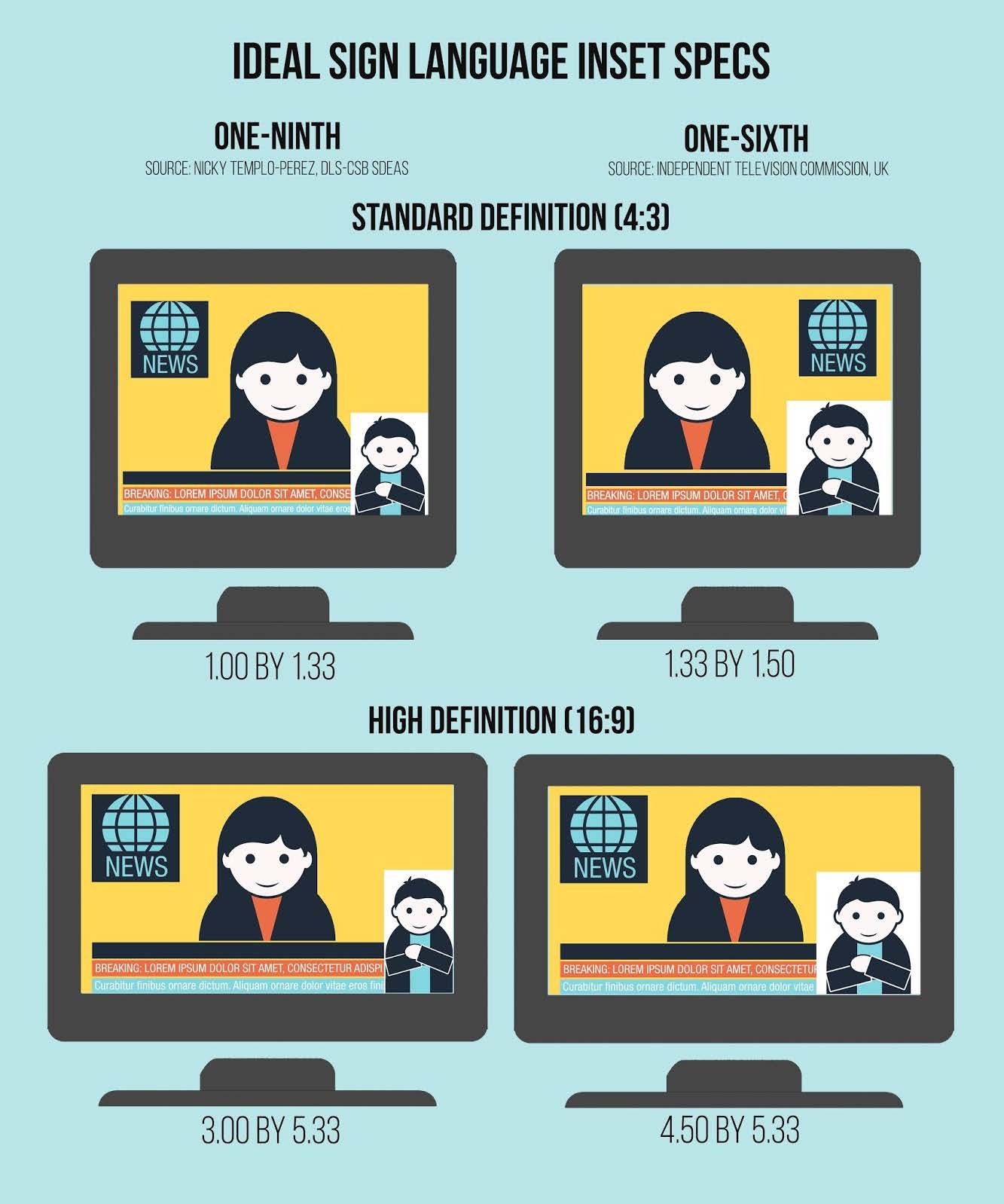 The DLS-CSB SDEAS estimated that insets should take up at least one-ninth of the screen for deaf audiences to clearly comprehend the sign language interpreter's actions.
International standards, such as the United Kingdom Independent Television Commission's guidelines, set an even higher bar at one-sixth of the screen allotted for the inset. As for SB 2118, the Senate has yet to discuss the standards for the insets.
"Let us remember that providing sign language insets are for the benefit of the Deaf community, not for the viability of TV stations," Templo-Perez said.
SB 2118 has been pending at the Senate Committee on Public Information for more than a year.
The House of Representatives passed its counterpart, House Bill 1214, in February last year.
Should the bills become law, both ABS-CBN and GMA-7 said they will comply when given enough time.
"Needless to say, if required by law, we will abide," Toral said.
However, such vow and recognition of the importance of accessibility seemed ironic for Templo-Perez given the two station's continued lack of sign language insets.
"How sad that it takes a law to get them to comply," she said.
Conclusion: Deafening silence: Budget woes hamper state TV accessibility to deaf persons
(The authors are journalism majors of the University of the Philippines-Diliman. They submitted this story for the journalism seminar class "Reporting on Persons with Disabilities" under VERA Files trustee Yvonne T. Chua. This series of stories coincides with the celebration of the country's National Disability Prevention and Rehabilitation Week.)