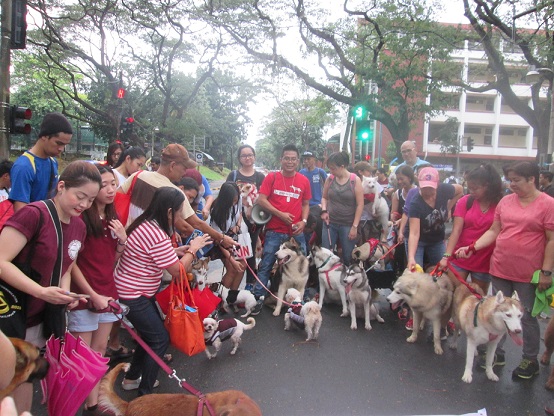 By KHRYSTA IMPERIAL RARA
THE  dogs that strutted and captured the hearts of many  at the recently-held Lantern Parade of the University of the Philippines didn't know it, but they became the symbol of a campaign for more responsible pet ownership in the  UP community.
"The most pressing issue in the campus is how to instill responsible pet ownership among animal lovers. If people are responsible, there would be less problems like overpopulation of stray animals, and less or no more incidence of animal cruelty," said Notch Herrera, a faculty member of Mindanao State University currently pursuing graduate studies at the UP College of Mass Communication.
Herrera joined the parade with her Japanese spitz Misao, who alternated between walking alongside other dogs and watching them from the comfort of the arms of her mistress. UP Diliman Chancellor Dr. Michael Tan is laying the groundwork for animal-friendly policies in the country's premier university.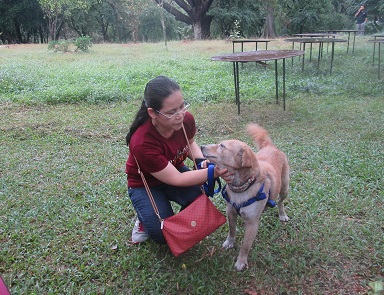 Last July, the Chancellor suspended an order to round up community animals. Rounding up stray dogs and cats in the campus has been the policy for several years, with most of the animals ending up being euthanized at the Quezon City pound in Payatas.
"I am already working on this, with what I hope will be a scientifically conducted pet census that will guide us with our future programs. Being a vet myself, I'm working on explaining to our officials, faculty and staff how a good long-term program for the university has to be one that is based on an understanding of ecological principles," he wrote in an e-mailed message.
"Exterminating or 'evicting' existing animals will only mean new ones coming in.  We should accept that certain places can have an acceptable carrying capacity of animals that will be functional, cats controlling vermin for example, dogs and cats providing companionship and maybe reducing stress," he further explained.
Tan said if people keep their animals healthy, feed them right, update their vaccinations and spay or neuter them, "we could achieve an equilibrium between humans and the dogs and cats."
There are an estimated 7000 dogs in the UP campus. No figures are available for the feline population.   Guidelines for joining the parade required dog owners to be responsible and update their dogs' 5-in-1 and anti-rabies shots, keep them on a leash and clean up after their pets poop.
A couple of dogs decided to test the implementation of this rule, and their humans gamely scooped up their poop.   Even the unexpected downpour became an ally when it drastically altered plans for the parade which began almost an hour behind schedule. Many of the lanterns couldn't be brought out during the rain and participants had to seek shelter. This delay allowed the dogs to parade twice around the Academic Oval after the rain stopped.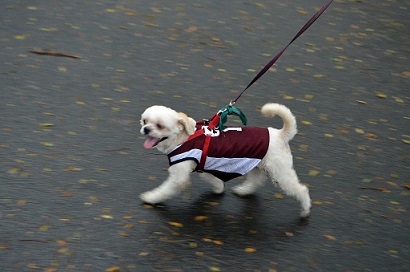 Pinoy dog whisperer Lestre Zapanta led the pack and their owners. While some tried to keep pace with Zapanta, others took a more leisurely approach and sauntered by. The dogs'reactions varied from looking unimpressed by the crowd's enthusiasm to basked on it. A German Shepherd pulled on his leash to approach onlookers, leaving his owner no choice but to amble behind him.
Huge Siberian huskies, Alaskan Malamutes, Belgian Malinois, Rottweilers, Labradors, Golden Retrievers walked beside petite Japanese Spitzes, Shih Tzus, toy poodles and Chihuahas. Three aspins marched with the pure breeds, wowing the crowd as they moved along with a confident gait. A curious German Shepherd tried to get information about the Rottweiler pup in front of him by smelling his butt.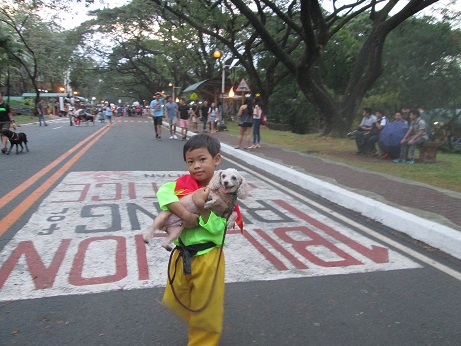 It was the first time in the parade's 93-year history that a group of dogs and dog owners were allowed to participate as a contingent. The dog ban around the Academic Oval was suspended on that day, bringing hope to dog lovers that it would soon be a thing of the past.
"Actually, we've been lax as well with the ban on pets in the Oval and I hope we can formalize a lifting of the ban once we can assure people about responsible pet ownership," Tan said.
"The pet run in October and the Lantern Parade contingent should help convince people pets are not just OK, but integral to UP Diliman," he added, referring to a dog event organized by Friends of Campus Animals (FOCA UP), the same animal welfare group that planned the parade's pack walk  in partnership with the Office of the Vice-Chancellor for Community Affairs.
Tan, who admitted that he was "of course very happy when told about the plans for the pet contingent," said the dogs will definitely be a part of next year's parade.