In his desperation to get back at Sen. Antonio Trillanes IV, President Duterte resorts to fake news.
In last Thursday's Senate investigationof the Senate Blue Ribbon committee of the 604 kilos of shabu that slipped through the Bureau of Customs, Trillanes presented bank accounts of presidential son Paolo Duterte, vice mayor of Davao City (totaling P104,2812.165 made in 2011 to 2015) and presidential son-in-law Atty. Manases Carpio (totaling 211,109,236 made in 2003 to 2012). The two neither confirmed nor denied the deposits invoking "right to privacy."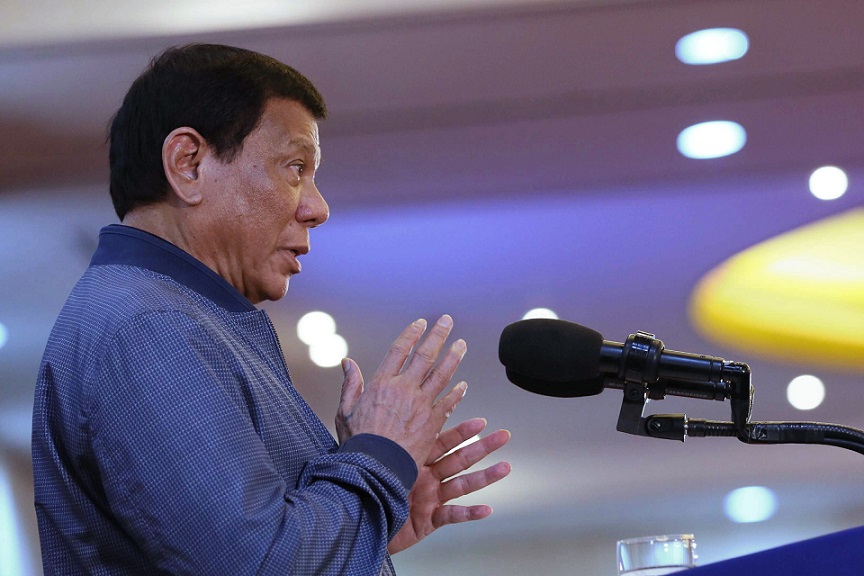 Pres.Rodrigo Duterte addresses 26th Mindanao Business Conference in Cagayan de Oro City on September 9, 2017. Malacanang photo by Ace Morandante.

Last Saturday, in a speech at the closing ceremony of the Mindanao Business Conference, Saturday said Duterte said he will also expose Trillanes' bank accounts abroad.
"I'm coming up with Trillanes, his bank deposits, all over. Ngayon, nakuha ko na, akala kasi niya hindi ko rin kaya eh. (Now, I got them. I thought I couldn't do it.) So, I am giving you in a few days the number of deposits that he has with his—with Chinese joint accounts. It's all over… Hong Kong, Australia, America, 'yung ganun.," he said.
Trillanes, the poorest senator, immediately dismissed Duterte's announced expose as "fake."
:"Hindi totoo yan. Fake news yan. Sinungaling yan si Duterte. Hinahamon ko sya na ilabas nya ung detalye at agaran ako pipirma ng waiver para malaman ang katotohanan. (That's not true. That's fake news. Duterte is lying. I challenge him to release the details and I will immediately sign a waiver so that the truth will be known.)"
Yesterday, a friend forwarded to me a post by https://www.facebook.com/PeterLimSilva/posts/270457583459939 which narrated having seen a list of Trillanes' alleged bank accounts in Facebook. He did some online sleuthing and here's his very interesting post:
"May naglabas ng mga "alleged" Bank Accounts ni Trillanes. Isang FB Page na ang name ay DAVAOBREAKINGNEWS2. So I checked the page and I saw davaobreakingnews.com. I tried to connect on that site pero it is "temporary (un)available". So my friend helped me with it. He said we can try using Godaddy.com Which we did. Viola, lumabas ang macky.zapanta@gmail.com as Registry Email ng website na davaobreakingnews.com.
" Before we go on, it is very important to know that 'There are no email accounts that are exactly alike.'. Isang example ang jose.rizal@gmail.com na once ito ay nagamit na hindi na ito puwedeng gamitin ng iba.
"We go back sa macky.zapanta@gmail.com, we traced it sa Facebook hoping na it might have been used na. And it was. The said email account was used by a certain Samantha Smith. Here is the link:
MACKY.ZAPANTA@GMAIL.COM = Samantha Gomez account on FB = https://www.facebook.com/profile.php?id=1000083783…
"The said FB Account has 39 friends and it said the owner is from Davao City.
"We did not stop from there. We went all the way to searching for any link and we found another one, and this is where it gets exciting. The email address led us to a company named BOT Consultancy. Here is a brief description of what the company does :
"BOT Public Relations Consultancy is a consultancy firm focused on enhancing the performance recognition of its client.
"We link our client with people and companies that could help deliver the information they want to get across their target audience.
"BOT Public Relations Consultancy will not hide your flaws but rather intensify your qualities and attributes. We believe that good PR starts with you. We simply enhance them!
"Here is the link to BOT CONSULTANCY: https://play.google.com/store/apps/details…
"These are all for now."
What is emerging is that someone has gone into the business of manufacturing fake news using taxpayers money. Let's not be duped.