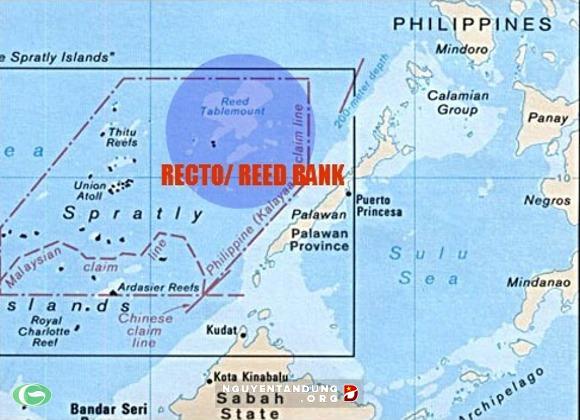 Hopes for joint oil and gas exploration between the Philippines and China, especially in the disputed Recto (Reed) Bank, have been shattered with the termination of bilateral talks, leaving it up to the incoming administration to possibly breathe life into them and prevent a debilitating energy crisis in the country. 
President Rodrigo Duterte issued the order stopping the negotiations which was announced by Foreign Affairs Secretary Teodoro Locsin Jr. in his farewell speech on June 24. The directive came two months after the Department of Energy (DOE) suspended all oil exploration activities in the West Philippine Sea (WPS).   
"The President had spoken. I carried out his instructions to the letter: oil and gas discussions are terminated completely. Nothing is pending; everything is over," he said.  "Three years on and we had not achieved our objective of developing oil and gas resources so critical for the Philippines – but not at the price of sovereignty; not even a particle of it." 
Locsin added, "It remains with the new administration to protect our sovereignty all the way to the wire. But now I can rest. The irreducible template of what is Constitutionally possible is there in black-and-white. Surrender of any portion of Philippine sovereignty is not an option. Not for love. Not for money."
The foreign secretary did not provide details to explain the decision, saying only that he did his best to work out a deal with Chinese Foreign Minister Wang Yi without violating the Constitution and making it clear that it was the Philippines that called off the talks.
"We got as far as it is constitutionally possible to go. One step forward from where we stood on the edge of the abyss is a drop into constitutional crisis. That explains the sudden pull-back on my part, which unraveled three years of sincere hard work on the part of Wang Yi and me," Locsin explained. "We had both tried to go as far as we could – without renouncing China's aspiration on his part; and constitutional limitations on my part. I shut down shop completely."
For its part, China reiterated that joint development is "the right way" towards a solution to overlapping claims of the two countries in the contested waters, citing a memorandum  on joint development signed by the Philippines and China.  It expressed willingness to work with the incoming government of president-elect Ferdinand Marcos Jr. to continue discussions on the matter.   
In a June 24 press conference, Chinese Foreign Ministry Spokesperson Wang Wenbin said, "Joint offshore oil and gas development is the right way for China and the Philippines to manage maritime differences and achieve win-win results without prejudicing either side's maritime positions and claims. Leaders of the two countries reached important common understanding on this. The two governments signed the Memorandum of Understanding on Cooperation on Oil and Gas Development and have actively pursued negotiations and made important progress within this framework. China stands ready to work in concert with the new Philippine government to advance negotiations on joint development and strive to take early substantive steps so as to deliver tangible benefits to both countries and peoples,"
The Philippines and China began talks in 2018 after signing the Memorandum of Understanding (MOU) on Cooperation on Oil and Gas Development, which created a framework for negotiations on joint oil and gas exploration in the WPS.  The deal seemed like a breakthrough in the long-festering maritime dispute between the two nations as Beijing refused to recognize the 2016 arbitral ruling that canceled its nine-dash line claim over almost the entire South China Sea.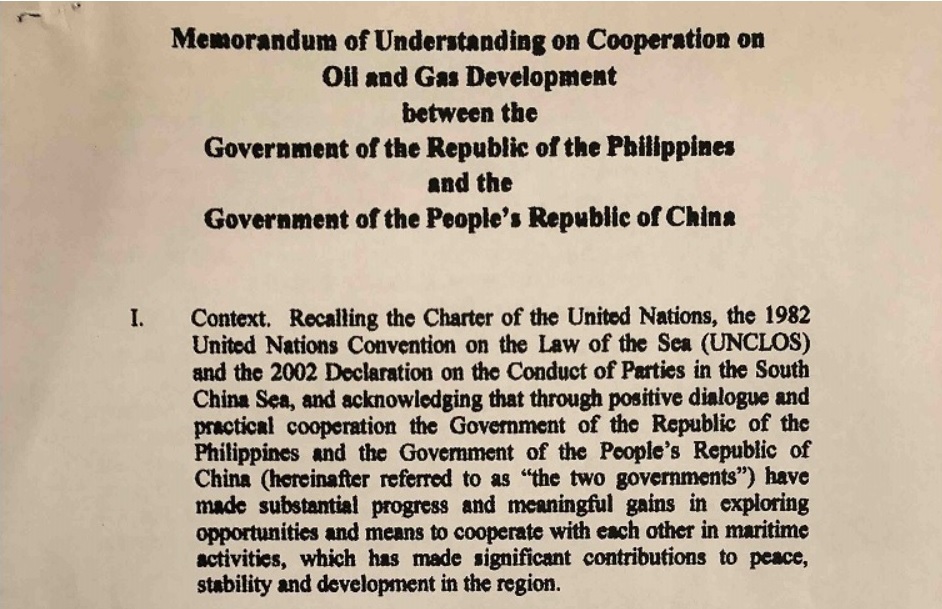 It also held promise for the crucial resumption of oil drilling in Recto Bank that had been stalled since 2014 when President Benigno Aquino issued a moratorium on exploration activities in the disputed waters due to rising tension with China and after the Philippines had filed the case against Beijing at the Permanent Court of Arbitration in The Hague. 
Recto Bank is about 80 nautical miles west of Palawan island and is within the country's 200-nautical mile exclusive economic zone. 
The MOU provided a soft deadline of 12 months from its signing in November 2018 for the parties to agree on areas for and arrangements to conduct joint exploration. 
"This could encourage serious and speedy implementation or lay the groundwork for either calling off the deal or allowing the Philippines to proceed independently with its own exploration and development efforts regardless. This is particularly important considering that further delays work against the Philippine interest and endangers in energy security in the medium term, while there is no similar cause for urgency on the part of China," Jay Batongbacal, associate professor at the University of the Philippines and director of its Institute for Maritime Affairs and Law of the Sea, wrote in a December 2018 article in the Asia Maritime Transparency Initiative.
With the signing of the MOU, Energy Secretary Alfonso Cusi lifted the 2014 moratorium, saying the decision was made "in good faith and with full regard of the ongoing negotiations between the Philippines and China, and Forum Ltd. and China National Oil Offshore Corporation (CNOOC)."  He then ordered the resumption of energy-related activities in the disputed areas, including those under Service Contracts 72 and 75 in Recto Bank, in October 2020.
"The lifting of the suspension places the service contractors under legal obligation to put capital into the contract areas and hire Filipino engineers and technical workers," Cusi said in a statement.  
But the deadline set in the MOU was never met  and no joint development deal has been completed. 
Last March, Duterte revealed that he had received a reminder from a Chinese official about the MOU who cited news about companies, other than CNOOC, entering into arrangements for oil exploration in Recto Bank, which is claimed by both Beijing and Manila. 
Under the MOU, only the state-owned CNOOC is authorized to represent Beijing in any joint development project in the contested area. The Philippines, on the other hand, may nominate any of its petroleum service contractors such as PXP Energy Corporation, which holds government contracts in Recto Bank, or the Philippine National Oil Company-Exploration Corporation.  The President stressed that the agreement with Beijing should be followed or there would be trouble. 
"Alam mo pinaalala sa akin, di ko na sabihin kung sino from China — sabi niya 'Hindi ba may usapan tayo that joint development yang sa Recto Bank? May bagong mga istorya na may papalit na,'" he said. "Sundin lang nila, nilang ninyo, kung ano 'yung pinag-usapan noon. Honor 'yan e, it's a matter of honor. We gave our consensual talks tapos may written agreement. Pag iniba 'yan, delikado." 
(I received a reminder, I won't mention my source from China—but I was told 'Don't we have a deal on that the Recto Bank project would be joint development? Stories are coming out that there's a replacement. Just follow the agreement we had. It's a matter of honor. We gave our consensual talks and a written agreement exists. If we change our stance, it's dangerous.)
In June 2019, Duterte revealed that Chinese President Xi Jin Ping had made a similar warning during a conversation where he raised the prospect of the Philippines unilaterally allowing oil drilling in the WPS.  
"I said, 'Mr. Xi Jinping, I would insist that that is ours and I will drill oil there. They replied to me, 'We are friends. We do not want to quarrel with you. … We want to maintain the present warm relationship. But if you force the issue, we'll go to war,'" he said. "What more could I say?"
The suspension forced PXP Energy Corp. and its subsidiary Forum Energy Ltd. to declare a force majeure, saying that the order prevented them from "performing their obligations."  The DOE had given PXP Energy until Oct. 16 this year to drill its two commitment wells at a cost of $100 million (P5.2 billion). 
The Recto Bank projects are crucial to the country's energy supply as the area is estimated to contain a potential of 165 million barrels of oil and 3,486 billion cubic feet of gas, according to the DOE.   The government planned to tap the area to replace the Malampaya natural gas fields, which is expected to run dry within two years. Malampaya is the country's sole provider of natural gas and accounts for  some 20% of its electricity needs.
The Philippines, which is highly-dependent on imported oil, plans to increase production of local oil, gas and coal and establish an investment-driven natural gas industry by 2040 to ensure steady supply of petroleum products. 
"Such plans are critical as the country faces a loss of almost 30% of its fuel supply source (which will impact approximately 3,000 megawatts of generation) in 2024 when the Malampaya natural gas fields are expected to be depleted. The nation needs to find a new source of energy to compensate for this loss as it seeks to maintain its economic growth and support the country`s infrastructure boom," according to the DOE.  
SC 72 is a seven-year exploration contract signed in 2010 with a 25-year production period which could be extended by another 15 years.  Drilling in the area covered by SC 72 began in 2011 and, according to schedule, should have been completed by 2018, way ahead of the shutdown of Malampaya.   
Without a replacement for Malampaya, analysts have warned of blackouts and even higher energy prices as the country would have to import liquefied natural gas (LNG).  They also raised concern that the cancellation of oil exploration activities could force companies to pull out their investments in the area. 
This is confirmed by the DOE.  In the 2021 edition of its Energy Resource Guide, the department warned of an impending energy crisis. 
 "Many of the large power generators in the Philippines are interested in utilizing gas as a part of their portfolio mix, however, are not interested in investing in the necessary infrastructure as a first comer. A lack of incentives for LNG use further discourages foreign investment and participation. Should the nation be unable to address the challenges in both offshore exploration and LNG development, it will face a huge energy crisis," it said.
The idea for joint development with China was explored by the Aquino administration in 2012 through business tycoon Manuel Pangilinan who tried to entice CNOOC to invest in SC 72 in an effort to address the problem of security posed by China. 
A year earlier, Pangilinan's company Forum Energy Ltd. was forced to stop all exploration activities in Recto Bank after Chinese vessels approached its oil rig demanding that drilling cease and the workers leave the area. The incident prompted the Philippine military to send planes and Coast Guard ships to the area, and eventually led to the 2014 moratorium. 
In a May 2012 aide memoire to Aquino, Pangilinan reported that China had rejected his proposal for a farm-in agreement on SC 72 between Philex Petroleum Corp. (now PXP Energy Corp.), Forum's parent firm, and CNOOC as strategic partner due to sovereignty concerns.  He wrote, however, that CNOOC President Yang Hua received "positively" a proposal for a framework agreement on commercial and technical activities in the area.  He added that Yang made it clear that "the Chinese government has granted CNOOC exploration rights over an area which includes SC 72."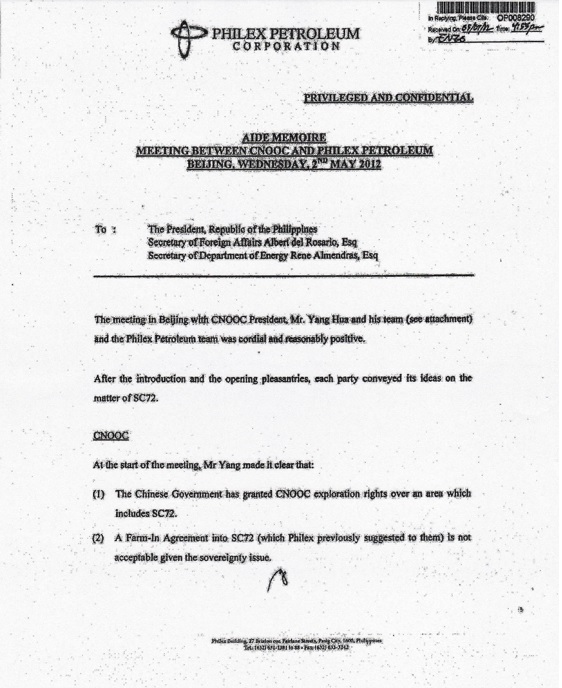 Pangilinan met with CNOOC officials several times to hammer out a framework agreement for a commercial deal in which neither party would take a position on the sovereignty issue, but the effort failed. Hopes for a deal were revived with the signing of the 2018 MOU.