By ELIZABETH LOLARGA

Photos by ANNA LEAH SARABIA
CHAMBER music that is movingly, and thus successfully, played in a small setting has much to do with subduing the ego. The musician's instrument engages in friendly banter with the others so they rise together to touch the sublime.
Wednesday's "Turning Point: A Chamber Music Evening" at the Ayala Museum, venue for Manila Chamber Orchestra (MCO) Foundation's 2013 series proved this dynamics of steady ensemble playing.
It underlined how the country's classical musicians (pianist Mary Anne Espina and violinist Gina Medina), experienced soloists on their own, make excellent team players alongside China's rising cellist, Guo Qiele.
The evening couldn't have come to be until the last-minute issuance of a visa to Guo, nicknamed"Cello" partly because Qiele is pronounced as a soundalike of his instrument. He is a resident of Singapore with Chinese citizenship. (Citizens of Singapore, a member of the Association of Southeast Asian Nations, don't need visa to visit the Philippines, also an ASEAN member. China is not part of ASEAN.)
Joseph Uy, the foundation's cultural affairs associate, feared that the concert would be postponed because of the visa delay. He planned this concert with the regular trio of US-based cellist Wilfredo Pasamba, Espina and Medina in mind.
He said, "Pasamba couldn't make it due to a previous engagement. I asked a good friend, cellist Qin Li-Wei, if he could recommend someone. He recommended Qiele, his prize student. I invited him to the Philippines after I heard his recording."
Espina couldn't bear the thought of a postponement: "When Joseph said the concert might have to be postponed, I refused. We had invited lots of people already; there was no time to tell the public about postponement. With the end of the academic year, on top of previous commitments, I was not sure when I could squeeze another concert on my schedule. Not to mention that students, our target audience, would be too busy with exams and recitals."
Things fell into place on March 5 when Guo, 21,  landed in Manila. After resting and eating briefly, he rehearsed almost non-stop with Espina and Medina until they established the combined chemistry for expressiveness required by Dvorak's Piano No. 3 in F minor, Op. 65 and Piazzolla's Cuatro Estaciones Porteñas (Four Seasons of Buenos Aires).
Espina recalled, "Good thing that Cello is a great musician. It only took a while before we could play as an ensemble. I'm glad that the concert went on as scheduled. It would have been our loss if the Filipino audience did not witness such a great cellist. This lad still has lots of surprises ahead of him. He's one of the best cellists I've ever worked with. So young, too. I can't imagine the potential he still has to unleash."
She was fully confident in her and Medina's parts and Guo who did his own preparations abroad, adding that even if Guo had arrived on the afternoon of March 6, hours before the concert, they would've pulled it off measure for measure.
Unexpected was the museum floor's slippery marble. Three times during the Dvorak piece, one that required the musicians to travel a spectrum of moods from lyrical, shining triumph to agonizing despair, the intensity of Guo's playing almost caused the cello to slip his grasp, despite a stopper at the bottom. He soldiered on. During the intermission, emergency tapes were put to keep the stopper in place.
In the future, the foundation can ask the museum to bring out the elevated wooden stage it uses for similar performances. A stage like that will be appreciated, especially by students at the back, the audience that the foundation is developing.
A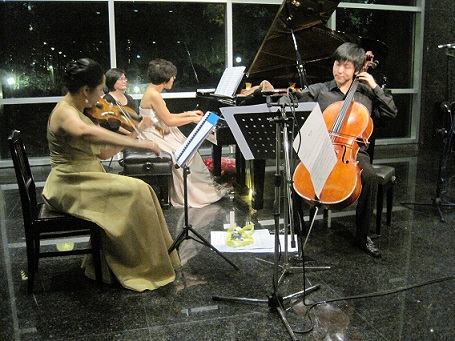 number came to the concert to hear Piazzolla's nuevo tangos played live. Various arrangements and transcriptions of his Four Seasons, including inserts of the more ancient and as famous Four Seasons of Vivaldi have been done, scorings for trios and full orchestra made.
The built-in backdrop of transparent glass that reflected lights and images from within and played with outdoor lights, building and tree silhouettes from without, approximated what the composer intended in his depiction of the life cycle: capturing Buenos Aires night life. This was Makati, after all, with high-rise work warrens, malls, after-five bars.
During the conversation of instruments in the hands of Guo, Espina and Medina, one felt like an eavesdropper while session artists were having a good time. Guo thumped his cello to a Latin beat at some point, the look of glee obvious on his boyish face.
Gou was a delight to watch. Someone in the audience dubbed him the Justin Bieber of classical music.
In a brief after-concert interview, he revealed that he used to listen to pop music but he now finds it somewhat boring. His dream is to be able to perform with the prestigious Berlin Philharmonic Orchestra.
Asked if like other teenagers he is into video games. He said, "Yes."
A Filipino audience wouldn't release any performer, no matter what caliber, without an encore. The trio played "Lulay", a folk ditty arranged by Lucio San Pedro for piano, violin and cello.