By PABLO A. TARIMAN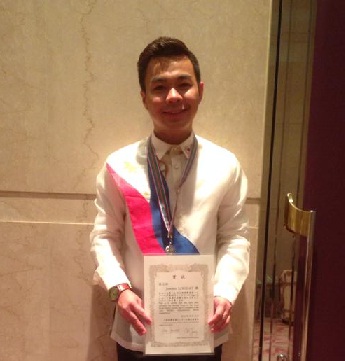 FILIPINO baritone Joseleo Logdat won second place in the opera category of the 14th Osaka International Music Competition in Osaka, Japan last Sunday.
The complete list of winners of the opera category include first prize winner Stefan Hadzic from Serbia ( Universität für Musik und darstellende Kunst Wien), second prize winner Joseleo Logdat from Philippines  (Elisabeth University of Music) and third prize winners Seung Hee Kim from Korea (Universität für Musik und darstellende Kunst Wien)  and  Dymfna Meijts from Austria (Universität für Musik und darstellende Kunst Wien) and two other Japanese contestants.
A masteral student at the Elizabeth University in Hiroshima where he is a member of the Amici Trio, Logdat sang Giordano's "Nemico Della patria" from Andrea Chenier in the the semi-finals last August 23 in the Hiroshima region, and clinched the second prize with the well-rendered aria, "Per me Giunto" from Verdi's Don Carlo last October 13 in Takatsuki City, Osaka Japan.
"This award really inspires me more to continue improving my musicality," Logdat said after getting the prize.
The Osaka music competition is Logdat's second participation in vocal tilt in Japan.
Last year, Logdat won the grand prix in the 6th Yokohama International Music Competition where he also won first place in the professional voice category.
The Filipino baritone said the competition was pretty tough and he sold CDs to cover his competition expenses. "Then I studied my piece note by note, word for word and the character I was singing. I religiously took lessons from my teacher for advice on technique."
The Osaka competition with music professors in Vienna and Japan in the jury  has several  regional auditions in  Mahidol University in Thailand, Conservatoire International de Musique de Paris for France, Yewon School   in South Korea ,Universität für Musik und darstellende Kunst Wien in  Vienna Austria and in the different regions around Japan. There were 45 contestants in the finals and the Filipino baritone was contestant no. 45.
"This competition is really a great experience for me," Logdat added. "That's why winning the second place is really a great honor for me."
The baritone said the music lovers in Japan are very appreciative and so were the music teachers.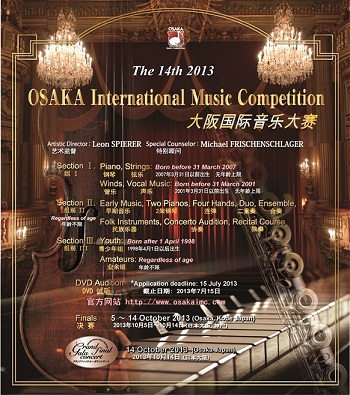 A student of  Hiroharu Orikawa in Elizabeth University in Hiroshima, the baritone added Japanese teachers are so patient and meticulous. "They are very strict but kind and always guided by goals of striving for perfection."
Logdat has performed with the Hiroshima Symphony Orchestra and was recently chosen as soloist in Bach's Christmas oratorio in the school's annual concert.
On the whole, the baritone likes the peaceful atmosphere in the entire Hiroshima with just over a million population. It was the same city reduced to ruins when the first Atomic Bomb razed the city 68 years ago.
Last August 5, some  50,000 people  led by Prime Minister Shinzo Abe stood for a minute of silence in Hiroshima's Peace Park  to offer prayers for those who died in the  early morning blast on Aug. 6, 1945.
Over many things, the baritone is overwhelmed by the rich history of the city. "I also like the place because it is very peaceful and very clean and most people are very disciplined and honest."
Some 68 years after the bombing of Hiroshima, Logdat finds a progressive city with lots of music lovers. "Most of them love operas and on my first few performances in the city, I find them very appreciative. Living in Hiroshima I would consider one of the great experiences of my life."
Last heard in Manila with the Amici Trio last August 27, Logdat will have his graduation recital in Hiroshima's Elizabeth University in February next year and will proceed to Manila later for his homecoming recital.
The competition brochure said Osaka is a place where Japanese culture originated about 1500 years ago and has been incubating and popularizing world-known kabuki and bunraku including the kamigata-bunka all over Japan.
The competition organizers' message went thus: "Water from the Bay of Osaka flows out to Pacific Ocean, Indian Ocean, and Atlantic Ocean, fertilizing six continents and covering the water planet, earth. We strongly hope that cultural art that flows out from Osaka in a same way will contribute to the world peace without war that would fertilize the heart of people in the world and help young artists spread their wings towards the world."