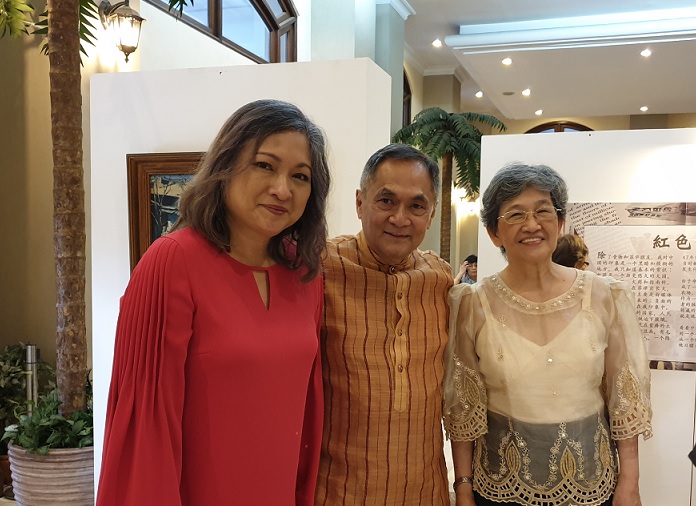 Journalist and teacher Jaime FlorCruz with wife Anna (right) and Tessy Ang See.
How does one compress 47 years of an extraordinary life story in about 20 exhibit panels?
That was the challenge that Jaime FlorCruz faced when he agreed to hold an exhibit, an idea that he had long been discussing with Chinese-Filipino civic leader Tessy Ang See for Bahay Tsinoy Museum at the Kaisa Heritage Center in Intramuros.
The exhibit: "From the perch of an accidental China hand" is in Jimmy's words " an abbreviated version of my China journey as well as a look back at China's history of the last 40-plus years" through his China junk – discarded posters, memorabilia and other stuff that he has collected or simply refused to discard.
It's very interesting exhibit.
Jimmy said he came up with themes – food, women, his life as journalist in China – so as not to make the exhibit "kalat."
"I thought about food because my association with China when I was growing up was about food. Pansit," he said.
Among the food-related items in the exhibit was coupons.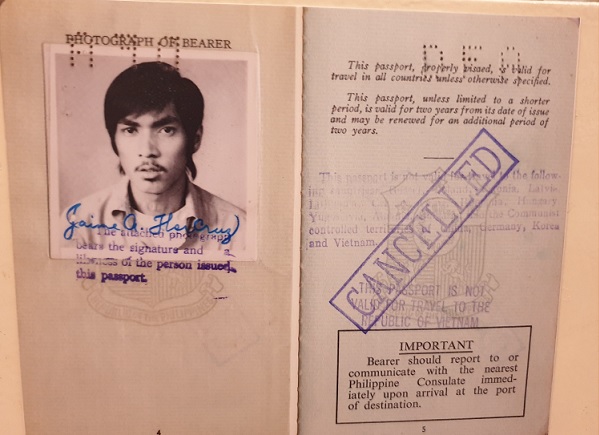 FlorCruz canceled passport.
When they were forced to stay in China because of the political situation in the Philippines, food was not in abundant supply like it is today. Lots of things including food was rationed. That's why they had those coupons.
"When the reforms took off, when there was more food, there was prosperity. So I wanted to juxtapose the two (situations)," he said.
On women, Jimmy said while "communistsdid many terrible things, they made women's lives better. They ended foot binding and concubinage, closed down brothels and legalized divorce."
"When we got there, women were brave strong, independent. (As a Chinese proverb say) women hold up half of the sky," he said.
The exhibit included items Jimmy acquired from antique markets like old calendars where women were depicted in the traditional stereotyped way. Juxtaposed with pictures of "revolutionary" Chinese women, they tell a lot of Chinese people's history.
Jimmy and his fellow exiles lived through Mao's harsh cultural revolution. He narrated that phase of his China journey in an article in Positively Filipino online magazine: "Farm work was tedious and backbreaking. Even though we were never short of food and housing, we lived a spartan life. To fight the cold and damp winter, we learned to use primitive wood-stoves. Once or twice a month, we were treated to hot showers in a city guesthouse an hour's drive away."
"In 1973 we moved to Yantai in Shandong Province to work in a fishing corporation. Along with Chinese workers, I was an apprentice on trawler boats, which sailed the Bohai Sea and beyond to catch fish, prawns and other seafood. We typically sailed for five to seven days on each trip, enduring back-breaking work and lonely nights," he continued.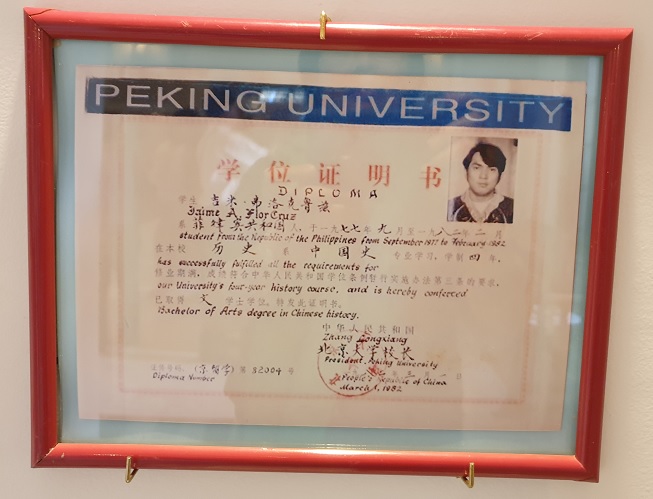 FlorCruz's diploma from Peking University.
Jimmy's as well as his fellow Filipino exiles' proficiency in the English language was an asset during their "stranded" years in China. Later, he enrolled in Peking University while teaching English to a group of Peking University professors who were preparing to do post-graduate studies or fellowships overseas, as well as to English majors at the Beijing Teachers' College.
In his senior year Newsweek hired him as stringer. He made his mark as a journalist during the trial of the "Gang of Four" which included Mao's widow Jiang Qing.
Jimmy's report went beyond the press statements provided media by the court because one of his students was the son of a presiding member of the Supreme Court. His student shared with him information he got from his father at home.
Jimmy, who had served as president of the Foreign Correspondents Association in China, moved to Time Magazine in 1982, and served as its bureau chief from 1990-2000. He later joined CNN in 2001 and retired in 2014.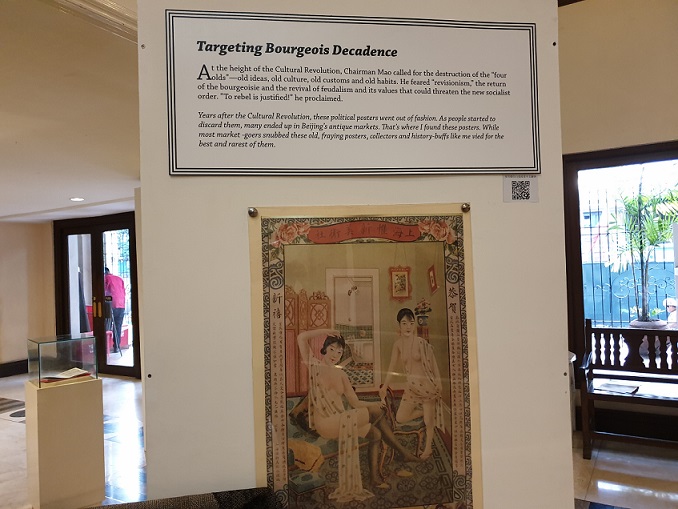 Chinese women in pre-Mao era.
This is Jimmy's comment on Chinese media:
"I've witnessed China's transformation from the 1970s to present. I know what it was like then, so I appreciate even the small, incremental changes, the baby steps, that China makes. I tend to view China as a glass half-full, not a glass half-empty.
"Still, China faces many daunting challenges, some old, some new. China needs to learn from its past to avoid repeating them. It also needs a free and responsible media, not just to record history but to serve as watchdog.
"The Chinese media has become more robust and diverse but they are still censored.
"If the Chinese media in the 1970s and 1980s was a bird inside a small cage, now it's a bird inside a bigger cage. Media organizations are still in a cage but there's more room for reporting on topics that are not politically sensitive. Given the constraints on them, I respect their efforts and achievements."
The exhibit is on until to Feb. 17.