By CYRILL YAMBAO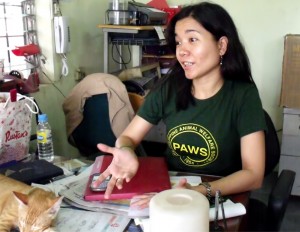 TO celebrate the National Pet Month this May, animal lovers can give their pets a "gift of love" that can ensure their greater chance of survival, that is, by having them spayed or neutered.
There are approximately half a million stray animals in the Philippines, majority of which are struggling for survival.
Philippine Animal Welfare Society (PAWS) Executive Director Anna Cabrera, who started volunteering for the nongovernment organization in 1997, said that responsible ownership in the United States equates to having pets spayed or neutered.
She said: "Pero dito sa Pilipinas, kapag sinabi mong 'I am a responsible pet owner,' may turok lang ng rabies ang aking aso. Hanggang doon lang ang responsible pet ownership (But here in the Philippines, when you say 'I am a responsible pet owner,' my dog only has an anti-rabies shot. That's where responsible pet ownership ends)."
Spaying and neutering, according to Cabrera, are surgical procedures done by licensed veterinarians to remove the reproductive organs of male and female cats or dogs.
Spaying is technically "ovariohysterectomy," the process of taking out a female animal's ovaries and uterus. Neutering, on the other hand, may be used to refer to both sexes, but is scientifically called castration, which is taking out a male animal's testicles.
While many think spaying and neutering are acts of mutilation, Cabrera compared the two procedures to minor operations like appendectomy that humans have to undergo when necessary.
"When animals have the urge to mate, it's usually a sexual urge; it's a need," Cabrera explained. "So when you take away that urge to mate, you're not really taking away an animal's right to fall in love—you're actually taking away a very stressful part of an animal's life."
Aside from having longer and healthier lives, one of the more important benefits of spaying and neutering pets is animal population control.
Cabrera said that when intact animals mate, there is fertilization almost 95 percent of the time which then leads to unwanted puppies and kittens.
"The reason why it is so important for pets is that people, especially Filipino pet owners, are not aware that there is such a procedure and that there are certain consequences in having intact pets," she said.
True enough incoming broadcast communication senior Aldrin Soriano didn't know of such procedures until his Civic Welfare Training Service class last semester required them to complete 20 hours of volunteer work at PAWS.
PAWS is one of the very first organizations in the country that the Humane Society of the United States has partnered with.
"I first learned about spaying and neutering at PAWS," Soriano shared.  "Ms. Cabrera discussed it in full detail during our orientation and I learned so much about it."
He added that he even wanted to witness the process of spaying but was not allowed to do so because he might be a carrier of bacteria.
Although Soriano believes that spaying and neutering prohibit an animal's right to reproduce, he understands the need for such procedures.
"I guess we will be able to appreciate and take care of them more when they are lesser in number," he said.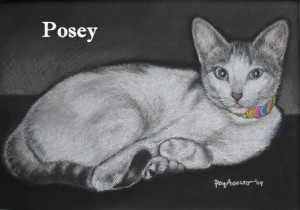 Animal advocate and advertising professor Eleanor Agulto learned about spaying and neutering mostly from the internet. She owns four dogs and seven domestic cats.
"My dogs are never allowed to stray outside the gates so there can't be any unwanted pregnancies," Agulto said. "As for the cats, I didn't want a population explosion in my hands so I had the mother cat and all her female kittens spayed."
Despite the procedures being quite costly (ranging from P700 to P1500 at the PAWS Clinic), Agulto recommended spaying and neutering, especially for cats that can go into heat at least four times a year.
"When not spayed or neutered, cats will reproduce at an amazingly fast rate, and what many people do is simply throw away the kittens and leave them to fend on their own, if they even survive," she observed. "This is cruel and irresponsible."
Agulto also hopes that the government would have free spaying and neutering services to help pet owners who cannot afford such procedures.
As a replacement for the inexistent government-funded spay and neuter programs, PAWS came up with the Hope for Tomorrow fund that provides free services to pet owners, who do not have anything to spare from their salaries. Some beneficiaries include market vendors, security guards, church cleaners, and bottle collectors.
"Spay or neuter is a strategic approach because it hits the problem at the root and it's a long-term solution," Cabrera said. "Studies have proven that the government's 'collect and kill' practice doesn't reduce the number of stray animals, but when you spay or neuter them, you bring down the level of the number of animals."
(The author is a University of the Philippines student doing her summer internship at VERA Files)