Text and photos by ELIZABETH LOLARGA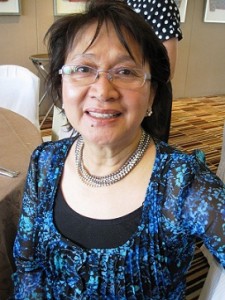 WHO was the woman who said that if she had realized earlier that grandmotherhood would bring her such unadulterated joy, she would've skipped marriage and motherhood altogether and gone ahead with being a lola first?
Yay Padua-Olmedo, retired vice president of one of the Philippines' biggest conglomerates, a teacher at Southville Foreign University in Las Piñas and a motivational speaker, wrote the book Grandparenting: Happiness and Hard Work! (OMF Literature, Inc., 2012) just in time for the long Christmas holidays. Hers is a wise woman's voice, the kind that knows that "joyful moments" are also balanced by "turbulent days and tough trials."
The national situation is such that the idealized nuclear family has been shaken, if not broken. It isn't just the incompatibilities of some parents, the sickness and tragedy that befall them. There is the kind of economy that the government encourages—the exportation of Filipino brains and brawn or the odd working hours of business process outsourcing—that separates vulnerable children from their parents.
Olmedo described the diaspora wherein couples leave for "more developed countries where they believed a brighter future awaited them, OFWs (overseas Filipino workers) making a beeline for even the most toxic of environments, in the hopes of a job, all so that they can provide for their families—and grandparents finding themselves in not so normal situations because of all these."
She argued for the need of godlier grandparents given these Philippine realities:
A population growth of 1.9 percent in 2011, an alarming rate given that the country has limited land;
Limited employment opportunities worsened by graft and corruption and ineffective governance, forcing many Filipinos, especially much-needed professionals, to look for proverbial green pastures in the US, Canada or Australia;
A diaspora that divides families as "the priority has been choosing what seems to be the only way out of poverty"; and
A worldlier lifestyle wherein the young are enamored with gadgets and sensual gimmicks.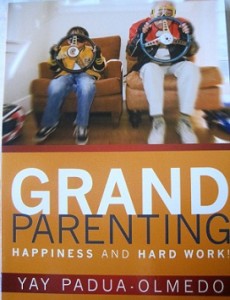 Given all these, Olmedo called "for trustworthy anchors" like grandparents who are there not just for the joyful part but also for challenging times. These people become worthy of the prefix "grand", which, to the author quoting the Merriam-Webster dictionary, meant "something or someone who is foremost, inclusive, comprehensive, lavish, sumptuous, lofty, sublime, wonderful."
Her book is peppered with quotes from famous persons and writers in history who've experienced the loving care of grandparents and from the Holy Bible New International Version that serve as dividers for 10 chapters that begin with "Godly Grandparents to the Rescue!" and end with "Jesus Our Role Model."
Memoirist Shirley Abbott is quoted for her variation on the biblical line about the sins of the parents visiting on the children: "We all grow up with the weight of history on us. Our ancestors dwell in the attics of our brains just as they do in the spiraling chains of knowledge hidden in every cell of our bodies."
Olmedo warned against the use of television and DVD shows as baby sitters, unless these are value oriented. She wrote that in this country "the highest rating daytime and primetime shows are teleseryes with their shouting and moping scenes, and variety shows with their constantly gyrating and scantily-clad female dancers…Kids who watch too much of all this at best will absorb some pretty shaky values, at worst the boob-tube will totally, and dare I say, permanently desensitize the young viewer's conscience!"
It is a tricky situation a grandparents find themselves in. The big question is, in the author's words, "Up to what point do grandparents get involved so that we're not accused of meddling, intruding or imposing?" Grandparents must respect their adult child's standards and opinions even if these are different from theirs without reneging on their role of helping their child with parental responsibility.
Olmedo included cases wherein she counseled grandparents on sensitive matters like disciplining children left in their care by OFW parents or encouraging childless couples "to find fulfillment in helping relatives who lack the means to educate or provide health care for their children."
She advised happy singles to "have some time to spare, you could be the answer to a weary relative's prayers. Be a surrogate grandmother and you'll be more than blessed for taking the time to take an active youngster for a few hours, or once in a while feed, bathe, teach, or put a baby to sleep."
Based on interviews with her fellow grandmothers, she warned against spoiling grandkids. One lola said, "Kids easily get tired of toys…so why add to the things they'll just throw around?" Cooking for, reading to or traveling with them are the truer, more lasting gifts.
Olmedo concluded that "our grandchildren are among that special group of people who could make us sparkle once again."