You can never have enough cookbooks. This latest one by Edelwisa Roman Gonzaga, a pastor's wife, is a worthy addition to your collection for it compiles recipes and foodways that are in grave danger of being totally forgotten.
Her interest in cookbook writing was sparked when she read food historian Felice Sta. Maria's The Governor-General's Kitchen that put together culinary vignettes and period recipes from 1521 to 1935. From that book, she learned that among the first locally published recipe books in the Philippines came from the Central Methodist Church and the Union Church of Manila, The Manila Cook Book, released from 1914 to1919.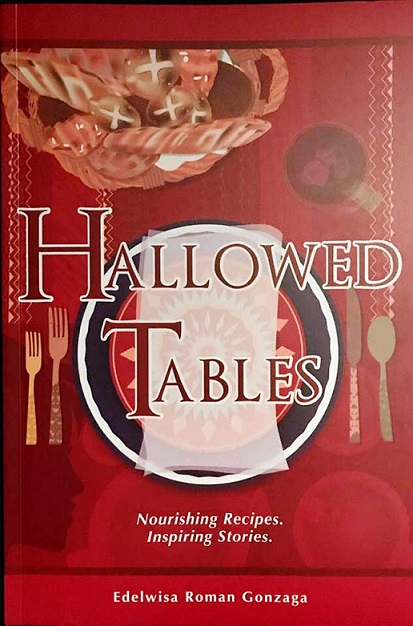 Cover of Hallowed Tables, a New Day book
Gonzaga's Hallowed Tables: Nourishing Recipes, Inspiring Stories (New Day Publishers) continues the narrative.The author said, "As a seeming throwback to evangelical churches' rich culinary heritage, it is serendipitous that my marriage to a man of the cloth has exposed me to the scents and flavors from the kitchens of pastors' wives. In Taytay, where my husband is from, the dishes being served to us are heirloom recipes that I have never eaten elsewhere.There's binabayasan—slices of pork, blue crabs and shrimps swimming in pureed ripe guavas and coconut milk made more slurp-worthy with the addition of slinky sotanghon and sinigang vegetables."
She also cited Tochong Bangus with Okiam as another favorite, explaining, "Okiam is red, fermented tofu, obviously a Chinese ingredient that has been embraced by locals but is surprisingly absent in many Chinese restaurants. Barutak or Pinugutan, where beheaded shrimps take center stage cooked sinigang-style, is another dish that caught my fancy. The heads are pounded using a mortar and pestle. The shrimp juice, made sour with tamarind balls, serves as the soup base."
The caveat is that "to enjoy these treats, you have to be invited to the home of a taal na taga Taytay (someone genuinely from Taytay) as these are not available in malls or in most local eateries. Hallowed Tables therefore serves as a platform to document these dishes and reintroduce churches' little-known contribution to the Philippine food scene."
She wanted the book's title to be catchy to pique people's curiosity. She also wished to send a subliminal message about the book's theme:food and faith. The word "hallowed" is from "The Lord's Prayer" that includes a plea for God to "give us this day our daily bread."
Gonzaga, who has a background in corporate communications, customer service and telemarketing, said, "The title is just a part of the total branding. The book cover gives subtle references to Hallowed Tables' ecclesiastical origins."
Included in the 166-page volume are 21 pastors' wives' stories and assorted recipes that range from Roasted Pork Strawberry Stew (with strawberries used as souring and coloring agent) to Chocolate Zucchini Cake. Gonzaga went to the extent of kitchen testing the recipes but steering clear of those that require sophisticated baking skills.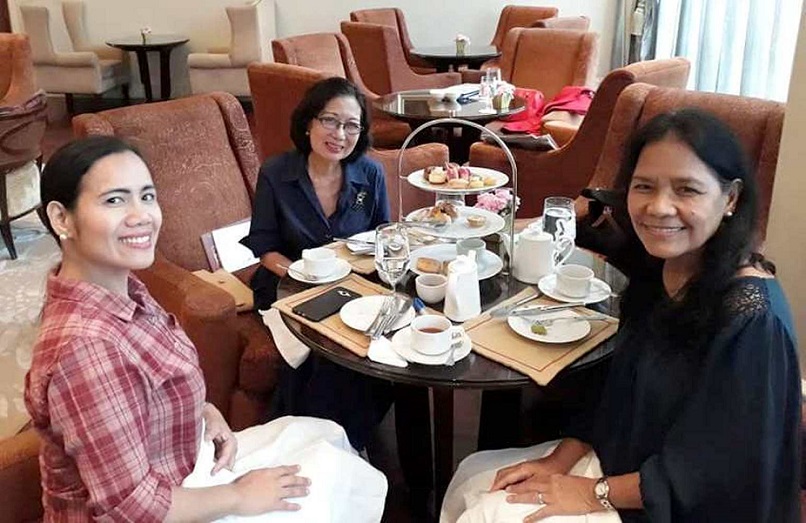 Author Edelwisa Gonzaga, food historian Felice Sta. Maria and book editor Alma Miclat enjoying tea
She noted that in the Philippines, cooking is done by tantiya or oido."I always find myself adjusting recipes from cookbooks based on my preference and do not treat these like untouchable templates. I won't be surprised if the readers of Hallowed Tables would do the same thing. I won't feel slighted if they do."
It's said that preachers and pastors are among the poorest professionals who must have the support of Christians. Asked what was it like during her early years as a pastor's wife, Gonzaga replied, "Pastoring is a vocation, not a profession. It is hinged on a calling to serve in God's vineyard or in the Philippine setting, His rice fields.A person enters the ministry knowing that he may not receive a paycheck as fat as a guy from Silicon Valley or Wall Street.Pastors rely on grace, a form of unmerited favor that's more powerful than money or material gains. To some, grace may seem like a complex concept. To understand it in its full measure and beauty is to experience it."
She continued, "When I became a pastor's wife three years ago, I brought into the marriage not just prior knowledge about the simpler standard of living but also my nest egg, a product of my twenty-year corporate stint.My pared-down and more austere lifestyle is not a result of scarcity of resources but a self-imposed desire to better represent my husband's office. I've also realized that letting go of many excesses in life can be more liberating and fulfilling."
Her book is significant at a time when the world is becoming more secularized and people forget such practices as grace before meals. She said, "Secularization may be changing the way people behave, think and even eat, but at the end of the day, humans are spiritual beings. Filipinos are wired to love and respect their Creator. I don't think this part of our cultural and even spiritual DNA has been totally obliterated.There may be some form of dormancy in some people's appreciation of their faith, but this can always be reawakened in an even more powerful fashion. Hallowed Tables hopes to help achieve this by introducing love for others and God through an activity that is so primal and fundamental to our daily existence: eating."