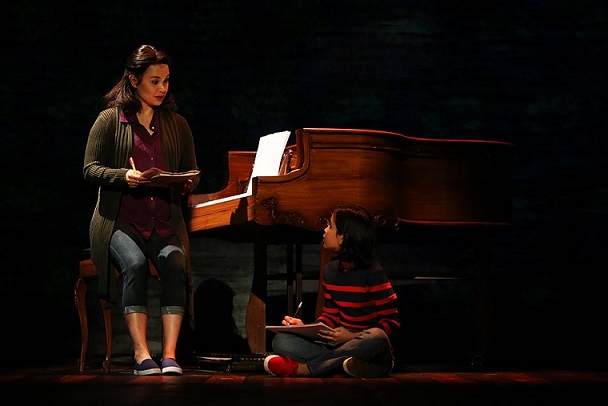 By PABLO A. TARIMAN
Watching the new musical, "Fun Home" is like looking through old picture books where a cartoonist's relives her once younger life with appropriate captions.
The stage set is a circle of things you find in an old house – old lamps, tables and chairs – and when Alison Bechdel (Cris Villonco) appears to re-live her past, you are at once transported to a once happy home on Maple Street.
Bruce Bechdel, the patriarch — with fully nuanced interpretation  by Eric Kunze) — is perennially concerned with propriety. Girls should be seen in conventional feminine getup (no rubber shoes please), the house should look shiny and well-scrubbed. Helen Bechdel (Lea Salonga) is almost the typical mother and wife she is – attentive to the kids, a good housekeeper and playing Chopin during her spare time.
But as the musical gets into the middle of the daughter's recollections, you see a woman struggling to keep her private agony to herself.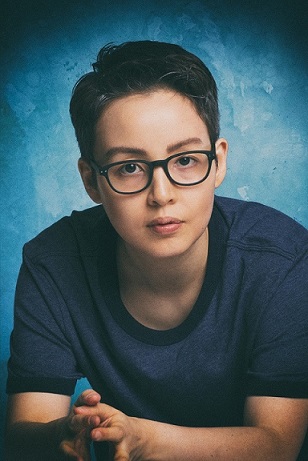 Indeed, the musical's title is almost a misnomer. You see bits of fun in a once happy home with father playing airplane rides with her daughter but that was a fleeting impression. It is a home like no other but its façade makes it almost like any other family. Until the daughter digs into her past and confronts the naked truth about her family.
Midway into the musical, you see a family struggling to cope with unusual transitions. The daughter is attracted to the same sex and deeper into her family remembrances, the truth about her own father comes to the fore.
The hidden attraction of this musical depends on the viewer's inner psyche. You witness a young girl growing up but unsure whether the family will understand what she is going through. She is not sure about her choices but her instinct tells her she is not cut out to be daughter of the year. You see a life but it is not a conventional one almost too painful to fathom.
In looking at this girl's life, you discover her humanity.
But in the recreation of family episodes, the musical unleashes its inherent appeal. How do you judge this family with untypical daughter and father and a poor wife and mother left to contemplate if she deserves all these unusual transitions in the family.
What is enjoyable about the production is a sensitive ensemble able to recreate the story with restrained but,  undiminished, emotional  impact.
Villonco as the 43-year old cartoonist named Alison Bechdel  remembers her home and childhood and the father's tragic ending with such clarity you wanted to weep for her in this musical that ends with a muffled sob of despair.
Lea Salonga as Helen Bechdel chills and by turns, mesmerizes, in her deeply moving aria, "Days and Days," Eric Kunze as Bruce Bechdel lays bare his devastation in ""Edges of the World."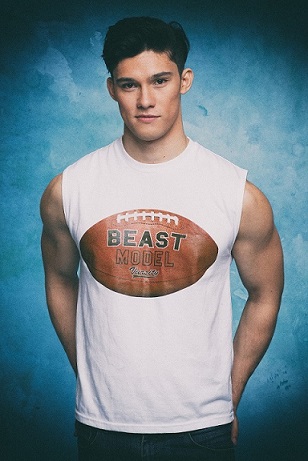 Even the short appearance of Laurence Mossman (as Roy, Pete and Mark) is fully defined without the benefit of elaborate lines.
Mikkie Bradshaw Volante and Andee Achacoso capture the uncanny innocence of youth as the Medium Alison and Small Alison. Volante, for one, perfectly mirrored the young woman's awkward transition.
Towards the end, Villonco as the mature Alison Bechdel triumphs on all fronts giving us poignant, if, revealing chapters of her life and emerges a formidable actress to reckon with.
"Fun Home" — with music by Jeanine Tesori and book and lyrics by Lisa Kron —  gives us a rare nostalgic journey into our own inner selves and leaves us a whiff of fresh air on which to start and reflect life anew.
Like it or not, the musical gives us an idea on how celebrated singers like Aiza Seguerra and Charice Pempengco coped with difficult transitions.
Pardon the cliché but the musical is another case of art imitating an unusual life.
In the end, the musical allows you to look at members of the LGTB community in more human terms and without the label.
"Fun Home"  with superb direction by Bobby Garcia has remaining performances at Carlos P. Romulo Auditorium Nov 25 (Fri) 8PM, Nov 26 (Sat) 3PM/8PM, Nov 27 (Sun) 3PM/8PM (Last performance)
For remaining tickets, call TicketWorld at 8919999.