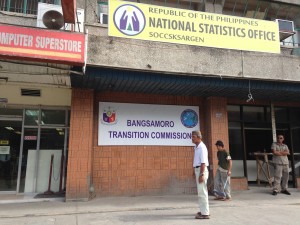 By CAROLYN O. ARGUILLAS, MindaNews
DATU PIANG, Maguindanao (MindaNews /27 March) – The signing of the Comprehensive Agreement on the Bangsamoro (CAB) on Thursday in Malacañang after 17 years of on-and-off peace negotiations between the Philippine government and the Moro Islamic Liberation Front (MILF), comes at a most insecure time for Mindanao's 27 provinces and 33 cities.
Government troops in Mindanao are on red alert as the communist New People's Army, which is celebrating its 45th anniversary on March 29, has vowed more offensives against the Aquino administration. The Bangsamoro Islamic Freedom Fighters' silence is making observers uneasy.
MindaNews saw two armored personnel carriers along the highway of Datu Saudi Ampatuan town in Maguindanao last Monday. More tanks were deployed in the run-up to the signing.
The many factions of the Moro National Liberation Front (MNLF) are waiting on the side. The usually media-savvy Nur Misuari, MNLF founding chair who is facing criminal charges, has not been heard from since the 21-day standoff between government and MNLF forces in Zamboanga City in September. In fact, Misuari neither showed himself nor spoke during that period, his alleged statements mouthed by non-Moro spokespersons based in South Cotabato.