By PABLO TARIMAN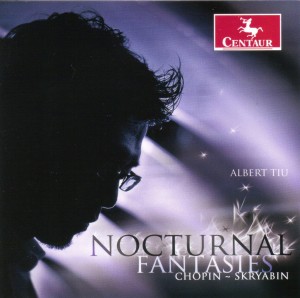 PLAYING to please the jury is no sure way to win an international piano competition, multi-awarded Filipino pianist Albert Tiu said in a recent interview with the Singapore music news agency PianoMania.
"Some people think that they can play according to the taste of the jury members, which is impossible to do, if you have three or more different individuals," Tiu explained.
One need not have a very difficult repertoire to win a piano competition, he said. He cited the case of pianist Pierre Mancinelli, who played some Bach Inventions and went on to win third prize in Helsinki.
"Perhaps one key is to choose a repertoire suitable to one's personality and to play it really well," Tiu said. "If you believe strongly in what you're doing, that vibe usually goes through to the listener."
Tiu, who has won several international piano competitions in Calgary, Helsinski and Praetoria, South Africa, is all set for his highly challenging recital "Chopin Without Chopin" on  March 6 at the Yong Siew Toh Conservatory in Singapore.
Interestingly, the recital will not feature a single note from the Polish composer's music. Instead, it will showcase other pianists' take on Chopin's works such as Godowsky's Chopin Études, Busoni's Chopin Variations, Skryabin's only Polonaise, and Rachmaninov's ambitious Chopin Variations.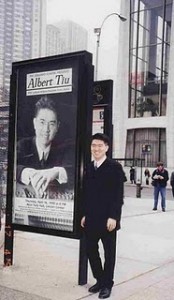 Tiu, who now works with the piano department of Yong Siew Toh Conservatory of Singapore, said: "Singapore may be a 'little red dot' on the map, but it is an incredibly vibrant place for the arts."
According to him, the Singapore Symphony plays about three to four concerts a month and many big-named artists have performed here. As a result, pianists like Perahia, Bronfman, Hough, Thibaudet, Roge, Ax and Fleisher have given master classes at their Conservatory which, he described as  "a dream!"
"I play a new recital program almost every year, and usually come up with an interesting theme, so I keep myself busy," he shared. "I also do play quite a bit with my colleagues."
Last year, he performed with visiting artists, like Pierre Amoyal and Cho-Liang Lin. He also came home to Manila to perform at the cello recital of Chinese-born Australian cellist Li-Wei Qin — the silver medalist in the Tchaikovsky Competition.
Tiu,  a father of two (Alex, 11 and Lauren, 5), has learned the art of juggling time to balance family responsibility with the demands of being a musician.
"When Alex was born, we were still living in New York, so it was absolutely challenging to manage our time," he recalled. "Even before Alex came along, I used to complain that I didn't have enough time to practice."
He continued: "After he came into our lives, whatever time I had just disappeared! Looking back, I must say that Alex taught me how to make the most of my practice time, whether it was 10 minutes or half an hour."
Since then, he has learned to practice a lot more efficiently. "I now practice in installments, in between my teaching and other administrative duties," he said.
Albert's marriage is actually a case of two competing pianists ending up as husband and wife. The couple met during a piano competition in Singapore in 1989.
He has a lot in common with his wife Susan. "Since she also teaches, very often we discuss our students' progress," he shared. "She is very supportive of what I do, so she listens to my playing and practicing and gives me her feedback. I find it extremely valuable to have a partner who understands what I do and the pressure I go through."
"But of course, we don't always talk about music; After all, there's more to life than just music," he was quick to add.
His eldest son Alex plays the piano "for fun." He and his wife do not encourage their kids to take up music seriously "because it's a profession that demands so much commitment and sacrifice from the individual, and yet the returns are very minimal."
Both Alex and Lauren however enjoy listening to music, and can recognize and sing the pieces that Tiu practices at home.
In his interview with PianoMania, Tiu gave credit to his piano teachers. He said he had a very good teacher named Nelly Castro in Cebu, who "opened my eyes and ears to the possibilities of the piano."
In Manila, his teacher Nita Quinto taught him "economy of movement" while from John Winther he learned to look beyond the piano for inspiration, and to play in a stylish manner.
"With Michael Lewin, I learned the importance of ownership; it simply wasn't good enough to play something well, because I had to 'own' every piece I played," he added.
At the prestigious Juilliard School, he said he learned more about being an individual artist, and  to balance emotion with intellect from teacher Jerome Lowenthal.