By ELIZABETH LOLARGA
Photos by KIMI FERNANDEZ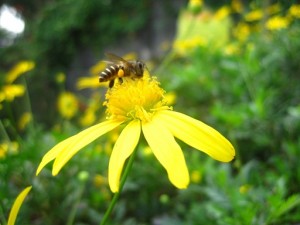 BAGUIO has become a tourist cliché, even a disappointment for those with memories of how the highland city looked and smelled like in decades past.
Those who fell slowly in love with the place and decided to resettle there, Therese Jison among them, are sensitive about media attacks against their adopted city.
These attacks have some bases: rampant pollution, poor garbage disposal, mushrooming billboards that block panoramic views, and the deterioration of popular tourist spots like Mines View Park which has turned into a giant tiangge (flea market).
Jison says it reached a point "where we had nothing much to show" with the charisma of Camp John Hay waning when it decided to "grow buildings." So she tried to put "a little of the old Baguio" onto a 2,000-square-meter property on Upper Fairview Road in Quezon Hill. She has turned a sloping area once peopled by informal settlers into "a pocket oasis that puts art, culture, nature and cuisine in one place."
Just over a year old, Mother's Garden has managed to track its visitors. Unlike hotels and inns in the city, it can boast of 76 percent repeat visitors, majority of whom come from Manila. Feedback from adults shows that their children are the ones who clamor for a return visit to the place.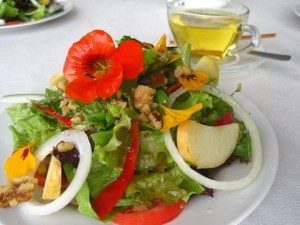 These children are on first-name basis with the domesticated fauna in the garden like Michelle the runt pig, the budgerigars (love birds) Celso and Lulu, families of rabbits and geese. Grownups are more appreciative of the flora, much of them endemic to Baguio (but historically, brought to the city by wives of American officials and soldiers early in the 20th century): pansies, anthuriums, poinsettias, impatiens, snap dragons, roses, calendulas, celosias and salvias.
What sets apart Mother's Garden from the rest is it's the only one in the city that grows tulips of different colors at certain times of the year.
Jison brought these bulbs from Germany and San Francisco, California, and has been able to coax them to blossom during the cool months of January to early March. She has planted rows to tulips and narcissus that will bloom around February when the city celebrates its yearly Panagbenga Festival. She has also made tulip bulbs her gifts to Baguio friends.
Jison, who travels the world "in order to eat" and to see what's new in international cuisine, also ensured that there's something for everyone's taste buds at the Panorama Café. The menu offers American, German, French, Italian, Vietnamese, Thai and Malaysian dishes that can be enjoyed on an open-air terrace with a view of neighboring hills and a city watershed that is still a verdant green. The café can comfortably seat 40 persons and is open for wedding receptions and private parties.
One of the café's specialties is the organic cochinillo (the piglet is fed organically grown vegetables before being slaughtered) that is roasted in a wood-fired brick oven.
The café is a good spot to watch the sunset, the horizon turning a fiery red and lights of distant houses looking like fireflies as they turn on one by one. Incidents of drunken brawls have been eliminated with the price beer raised to the same level as fine wines.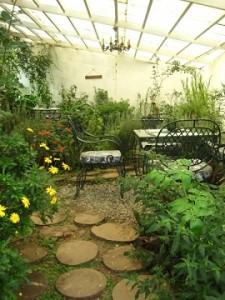 The garden has three huts representative of various Cordillera architecture with a dap-ay for those who want to get a feel of local culture. Skilled potters, carvers and painters guide young visitors through several art activities of their choice—all they have to do is pay for the materials or bring their own. The lessons and tour come with the 50-peso (for adults) and 30-peso (for children and senior citizens) entrance fees.
Jison also hires some of the city's new graduates in hotel and restaurant management, agriculture and horticulture and trains them in a paid apprenticeship program. Companies rarely take the risk of hiring untried fresh graduates, but they have become part of Mother's Garden's advocacy.
"They come to me knowing next to nothing, except for what they learned in the academe," Jison says. "We feed, house and pay them for six months until they become experts at their jobs."
With gardens planted to Mediterranean and Asian herbs, the place encourages purchase of plants and hands-on planting. Feeding of Michelle, the rabbits and the geese is encouraged. In fact, these animals perk up when visitors come in—they know it's feeding time again.
It is notable that despite the presence of these animals, there is no rank odor. Jison says it's because animals fed an organic diet don't give off a malodorous scent.
The garden is slowly entering the residents' awareness. Those with visitors who just have a limited time bring them there to get a full experience of the city in one place.