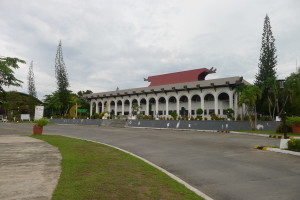 By CAROLYN O. ARGUILLAS, MindaNews
DATU PIANG, Maguindanao (MindaNews/27 March) – The Comprehensive Agreement on the Bangsamoro (CAB) that the Philippine government and Moro Islamic Liberation Front (MILF) will sign in Malacañang today (March 27) may seem like a complex set of documents that would pave the way for the creation of a new autonomous political entity called the Bangsamoro, but for farmers in Barangay Liong, its significance is simplified in three oft-repeated responses: "wala nang gulo" (no more war), "di na kami magbakwit" (we will no longer flee our homes) and "makaani na nang sige-sige" (we can harvest what we plant).
In a village where planting and schooling and daily living are often interrupted by little and big wars, Babu Ginumbay Kuban can only hope that the signing in Malacañang will, indeed, bring the peace that has eluded them for decades.
"Kung magkapirmahan na, di na siguro kami magbakwit" (If they sign, then we don't need to flee our villages anymore), Babu Ginumbay Kuban said when MindaNews visited their barangay last Monday.