By NORMAN SISON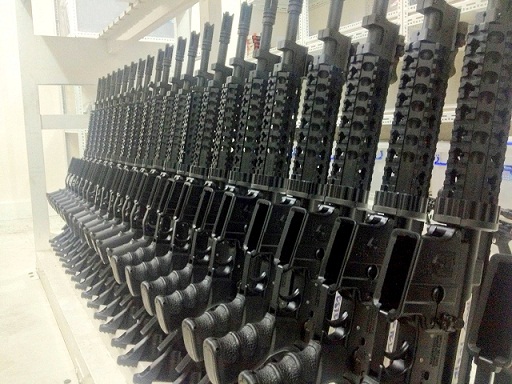 IT was not your usual errand. Several days ago, the head of the security force tasked with protecting President Aquino, toured a small three-storey plant in a Manila suburb that manufactures M4 assault rifles, the standard battle rifle of the US Army.
In April, United Defense Manufacturing Corporation sent a letter inviting Aquino to visit and see what the company could do for the military. In line with his efforts to modernize the armed forces, Aquino forwarded the letter to the Presidential Security Group and ordered them to take a look.
Last May 16, General Chito Dizon, who heads the PSG, went himself to see if the rifles will meet the requirements of the PSG's Special Reaction Unit, which responds to an emergency at a moment's notice. Dizon was impressed. If United Defense's rifles pass further testing, the PSG will place an order for its elite unit.
This is a welcome relief for Gene Cariño, president of United Defense. Since the company started in 2009, Cariño could only look as the country's military and police forces bought rifles and other weapons from abroad. Because of requirements imposed by law, his company is not qualified to bid for government contracts for assault rifles.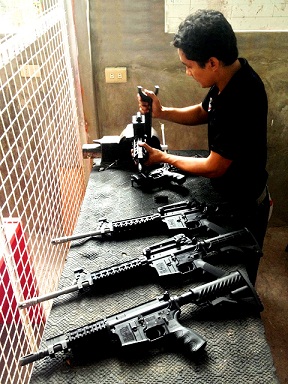 Earlier this month, the Department of National Defense awarded a contract for 50,000 M4s to US company Remington. The other bidders were legendary American firearms company Colt, Manroy and Sig Sauer.
"We are really no match for foreign brands," Cariño says, exasperated.
It is a frustration shared by Bert del Mundo, vice president for corporate planning and corporate development for local gun company Armscor. Last year, the company lost a bid for a Philippine National Police contract for 60,000 9mm pistols to an importer of the Austrian-made Glock. Armscor was the only Philippine company that made a bid.
In an attempt to change the landscape, del Mundo called on several local defense companies, including United Defense, to explore the possibility of putting up an association to push their "buy Filipino" cause. Two representatives showed up at the meeting on March 28 at Armscor's Ortigas Center office.
One idea for the proposed Defense Manufacturers Association of the Philippines, is for it to form a core group of defense contractors that will meet the needs of the military and other security forces.
"We submit a plan to the government telling them, 'This is the focus of each group member.' We match the government's future requirements. That is the concept of the Self-Reliant Defense Program (SRDP)," says del Mundo, referring to the government efforts for the country to develop its own defense industry and rely less on other countries for weapons.
In 1974, when the Philippine military was still the envy of Asia, Ferdinand Marcos issued Presidential Decree 415, establishing the SRDP. However, it was discontinued for some reason. By the time Marcos was ousted by a popular revolt in 1986, the military had become among the world's weakest because of neglect, corruption and incompetence.
The Aquino administration has revived the SRDP following China's seizure of Scarborough Shoal from Philippine control last year.
Cariño was unable to attend the Armscor meeting, but had sent his thoughts to del Mundo in a letter. One, that the SRDP be made into a law to ensure continuity. "Enacting SRDP into a law by Congress will hopefully bring it forward as a mandate rather than as a mere initiative by the current and future administrations," he wrote.
Two, seek court relief from a government procurement law, Republic Act No. 9184, that Cariño says "unwittingly tends to favor foreign manufacturers".
Expecting Congress to take forever to act, Cariño said the group should file a "petition for declaratory relief with the proper court with the objective of hopefully gaining the court's favorable ruling that the SRDP takes precedence and importance over and above RA 9184 and other laws that tend to impede upon the SRDP program."
Del Mundo explains how the government procurement law stunts the local defense industry: "When you hold a public bidding, the agencies are not required to name any specific brand because it is an open bidding. So, for example, when they need a standard pistol, it should be generic — 45-caliber pistol, period. If you state a specific brand, you are favoring that brand, which is against the law. Since it's an open bidding, anybody can bid whether you are local or foreign."
Cariño has a long-term view for the proposed defense association. He envisions its members pooling their assets and resources into research and development and produce more sophisticated weaponry. "Size is might when leveraging with the banks and other creditors," he says. Cariño points to South Korea, which produces its own rifles, fighter planes, tanks, missiles, navy ships and other weaponry.
Cariño intends to push for the creation of the defense association and lead the "buy Filipino" charge, saying that to back off now would only waste the millions he has already invested in his company.
"There is strength and influence in numbers. No matter how noble and novel your idea is, if you are just one company, you are weak," he says. "It becomes more difficult if the company driving the novelty is up against a government that seems to favor foreign brands."