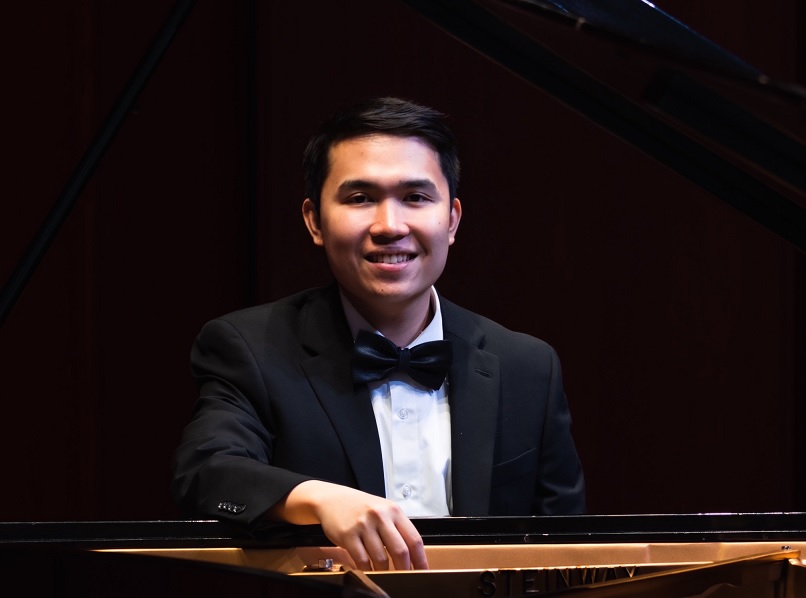 He caught our ears first, then our eyes second when anesthesiologist-music lover Rene Luis Limjoco shared a YouTube video of Klyde Ledamo playing Czech composer Leos Janacek's On an Overgrown Path, Book 1. It featured short pieces evocative of swallows chattering, a leaf being blown away, anguish and tears. In some portions, the sounds reminded one of folk tunes even.
Ledamo will perform Janacek, whose music is not often heard in this country or anywhere else, Liszt's transcriptions of various opera music, a Beethoven opus and a Chopin fantasy on May 27 at 7 p.m. at the Ayala Museum, Makati Ave. and De la Rosa St., Makati City.
A graduate of the Philippine High School for the Arts and of the University of the Philippines College of Music, with a master of music degree in piano performance from the Lynn Conservatory in Florida and now enrolled in a doctoral degree in music at the University of Iowa, he conceptualized the program for this coming recital.
The program opens with On An Overgrown Path. He explained, "Janacek incorporated speech melody, musical figures that were based on overheard conversations around him, Moravian folk songs and Slavonic melodies in his compositions. His works have been largely neglected over the years. Scholarship regarding him is sparse compared to his fellow Czech composers. Despite the apparent simplicity, Janacek had much originality and successfully conveyed pure, raw and direct intentions with his imagination.  His music deserves to be brought to the public and played more. Playing this work taught me many possibilities of bringing out tons of colors from the piano."
Beethoven's Opus 110 Sonata and Chopin's Fantasy in F-minor complete the first half of the program. The second half features Franz Liszt's transcriptions of operas by Gounod, Bellini and Wagner.
Ledamo said of Liszt, "He unselfishly promoted the works of these composers. To me they are some of the best music ever written, particularly Wagner's Tannhauser. I am always interested in programming works that offer friendly, brilliantly catchy melodies. I like to play them in many concerts with diverse audiences, including my upcoming engagements. Majority of audiences  is not made up of professional musicians. My experiences have shown me how music is a powerful language. Music is an act of communication. To me performing is about connection. It is a privilege for me to be able to be that person between the composer and the audience. Audiences listen to connect with emotion."
He said it was important to "honor the composers' intent, but I always fuse this with my own personal stories that I try to translate through the sound. I try to give my audience a human experience, something that is genuine and unique. I'm able to do it effectively with Liszt's opera transcriptions. Liszt knew the piano's capabilities of bringing out wonderful vocal and orchestral sounds, vibrant textures and colors to his transcriptions through innovative pianistic techniques and devices such as complex figurations, cross-hand effects, cascading octaves, innovative notation, complex dramatic effects and many more that many composers admired him for it."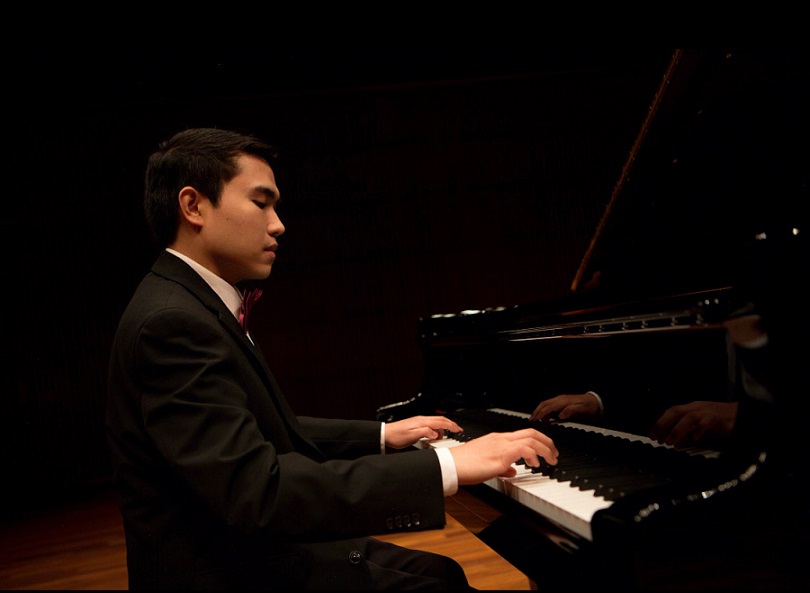 The pianist, only 26, described learning the piano as one fraught with challenges, "but I am grateful for all of these because they have made me who I am today. At age five, I could feel the melodies from the piano streaming in my mind even when I was asleep. I was first exposed to the sound of the instrument at church."
Ledamo went to church regularly for most of his childhood. He described his family as a church-going one, with parents who are still choir members. A digital piano was used to accompany the choir, and he was so amazed by the instrument and always excited to go to church every Sunday because that was the only time he could see and hear it.
It was not until three years later that he played on the instrument. He was eight years old then when a family get-together took place at his grandmother's house. There was an electronic keyboard. For the first time, he got to play on it and somehow found the right keys as he tapped out popular tunes. This caught everyone by surprise, and they started calling out song requests.
His mother, director of the children's choir, let him play the piano to accompany them. He began playing for church services without knowing how to read notes, how to play chords or do the right technique. The real pianist of the choir retired so he took over the position. He somewhat managed to play the right melodies and harmonies, getting better at it when he began his formal musical training. He continues serving in church to this day whenever he has an opportunity to visit home in Bontoc, Southern Leyte. For the choristers it has been their only opportunity to sing with piano accompaniment.
He said, "There are no other pianists in my hometown. Music definitely has a purpose, especially as it relates to my faith. It is a gift from God. I am going to continue serving, sharing and making music to the best of my ability."
He is not the only musically inclined person in the Ledamo family, but he is the first to pursue music as a professional career. His maternal lolo was good at solfeggio. He taught him some classic Filipino songs and would always sit close to the piano when young Ledamo would practice. His parents played the guitar. His two older brothers play the guitar, bass and drums but only as a hobby.
He was already nine when he went for his first piano lesson. He described his hometown in Southern Leyte as suffering from "a shortage of opportunities and exposure in the arts." He witnessed it firsthand when he, accompanied by my mother, had to commute 40 miles once a week for three years to get to his piano lessons.
He said, "There were no piano teachers around. There were no classical music concerts at all, too. Although the computer and Internet were already accessible at that time, I would have to wait for a Cecile Licad video recording of a single piece buffer on YouTube for at least an hour before I could hit the play button for a smooth streaming."
As a scholar at the PHSA in Mt. Makiling, Laguna, he was apart from his family for long periods of time from the age of 12. It was his chance to develop his skills. He said his journey was made up of "bitter sacrifices and exposure" to learn how to play the piano. His mother had to accompany him almost every day to a friend's house for him to practice on a real piano.
Ledamo said, "The memories flow in my mind like it was yesterday. We could not afford a piano until I was 15. Fear of not succeeding was one of the major challenges that created moments that almost froze my dreams. I lost my first competition at age 14. I felt downcast, but my family, teachers and friends still encouraged me. They said,  'This was a great start, keep pushing, don't give up.' The words could not fit in my mind right at that moment. After a year, I realized that there was plenty to learn from a loss because in a loss, I could identify my weaknesses. It taught me to work harder and allowed me to adjust and to improve. Lots of failures prepared me for the slog that is life."
The latest feather on his cap is winning the first prize in the 2023 piano competition of the Schubert Club in Minnesota. He said, "That was one of the toughest competitions I have ever participated in." Aside from a cash prize, he was presented in a winner's concert at one of USA's leading performing arts centers, The Ordway Center in St. Paul, Minnesota. He was also invited to perform in future concerts.
In the final round of the competition, he played selections from Janacek's On an Overgrown Path and Liszt's Reminiscences de Norma de Bellini.
Through all these, Ledamo dreams of giving back and helping the situation of the arts in Southern Leyte. He already brought the internationally acclaimed choir, the UP Concert Chorus, other artists and himself, to his hometown in 2018 to present concerts. The response from the people was joyous since it was their first experience of such.
He said, "My main drive for pursuing further studies in music, honing my skills, concertizing and participating in competitions and building a wider network is to expose my townmates to the arts and inspire a community of artists in Southern Leyte."
He continued, "I want to bring more artists, possibly including from abroad, to my hometown and make a two-way exposure between the artists and the communities, sparking interest and inspiring other artists to give back to their communities. I also presented concerts to raise funds to support medical workers and needy constituents during the pandemic. These projects wouldn't have been successful without the inspiration, lessons and interpersonal skills I have acquired from travels and the support of many people I have met from different parts of the world. That is the life I envision for myself: to share and help through music."