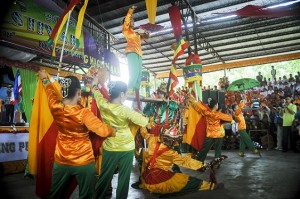 By AMIEL MARK CAGAYAN
THERE'S more to Maguindanao than election cheating, violence, armed conflict and disasters.
Maguindanao's first Sagayan Festival showcased the rich cultural heritage of this conflict-ridden province in southern Philippines, proving that Maguindanaons could extend the hand of peace to their adversaries to do just that.
Maguindanao Gov. Esmael "Toto" Mangudadatu said  the recent  five-day festival  showed the cultures and traditions of ethnic Maguindanaons were meant to propagate harmony, foster inter-community cooperation, and inculcate subservience to Allah among the natives.
Sagayan, which is a Maguindanaon word, is one of the ancient, unchoreographed dance forms in the world that still exist to the present. It is a war dance that has always been part of the merrymaking during special occasions and weddings among ethnic Maguindanaons.
The ethnic dance is performed by the Maguindanaons and Maranaws of Lanao del Sur, where dancers depict the ferocity of warriors when they defend land, race and religion.
Dancers act as fighters and carry bladed weapons and wear beads that make noise when they dance, as if to distract the attention of enemies.
Contemporary Maguindanaon historians assert that while it is a war dance, it does not depict feudalism, but rather shows the zeal of the Moro people and their leaders to protect their communities from any form of conquest or abuse.
The term Maguindanaons, which refers to the Moro community in the province, literally means "people of the flooded plains," or those who dwell in the marshlands in the ilod (downstream) and Raya (upper delta) of what are now the first and second districts of Maguindanao, respectively.
"Sagayan is not just a war dance as other scholars would reduce it," the website of Maguindanao province explained. "It symbolically represents the slaying of evil, a purification of the inner self and the environment in which man exists…"
Rep. Sandra Sema of the first district of Maguindanao added: "It is also meant to show the resilience of the Moro communities and their strength to readily rise or bounce back from every fall, or from any devastation."
According to  Mangudadatu, the Sagayan Festival was intended to foster unity among the people in their pursuit for lasting peace in the area, known as a stronghold of the Moro Islamic Liberation Front.
The provincial police chief, Senior Superintendent Marcelo Pintac, has in fact been quoted as saying there has been almost zero crime in Maguindanao since the launching of the festival on Feb.10.
With the theme "Blending of Rich Culture and Traditions among Maguindanaoans as a Road to Peace," the Sagayan Festival also featured a Grand "Kanduli (thanksgiving rite) and the Buluan exportable Tilapias raised at the majestic Buluan Lake.
The event was capped by a trade fair showcasing indigenous crafts and industries, such as cloth weaving and production of brass wares.