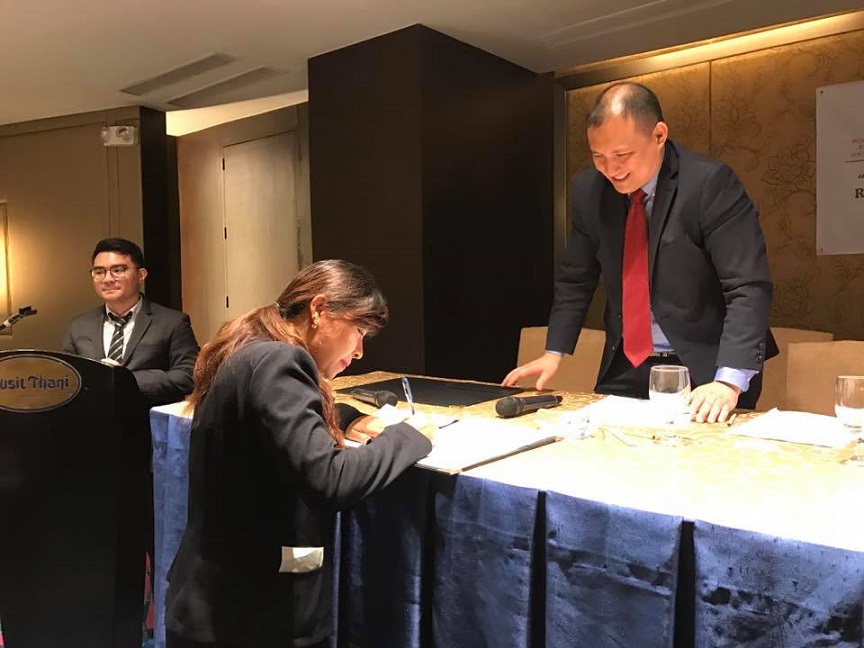 Lawyer from Myanmar signing her organization's approval of the statement on SB92. Looking on is AFEC-SEA Chair Gilber Andres. Photo from Andres' Facebook.
The concern about Fake news has created another concern: in the urgent desire to solve the problem of fake news, we might end up with a cure that is worse than the disease.
Fake News has been blamed for political upsets like the decision of the United Kingdom to leave the European Union and the election of Donald Trump as president of the United States.
In the Philippines, the Duterte government maintains an aggressive presence in social media through its Duterte Diehard Supporters led by a communications undersecretary.
Collins Dictionary, which has chosen Fake News as the word for the year 2017, defines Fake News as "as false news stories, often of a sensational nature, created to be widely shared online for the purpose of generating ad revenue via web traffic or discrediting a public figure, political movement, company, etc."
Last Friday, the Advocates for Freedom of Expression Coalition- Southeast Asia (AFEC-SEA), Center Law and American Bar Association- Rule of Law Initiative gathered lawyers, journalists and online activists from Cambodia, Laos, Indonesia, Malaysia, Myanmar, Philippines ,Singapore, Thailand and Vietnam to discuss the situation as regards therise of Fake News with the objective of forginga Southeast-Asian Response.
At the end of the forum, AFEC-SEA read a letter addressed to Senator Grace Poe, chair of the Senate Committee on Public Information and Mass Media, asking "the Philippine Senate not to pass SB 1492" because it is "potentially unconstitutional and incompatible with the Philippines' treaty obligation under Article 19 of the International Covenant on Civil and Political Rights (ICCPR).
S.B. 1492, authored by Senator Joel Villanueva seeks to penalize "the Malicious Distribution of False News and other Related Violations."
There's a counterpart bill in the House of Representatives, HB. 6022 by Luis Raymond "Lay" Villafuerte, Jr.titled "An Act Prohibiting the creation and distribution of False News."
The letter, signed by AFEC-SEA Chair Gilbert Andres and approved by the 12 civil society organizations in Cambodia, Thailand, Malaysia, Myanmar, Indonesia and the Philippines,
enumerated six concerns and suggestions about the bill:
1. SB 1492, as currently worded, is overbroad and is potentially unconstitutional, if passed, for
being inconsistent with Section 4, Article III of the 1987 Constitution. SB 1492, if passed, at its core is essentially a law that will abridge freedom of speech and of expression, in direct contravention of Section 4, Article III of the Constitution."
2. Criminalization of speech is incompatible with the right to Freedom of Expression (FOE).
3. Self-regulatory mechanisms by netizens, internet users, intermediaries and media organizations are a better option to counter fake news.
4. The Philippines has the duty to promote and protect the free marketplace of ideas.
5. There should be no intermediary liability for third party-content.
6. We must adopt a human-rights based, multi-stakeholder approach in addressing fake news.
On the third point, self-regulation by netizens, Andres cited efforts of social media platforms like Facebook to address concerns about fake news and security.
"In the local scene, VERA Files has a fact-checking mechanism. Through this system, VERA
Files is able to fact-check false claims and detect the flip-flopping of politicians and public figures. The system shows promise on how local media outlets can develop internal means to detect fake News," Andres said.
Andres cautioned that, "Even if we disagree with fake news and hate it, nevertheless, it is a basic dictum of the right to freedom of expression that the antidote to speech that we hate is not less speech but more speech. In the same vein, the antidote to fake news is not to criminalize fake news but rather to expose its falsity, and to present the truthful facts."