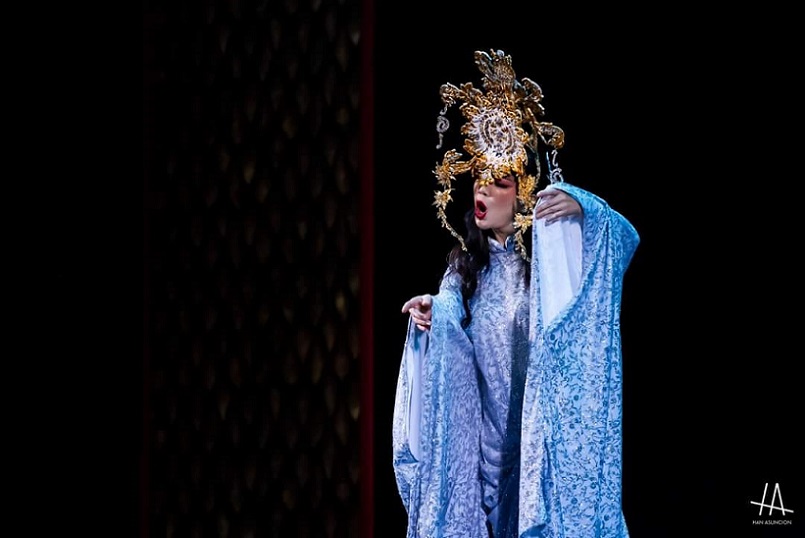 What do you do when you ended up in a hospital while dressing up for the gala night of Turandot?
You check the internet when you found out you are still alive and got curious about the event you missed while you were fighting for dear life.
It turned Turandot (last seen in Manila in 1979 at the Manila Metropolitan Theater) received a grand and mesmerizing reception on its opening Friday night (December 9) at the Cultural Center of the Philippines.
Actor-director Carlitos Siguion Reyna was all high praises for soprano Lilla Lee as Turandot, bass Jinsu Lee as Timur and soprano Rachelle Gerodias for her movingly sung and acted Liu.
Gerodias' husband, baritone  Park Byeong In,  was also singled out for  his powerful and comic stage and vocal presence as Ping, tenor Ervin Lumauag as Pang, tenor Ivan Nery as Pong, tenor Nomher Nival as Emperor Altoum, and that strong and highly engaged chorus), the dancers from the Alice Reyes Dance Philippines company, the designers, and the director (Maestro Vincenzo Travaglini with assistant director Prince Ravivaddhana Monipong Sisowath)  all connected with a highly appreciative audience.
Siguion Reyna wrote: "I never thought the musical suspense in the riddle scene could be matched by suspenseful staging, but this production's conductor (Valentino Favoino) and the director (Maestro Vincenzo Grisostomi Travaglini with Prince Ravivaddhana Monipong Sisowath as assistant director) accomplished just that. And in the final seconds of the opera, that sudden orchestral diminuendo to start the chorus and entire cast from a hushed phrase before rising with the orchestra to a tremendous crescendo, it was just pure magic. The vibrant energy from the stage and the orchestra pit was remarkable, as if everyone banged fists on the table and decided to communicate with every single soul in the audience, to resell opera and reanimate love for classical music amongst a public done with more than two years of the pandemic, and to seriously treat this as a special event which they did successfully."
Opera goer Leo Paolo Leal paid tribute to the homegrown talents in the cast which happen to be members and ensemble of the Turandot Opera Chorus and the Tiples of Mandaluyong. "They just sounded so full and wonderful," gushed Leal singling out the direction of Maestro Vincenzo Grisostomi Travaglini, the lighting design of Giovanni Pirandello, among others.
Repetiteur May Anne Espina (along with Farley Asuncion) was beaming with pride watching the Turandot production she worked hard on during rehearsals. "I am so fortunate to be the repetiteur of this spectacular production. Working closely with the cast and the dynamic creative team, and watching the opera unfold before your very eyes is the most fulfilling moment."
National Artist for Music Ryan Cayabyab accidentally tripped while claiming his assigned seat. He thanked his guardian angels as he entertained thoughts the next day's headline could be something like "Composer na bagok ang ulo sa CCP (Composer injures head at CCP gala night)."
Cayabyab admitted he had no love lost for Turandot when he first watched it at no less than the Metropolitan Opera in New York about a decade ago.
After watching the Manila Turandot, the National Artist had a good turn around. "I changed my mind about Turandot after watching the opera at the CCP.  At the Metropolitan Opera in New York less than a decade back, the only thing I liked about it was the massive set. It struck me as a boring piece that people waited only for Nessun Dorma in Act 3. It didn't help that the highly touted tenor (Calaf) was indisposed and a substitute was hurriedly placed to fill his big shoes. Nessun Dorma didn't soar that night and we went home tired and sleepy."
He also admitted he had no high expectations for the Manila production.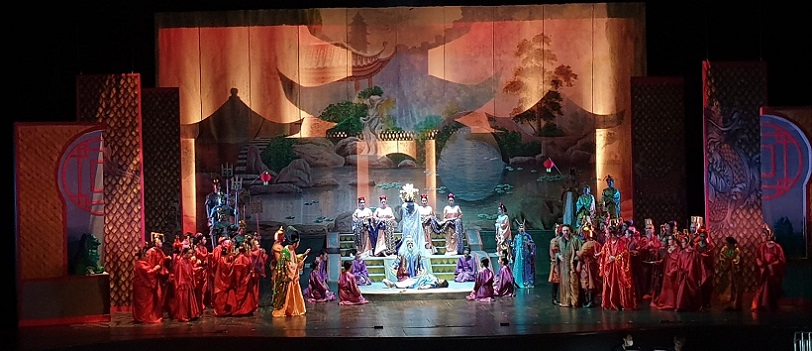 After the Friday gala night, his verdict changed.  "The production was superb. I had a full turn around. I loved Puccini's music bordering on the impressionistic and the modern. The dissonant chords and the melodies tickled my ears no end. I loved listening to the textures as performed enthusiastically by the Philippine Philharmonic under Valentino Favoino. Lots of coloring and dynamics. And what a robust sounding opera chorus trained by Camille Lopez Molina. That is the way an opera chorus should sound. All the leads were great but I was totally mesmerized by the voice of  Lilla Lee as Turandot. Not to be outdone was our very own Rachelle Gerodias as Liu. My favorites that night were Park Byeong In and Jinsu Lee. It was pure magic. Just superb. The other Filipino support cast did so well. As for the Act 3, I think we have all romantacized that aria – Nessun Dorma – and raised it too high for expectations to be never met. That night it was just another aria. But I wouldn't mind listening to the arias of Lilla Lee and Rachelle Gerodias a second time. I loved Act 2 with Ping, Pong and Pang. The direction in that scene was miles, miles away from what we witnessed in New York. It was most delightful, and Ping, Pong and Pang went to town. I enjoyed that scene."
From the point of view of choral director Camille Lopez Molina, it has been an intense and epic vocal, musical, physical and emotional roller coaster ride. "It was my most difficult opera assignment that I ever got on and one of the most difficult and the most rewarding as well."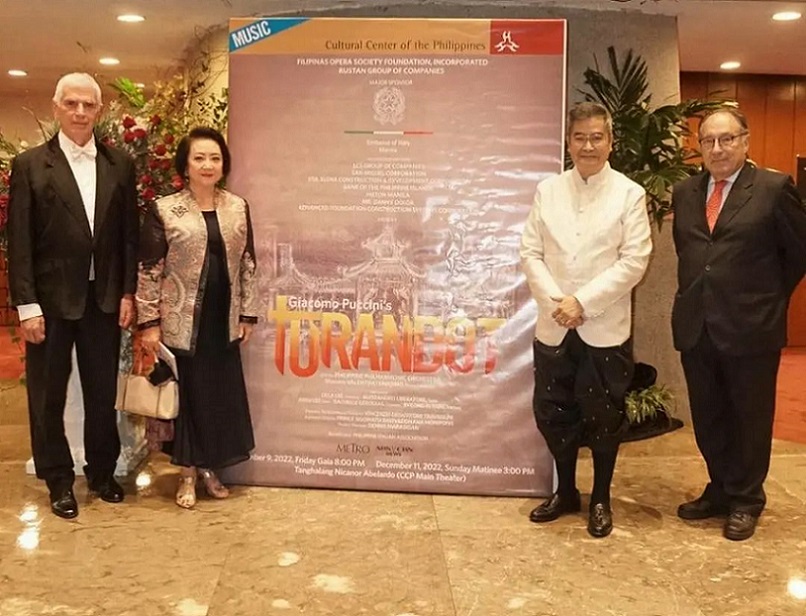 Turandot – a production collaboration between Rustan's Group of Companies under Nedy Tantoco the Cultural Center of the Philippines  under Margie Moran Floirendo, the Italian Embassy under Ambassador Marco Clemente and the Filipinas Opera Society under Dr. Jaime C. Laya – will have its final performance Sunday, Dec. 11. 2022 at 3 p.m.
Call the CCP Box Office (8323704) for tickets.