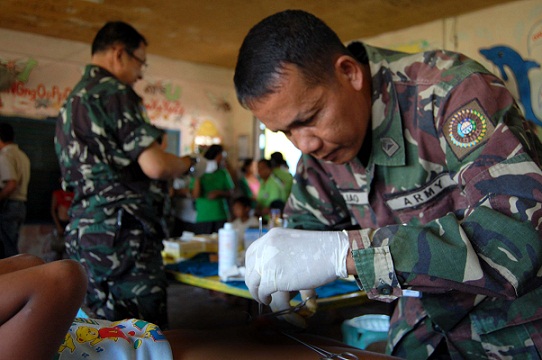 BY HOMER TEODORO
SUMMER vacation in the Philippines is something young boys look forward to — some of them with excitement, while others with fear and anxiety.
This is usually the time of the year when Filipino boys, usually from nine to 12 years of age, undergo circumcision, or what is generally regarded as their "rite of passage to manhood."
Many of these kids opt to avail of "Libreng Tuli Operation" or free circumcision usually offered  by medical missions  in the vacation months of April and May, ensuring enough time for the wound to heal before the school opening in June.
Although considered a minor surgery, circumcision (or genital incision) in a private clinic or hospital can cost up to P1,500 nowadays.
It has been reported that a single doctor circumcised more than 300 boys in one day at a town somewhere in the northern part of the Philippines as part of a medical mission.
The Napeñas Multi-Specialty Hospital, a private hospital  in the town of Concepcion, Tarlac, said it  is expecting around 600 boys for circumcision. Yearly, Dr. Marites Napeñas offers this for free to the children of Concepcion.
The headquarters of the Tarlac Provincial Police Office in Camp Macabulos expects 200 boys for free circumcision in the first part of May. Recently, the Northern Luzon Command in Tarlac offered free circumcision to 150 children as part of their Anniversary Celebration.
Some  politicians also offer free circumcision especially those celebrating their birthday in April or May.
Young boys wake up early to stay in the bathroom for long hours before they hike to the venue where medical missions offering free circumcision are held. It is a common belief that if they bathe longer, the lesser the blood that will come out of the wound during the circumcision operation.
Most of the time, they come in groups — best friends, cousins, classmates, or neighbors. Sometimes, their mothers or fathers  accompany them. It is easy to know if the boys are going to the operation tuli venue (usually in barangay elementary schools) because they are wearing loose jersey short pants.
They have to come early for the "Libreng Tuli" to register because some medical missions have a limit to the number of boys they will accommodate for the day.
The boys are assigned  numbers, which when called would allow them entry to the makeshift "operating room." About four to five tables covered with cloth serve as operating tables.
A team of doctors and volunteer nurses or health workers will perform circumcision on two boys simultaneously.
Other boys opt to go to a "pukpok" or "batakan"  instead of a doctor to save on the cost of circumcision.
Traditionally, circumcision is done near the river by a man called "pukpok" or "batakan." Usually, the "pukpok" or "batakan" is a barber or butcher in the market.
His instruments used to circumcise are a piece of wood and a "labaha" or razor blade. He has a stand with a protruding shape of a small head of a dog where he will place the penis of a boy.
The boy is asked to chew guava leaves during the "operation," and then spit them out to be placed on the wound. Some boys however end up swallowing the leaves as nervousness and pain overcome them.
(Guava leaves are considered medicinal in the Philippines.)
The "pukpok" man will then cover the wound with a white piece of cloth and ask the boy to jump into the river so that blood will cease.
Doctors say this crude method of circumcision is not advisable because the blade used is not sterilized which could infect the wound. Also, bathing in a river after circumcision could make matters worse because the water could be contaminated with bacteria.
According to some medical people, circumcision is more of a hygienic thing for a boy. They want to correct what some consider as simply "a macho thing." They said it must be explained properly to the boys or they will have a wrong perception of the real value of circumcision.
Some boys believe that if they are circumcised they will grow taller. Still many think they will become real men  and can start courting  girls.
Whatever his reason for wanting to be circumcised, a boy usually comes out of the operating room after this rite of passage with his head up high as if announcing to everyone that he is already a man.