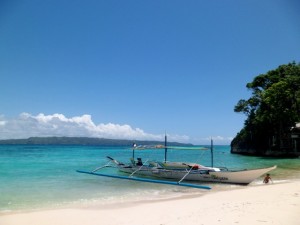 Text and photos by CARLO FIGUEROA
THOUSANDS of tourists descended on the little island paradise of Boracay over the five-day holiday last week, straining an already challenged beach environment.
Traffic jams, air pollution from tricycle fumes, restaurants big and small packed to the brim, and the sheer number of visitors jostling for space in a cramped island were definitely not synonymous to rustic images beach life usually conjures. But such was the daily scene in Boracay over the Easter break.
Given the crowd I was sure to encounter, family and friends wondered why I chose Boracay as a Holy Week destination. And now that I've been through the experience, I will indeed think twice or even thrice before returning to the island during what is considered its "super peak" season.
But to those who insist on traveling to the country's top tourist draw during Holy Week, or any time during the summer when crowds pack Boracay, here are some pointers worth considering:
1. Book early (both flights and hotels) – If you're planning to go during the "super peak season," book a few months in advance.  Take advantage of airline promo sales, and stick to your plan.  I booked my flights as early as January and I checked a few weeks before to compare. As a result, I saved around P4,000.
The same goes with hotels. Check online sites such as Agoda, Asiatravel, or Asiarooms and compare them with the resorts' respective websites. Better yet, and if you have time, directly contact the resorts to check if they have better rates than the ones being offered online. I got mine direct from the resort and was able to get a free third night.
 2. Kalibo, not Caticlan –  When booking a flight during this busiest time of the summer season, book your flights via Kalibo. Why?  A couple of points to think about:
Price– Tickets to Kalibo are always cheaper than the flights to Caticlan by at least 50 percent.  I got my tickets in January for less than P2,000 per way while Caticlan tickets were fetching from P4,000 to P5,000 one way.  And don't get discouraged by the land transfer from Kalibo to Caticlan.  Maximum travel time is around 90 minutes along a scenic and well-paved road.  These transfers may also be seamless if you book through established service providers.  Otherwise, public utility vans are available to take you from Kalibo Airport to Caticlan port for less than P200 per person one-way.
Reliability– Now, this actually takes the cake.  Flights to and from Caticlan have a bigger probability of being delayed, diverted (to Kalibo) or worse, cancelled altogether for a variety of reasons: Operational requirements (airlines use their smaller turbo-prop aircraft here), weather (the slightest wind or rainfall increases the chance that the small Caticlan airport will be closed), or sunlight/sunset limitation (a reason why late afternoon flights may be diverted to Kalibo).  If any of these happens, won't you feel shortchanged that you paid for an expensive ticket yet still had to go to Kalibo (with passengers who paid for a much cheaper flight and an existing expectation of a longer travel overland)?
Take my return flight to Manila last week as an example.  I was booked to take a Kalibo-Manila flight at 7:45pm.  I got to Kalibo airport at 5:30pm and checked in.  The airline staff asked me if I wanted to be transferred to an earlier flight that is expected to leave at 6:45pm.  Apparently, it was supposedly a Manila-Caticlan-Manila aircraft that had to be diverted to Kalibo for a reason I supposed was any of the above.  Needless to say, passengers were disappointed that they had to take the bus from Caticlan while I, having paid a cheaper ticket, was still able to squeeze in that earlier flight and thus got home an hour ahead of my original schedule.
3. Choose a resort depending on your interest/s – If you are a party animal, by all means, book a resort in the busy area of White Beach – stations 2 and 3.  Opt for a hotel in Station 1 if you like a quieter area but still on White Beach.  But if you are totally averse to the bedlam there, choose a resort that is on the (literally) other side of it – Bulabog Beach.  Or better yet, get a room (or a villa) in one of those properties by the hills of Boracay that are not congested and can even offer you a wide and expansive view of the Sibuyan Sea.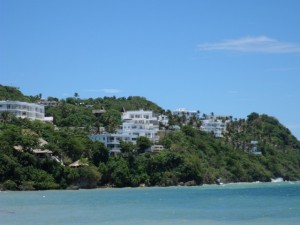 4. Take your meals during off-hours – One of my biggest worries aside from knowing the famous pace of "island time" was the large number of clients and customers who would need to eat in the usual hours:  9-11am for breakfast; 12noon to 2pm for lunch; and 7-9pm for dinner.  You can avoid crowds by simply going to the restaurants outside those hours!
What I did was to take a light breakfast at the resort at 8 a.m., set out for lunch at White Beach by 11:30, and then returned for early dinner at 6:30.  Guests can also save by buying snacks and beverage at various groceries and stalls off the beach area as restaurant prices are very expensive, with some even pricier than Manila!
 5. Explore the other parts of the island – White Beach is not everything there is to Boracay. There are other parts of the island that are as scenic but less crowded.  These places can give you respite from the crowds fighting for space on White Beach.  Head off to Bulabog where kiteboarding is most popular, and from there hike the sloping terrain leading to Mt. Luho which can give you an exhilarating view of the island.  Visit Yapak where the lovely Puka Beach is located – bluer and cleaner waters than White Beach's.
6. Go local – To maximize your distinct Boracay experience, patronize local restaurants and buy handicrafts that are locally-made (Aklan or Antique in that regard).  There are several restaurants that are run by local residents – those that are not part of Manila-based chains or those that do not have branches in other parts of the country – that are guaranteed to satisfy your gustatory delights.  That and the fact that dining there means you're supporting local businesses should be enough reason for you to shun fast food places while in the island.  Locally-made handicrafts such as native bags made in Antique and seashell accessories made by residents in Puka Beach are much more beautiful than the tacky foreign-made souvenirs commonly sold in the beach area.
Finally, the perennial note visitors must not forget is to be environmentally-conscious and responsible. Several posters and billboards reminding tourists to "conserve water," "do not litter," "reduce, reuse, recycle," are practically placed all over the island to reinforce the need for residents and visitors to be more vigilant in protecting Boracay.
And yes, according to one of the billboards, "It's Boracay please, not Bora."