By MEI MAGSINO
REMEMBER Fernando Amorsolo's painting depicting an important page of our history of three women sewing the first Philippine flag? That was Marcela Agoncillo with her daughter and a friend.
Agoncillo, the daughter of a rich family of Taal, Batangas and wife of jurist Felipe Agoncillo, learned feminine crafts as was the tradition among daughters of rich families.
The women of Taal made famous Burdang Taal, an artistic, intricate, and sturdy form of needlework. In the early 1900s, people from faraway places go to Taal for it.
In the highlights of Philippine history, Taal embroidery has always made an exquisite presence. Former presidents Diosdado Macapagal and Ferdinand Marcos were usually seen in Taal-embroidered Barongs.  A number of former First Lady Imelda Marcos' fabulous ternos were Taal-embroidered.
Taal embroidery has also adorned garment accessories and home décor items. Although the embroidery looks exquisite on jusi and piña fabric, it's also dainty on cotton, linen and ramie.
Burdang Taal boasts of its callado, a kind of filigree work wherein the cloth thread is painstakingly pulled off from the cloth in an intricate pattern that goes with the simple or sometimes ornate and well-embossed hand-embroidered designs.
The best designs and embroideries always come from the village of Iba in Taal, where up to now, the few remaining burdaderas (embroiderers) still live.
Sad to say, the once flourishing embroidery industry is becoming a thing of the past.
Today, right in that town where embroidery was once valued as a treasure, fake embroidery pieces flourish and are being sold cheaply. Items from Lumban, Laguna, and machine-embroidered pieces from Bulacan are all lumped under Burdang Taal.  Most buyers couldn't even distinguish the original from the fake ones.
Dolores Landicho, 79, said: "The people now do not buy the original because of its cost."
Original Taal-embroidery costs about  P75,000 to P100,000 and waiting time of three months.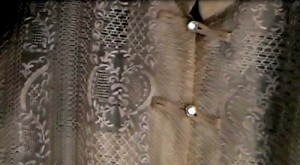 Ninety-three -year-old Remedios Reyes, who started her Taal embroidery business in 1947, after World War II, worries about the dwindling market for their products. She has handed down management of her business to her daughter, Chona, who points to other reasons that led to the diminishing demand for the real Burdang Taal: "Five years ago, the exporters stopped exporting our products. Also, instead of buying an original Burdang Taal gown, many just rent."
"Sales are so down nowadays because the people don't recognize our own brand of embroidery anymore, and for those who are in the know, they don't have the money to buy this," Remedios  said.
Elsa Aseron, who had built up an elite clientele among the residents of posh villages such as San Lorenzo Village, Magallanes Village, and Forbes Park from a $100 capital in 1965, misses Clark Air Base in Pampanga and Subic Naval Base in Zambales, where many of the American families were her customers.
When Mt. Pinatubo erupted, the Americans left and business plummeted.  The volume of her business today is just five percent of what it used to be.
But despite the economic downturn, she still tries to maintain the quality and design of Burdang Taal "because I don't want this craft, our culture to die," she said.
Her two burdaderas, Beth Villostas and Rose Reyes, feel passionately about their craft. "You will know the real Burdang Taal by its workmanship. Compared to machine embroidery that easily tears down if you pull a single thread, the real Taal embroidery remains strong and whole, it's embossed designs intact even if you pull a thread," said Villostas, who has been doing embroidery for the last 15 years.
The oldest Taal Embroidery store, Naty's Embroideries, was founded in 1953. Framed on the wall of the store is the photo of its owner Natividad Noche, receiving an award from then President Marcos for being the top embroiderer of the Philippines.
Noche's son, Chito, who inherited the store, fondly recalls the good old days of the Taal embroideries. He notes that in 1965, government employees were required to wear Burdang Taal barongs.
"Logos and insignias of government office uniforms were made here, and the embroiderers then were proud of their craft," he says.
Now, most of the embroiderers have become  Overseas Filipino Workers (OFW) and they have not passed on the craft to the younger generation who prefer to get white collar jobs.
"This once proud craft is dying," Chito lamented. The burdaderas are a vanishing breed that they have become a tourist attraction.
Dindo Montenegro, a dedicated advocate and promoter of Batangas and Taal culture, includes in Taal's tourist itinerary a visit to the last few remaining burdaderas of the original Taal embroidery.
An active member of the Taal Heritage Foundation Inc. and the Southern Luzon Association of Museums, Montenegro is also with the Diwa ng Batangan — the Batangas provincial chapter of the Heritage Conservation Society.
Montenegro shares the complaint  of those in the embroidery business of the government's lack of interest in saving the craft  that showcased the finer aspect of our culture. He said the Taal local government did nothing more than pass a resolution declaring the town as the Barong Capital of the Philippines.