Argentinian piano icon Martha Argerich connects very well with Filipino musicians.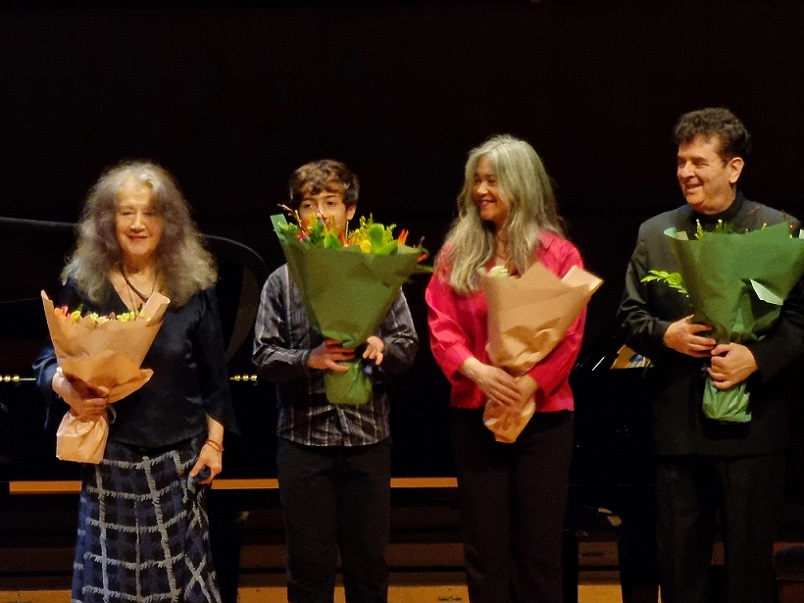 In 1957, she won the Ferruccio Busoni International Piano Competition in Italy.  In the same competition five years later in 1963, Filipino pianist Jose Maria Contreras from Capiz (now Roxas City) won third prize.
Pianist Cecile Licad has never joined Chopin and Busoni competitions but she was recipient of the Grand Prix du Disque from Warsaw's Chopin Society for her recording of Chopin No. 2 with the London Philharmonic Orchestra under Andre Previn.
 Some years back, she was named member of the jury of Chopin competition but her judging task fell on her Hong Kong engagement.
In the 80s, Licad and Argerich were taking Europe by storm they found themselves in the same circle of friends with other celebrated artists.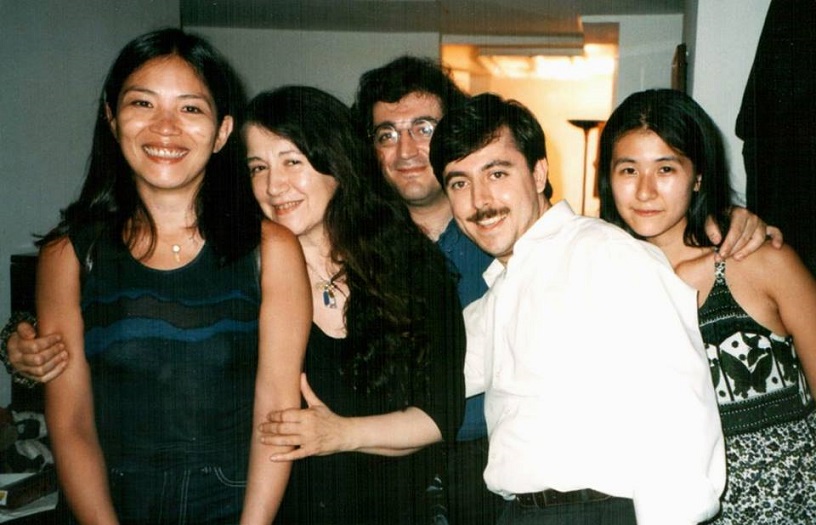 In the late 80s, Licad hosted a dinner for Argerich in her New York apartment. Argerich loved the Bicol pinangat she called the "Filipino grass."
They often compared notes. Argerich asked Licad to teach her how to do those arabesques in one movement of Chopin No. 2. Licad replied she'd love to do it but Argerich has to teach her how to do Chopin No.1 as well.
Licad is now 61 and Argerich now 81.
Some Filipino fans couldn't have enough of Argerich. Filipino doctor Lara Halili followed Argerich as soloist of the LA Philharmonic in Walt Disney Concert Hall when she was pushing 80 and watched her again in another Carnegie Hall concert as soloist of a Rome orchestra.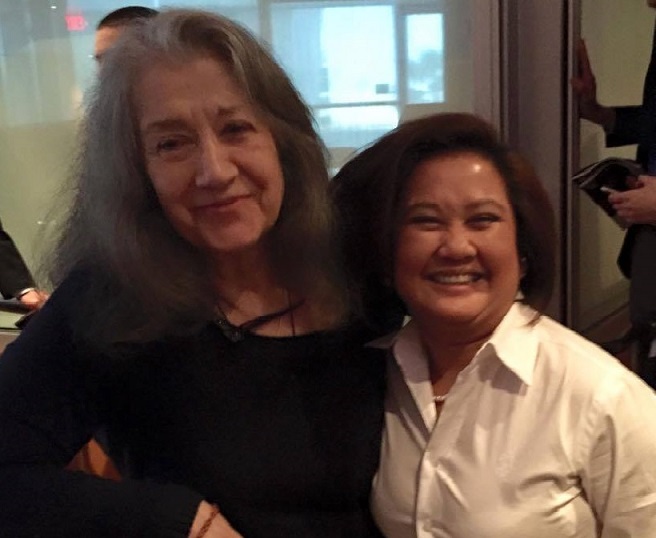 Last week, Filipino musicians led by piano teacher Anthony Yu Say  were lucky to watch Argerich in one chamber music concert at the Singapore Esplanade last November 7.
Her program consisted of Clara Schumann's Three Romances  with violist Lyda Chen Argerich, Chopin's Fantasie-Impromptu, Op. 66 and Rachmaninoff's Symphonic Dances Op. 45 with pianist Dario Ntaca. 
Say recalled his joy watching Argerich live: "It's my first time to watch her live. It was really surreal! She is the idol of all pianists, both old and young. She is everything we aspire for. Watching the Argerich concert was a last-minute thing. Our trip this time was really to watch Yunchan Lim and to have a masterclass with Albert Tiu. While planning the trip, we discovered that Kun-wook Paik, a Deutsche Grammophon artist, will be performing two days ahead of Yunchan Lim's solo concert. We decided to watch his concert as well."
Yu admitted tickets to the Argerich concerts were quite expensive but decided to watch anyway. "We've decided to grab this opportunity to watch one of the greatest legends in the history of piano performance!"
With Yu was his pupil Aidan Ezra Baracol. "He was a bit disappointed because Argerich didn't play any solo pieces. But he was amazed by the sound that she was able to produce. At 81, her fingers were stronger than any of us."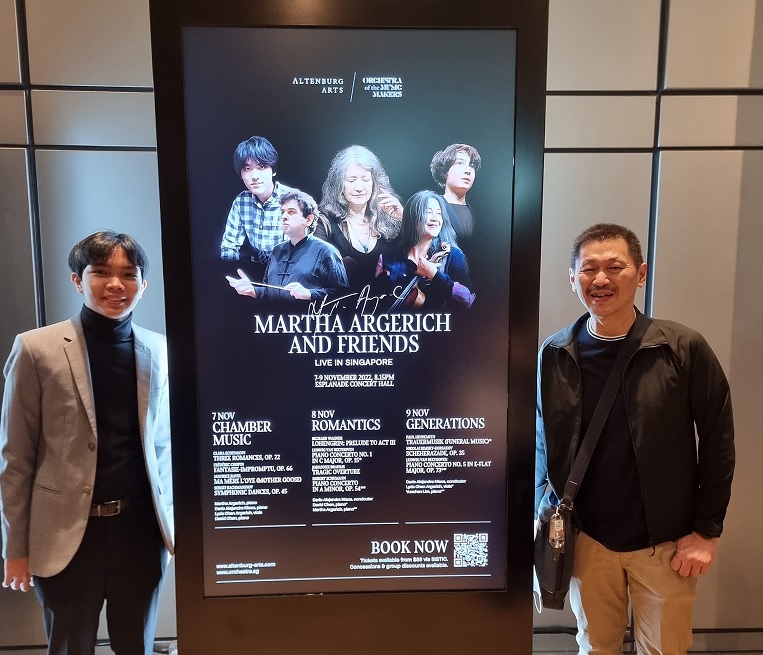 The personal encounter in that concert hall was special to him. "Listening to her live was way different from watching her on YouTube. Coming from the Philippines where we barely have any visiting international pianists, the inspiration one gets was a hundred times more compared to those who get to watch big stars regularly.  First, it was a dream come true to watch someone like Argerich perform. Second, watching in a topnotch concert hall with a really good piano was a very enlightening experience for our students."
Say  said watching piano legends inspires students. "Experiences like these are both inspiring and enlightening. It gives them enough drive to pursue their goal in music. Argerich was treated like a famous pop star. Nothing less than a rock star treatment given to Taylor Swift."
Say's first teacher was Irma Tan Su, currently a board member of the Piano Teachers' Guild of the Philippines Foundation Inc. (PTGPFI). "I started taking lessons with the late Dean Erlinda Fule while in my final year in my Architecture course. After finishing my degree in Architecture, I started to pursue my B.M. in Piano Performance under Dean Fule. I finished my M.M. in Piano Performance under Dr. Raul Sunico. While taking my master's, I also took lessons with the late Father Manuel Maramba and Prof. Aida Sanz Gonzales."
Argerich has been one of his great inspirations even since he was a student. Another pianist that influenced him was French pianist Pascal Roge whom he heard live at the Philamlife Auditorium in 2010. "My concept of voicing and coloring totally changed after that recital."   Other pianists on his list are Claudio Arrau, Krystian Zimerman, Emil Gilels and Nikolai Lugansky."
He feels all piano teachers should have passion as a special quality. "It is the driving force that keeps us all going."