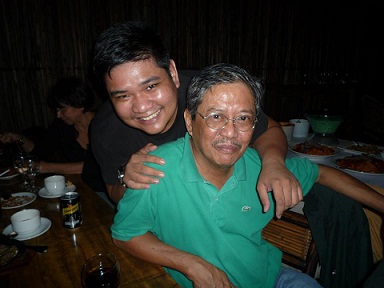 JOY, 59
By ALEX MAGNO,The Philippine Star
I first ran into Joy de los Reyes over four decades ago, when barricades rose and the streets were on fire. We were combatants, members of what were called "composite teams," militants expected to hold the line against police charges to protect the main formation of demonstrators.
We became unlikely but fast friends. He was from the Samahan ng Demokratikong Kabataan (SDK) and I from the chauvinistic Kabataang Makabayan (KM). He emanated from the public schools of Aklan and I from a suburban Catholic school. He was always disorganized and I was an obsessive-compulsive, task-oriented bastard. Besides, he had such an unlikely name.
He was studying to become an engineer and I was supposed to become a lawyer. Neither of us lived up to our original plans. Joy fell in love with philosophy and I became immersed in political economy.
We must have consumed a few thousand cups of coffee between us through our college years, arguing over essentialism and structuralism, the "movement" and the politics of our time. It took about two decades, I think, before Joy was finally awarded his bachelor's degree in philosophy because he refused to take ROTC (the requirement was eventually abolished).
Shortly after martial law was declared, Joy joined the Daily Express as proofreader. I visited him there, loving the scent of printer's ink. While waiting for galley proofs, he read Immanuel Kant's Critique of Pure Reason and then the works of Heidegger and Habermas. He was surely the most literate proofreader in town. He would rather read than sleep.
He encouraged me to write movie reviews for that paper, the only thing that could be written with any satisfaction during a time of tight censorship. I did.
In the late seventies, we set up the Critical Studies and Research Group, a loose and chaotic network of intellectuals that sometimes seemed to be doing more drinking than writing. But the fraternity kept our morale high, supplied us a community where dissident ideas may be shared. The Left was about as suspicious of us as the Right was. We defied every convention and interrogated orthodoxies without mercy.
Joy took to journalism with the same passion he once reserved only for philosophy, rising to become editor-in-chief of Malaya. The former occupation kept his family fed; the latter preoccupation made him a happy man. Until the last few years, he participated in an informal group called the Diliman Book Club where members took turns reviewing the latest opuses.
When we greeted his first son, I insisted that being a de los Reyes he should name his son Isabelo, to honor a great Filipino patriot. He did.
Over the last two decades, Joy and I saw less and less of each other  although when we did, we could discuss through the night our thoughts and our sentiments without inhibition. In between, we raised families, sustained careers and dealt with the unavoidable tragedies. Susan succumbed to cancer shortly after Jane did. Joy sat with me through the otherwise unbearable chore of seeing through Susan's cremation.
Last year, Joy pulled me aside to say he was diagnosed with advanced stage lung cancer. I looked at him in the eye for a while, grasping for something to say. I finally, managed to mutter: "All of us, we all have only one chance to die with dignity."
And he did, unrepentant to the end. The man, generous to a fault, left with no regrets and no rancor. He died as peacefully as he lived.
JOY'S STORY
By ROSARIO GALANG
"I am not afraid to die."
These were Joy's words to me when I first saw him in November of 2011 after he was diagnosed with stage four cancer.
Last month, on the day before he flew to Aklan, he said, "Hirap na ako, wala na."
That was quintessentially Joy, brave, brief, concise, accepting. No pretensions, that's how he was.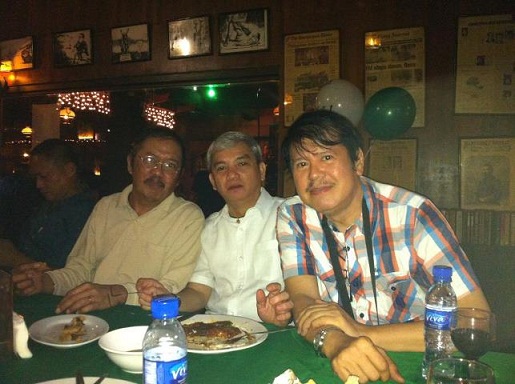 To Jane, his late wife, he was taciturn, a perfect ploy to her ebullience. To his drinking buddies, he sang  "Anak Dalita". To his golf partners, he was a quiet but powerful player. To his UP barkada, he discussed philosophy, ugh. His book collection was legendary but he lost it all to "Ondoy". A fast learner , in the last two years of his life he had an e-reader,  therefore no danger of losing his collection to floods.
Two or three decades before the Lord of the Rings was made into a movie he was already immersed in the Hobbit's way (the House and the book). He was born in the Age of Aquarius and was a participant in the First Quarter Storm. A friend called him the "renaissance man".
He was a gun enthusiast.  He once made a rowdy drunken Korean come to his senses by simply whipping out his gun ala-Dirty Harry.
He tried for more than a year to build a yacht. He was downloading so much info on boat making our printer at the office almost conked out. Until the very end one officemate was asking if he was able to build one.
Joy always floored me with his outbursts of "confidences" that left me almost wanting to tear out my hair. I will always remember his face when he first told me of his discomfiture when the Philippines' most  popular actress once made a pass at him. (ha, ha )
I first met Joy while covering the Securities and Exchange of Commission, more than a generation ago. He was with the Daily Express then, at the time the top newspaper,  I was with Times Journal.  He later transferred to Times Journal while I took almost a decade's leave to take care of my son. He moved to Malaya in June 1985 and become its business editor and subsequently rose to become Editor in Chief. In all these 28 years, there was only one time that Joy blew his top. The photographer never knew what hit him. His only comment was "ang sakit pala ng murang Tagalog."
When he spoke you simply had to listen to him.
For close to a quarter  of a century he wrote incisive editorials for the paper.
First and foremost, Joy was a quiet guy, but he knew his craft. He was a wordsmith.
He hardly said a word in the office, head bent down, he was focused on his craft.  That was his legacy to us.  Dedication to his craft. Focus to his craft.
He was a good friend and damn good journalist. We will miss him.
REMEMBERING JOY
By ELLEN TORDESILLAS
MANY years ago, a Quezon City policeman went to the Malaya office, then on Timog st., Quezon City   to serve arrest warrants on the editors.
The arrest warrants were in connection with a libel case over a story that happened in Dumaguete City written by Joey Salgado, now the media officer of Vice President Jejomar Binay. When the prosecutor decided to file the information, Malaya's lawyer in Dumaguete was abroad. Thus, Malaya's editors didn't know about the case.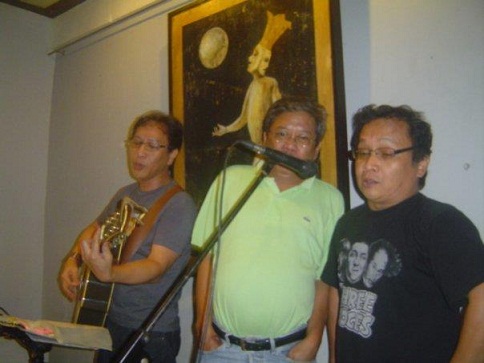 Armed with the arrest warrants for Joy de los Reyes, managing editor, and Yvonne Chua, news editor, the police entered Malaya's editorial room looking for two female persons. Only Joy and Yvonne were at the desk at that time. They got Yvonne, who posted bail at the Quezon City Hall, after the regulatory picture-taking and finger-printing. The police didn't bother with the male editor at the desk, who kept on working quietly.
Joy, on his own, went to the court at the Quezon City Hall and posted bail the next day.
Aside from gender confusion because of his name (how many men do you know are named "Joy"?), the incident underscored Joy's low-key personality. He did not have the air and swagger of newsroom divas.
Joy's superior intellect and deep understanding of issues, past and current, were behind Malaya's   editorials that reflected his liberal activism.
He was a sharp editor. Under Joy, you would feel confident that your article would be respected and improved.
It was a long, difficult battle that Joy had with cancer. In a way, he outlived the disease (that also claimed wife Jane in 2009) by more than a year. I thought that he finally put one over it, just like how he evaded arrest by the Quezon City police. It was not to be so.
Joy was a good person and he will be missed sorely.
Goodbye, Joy. We will miss your chicken liver pâté and oysters from Balete. That's in Aklan, where his mother lives. Say "Hello" to Jane for us.
MALAYA EDITOR DE LOS REYES, 'RENAISSANCE MAN' DIES; 59

By MONICA FERIA, Philippine Daily Inquirer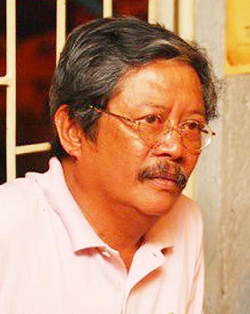 JOY Cortes de los Reyes, editor in chief of Malaya Business Insight, died Friday. He was 59.
De los Reyes, who battled cancer for more than a year, died at the Health Centrum Hospital in Roxas City.  His remains lie at his home town of Balete, Aklan, and will be flown to Manila on Tuesday for cremation. A wake will be held from Tuesday to Friday at the University of the Philippines Chapel in Diliman, Quezon City, according to his family.
His ashes will be interred on Saturday at the Columbary of Santo Niño de Cebu San Agustin Seminary on Fisheries St. Visayas Ave., Quezon City, beside those of his wife, Leticia "Jane" Subang, a journalist, too, who died in 2009. It was also in 2009 that he lost his house and most of his material possessions to Tropical Storm "Ondoy."
De los Reyes was born on Feb. 9, 1954, in Balete, Aklan. He came to Manila after high school in 1970, entering UP Diliman on a science scholarship and enrolling in Mathematics. He joined the Alpha Sigma fraternity. He was a student activist during the days now referred to as the First Quarter Storm. His studies were disrupted with the declaration of martial law in 1972.
He later surfaced and found work in the newspaper industry. He worked his way up from proofreader and editorial assistant at the entertainment desk of the now defunct Daily Express to business reporter at the Times Journal, eventually climbing to business editor of Malaya newspaper and finally its editor in chief.
Meanwhile, he had married and started a family.
Back to school
De los Reyes also worked his way back to school, finishing his philosophy degree at UP. He was in the process of completing his master's degree when it was discovered he had cancer in 2011.
Among friends, he was proud of his talent in sports—he was a golfer, a sharp shooter and a sailor. De los Reyes was also an art patron. He himself played the guitar and loved music. He was an active member of the Diliman Book Club. He was sociable and loved good wine. He also studied culinary arts and was into baking. He invested in agriculture and animal husbandry in his hometown. He kept up with his friends at after-work hangouts in Malate, among them "The Hobbit House" and "Oar House," as well as the Quezon City-based Thursday Club, a group of print and broadcast journalists.
"Joy, as Francis Bacon advised, was always true to himself. He was never false to others," texted Amado "Jake" Macasaet, publisher of Malaya.
"He was multitalented. His model was the renaissance man—a modern one," said Roberto Tango, associate professor at UP's philosophy department and a friend of De los Reyes.
"He was a decent man, and a good friend," added Interior Secretary Mar Roxas.
"His understanding of issues was deep, which made him a good editor, said Malaya columnist and top Internet blogger Ellen Tordesillas.
De los Reyes is survived by his mother, Ida Feleciano Cortes-de los Reyes, his siblings Gay, Rex, Lito, Leo and Vanessa Cortes de los Reyes and his children Antonio Isabelo, Aida Corazon and Jose Socrates.