Images courtesy of Archie Oclos/Instagram, UP Tau Rho Xi Fraternity, and APT10
Take it to the streets! has been the mantra of Archie Oclos (b. 1989) when it comes to artmaking for social change. Best known as a street artist, his public murals explore contemporary narratives and patterns of social injustice across the archipelago. Focusing on the invisible and forgotten members of society—the farmers, the indigenous people, the workers, and even the carabaos, he transmutes them into large-scale and site-specific murals to remind us of these socio-economic issues.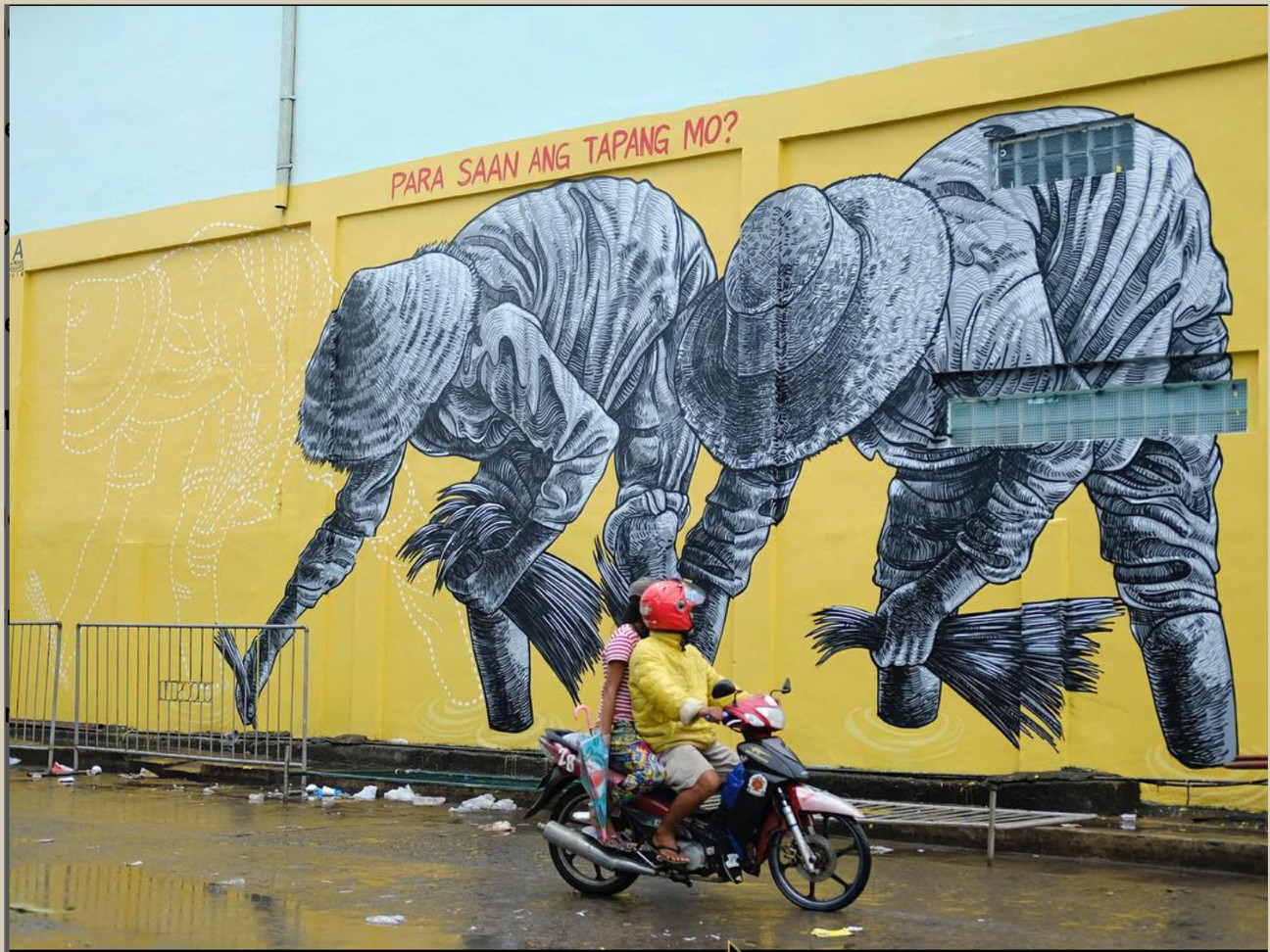 As part of his creative process, Oclos visits different places to know local communities and hear their stories and difficulties. His idea for Bakwit was born while conducting an art workshop in Surigao del Sur where he met young Lumads who drew their communities destroyed by government soldiers and their leaders killed.
The murals
Bakwit (2019). College of Saint Benilde's School of Design and Arts, Dominga St., Manila, an area full of privileged students that Oclos hopes could help the young evacuees.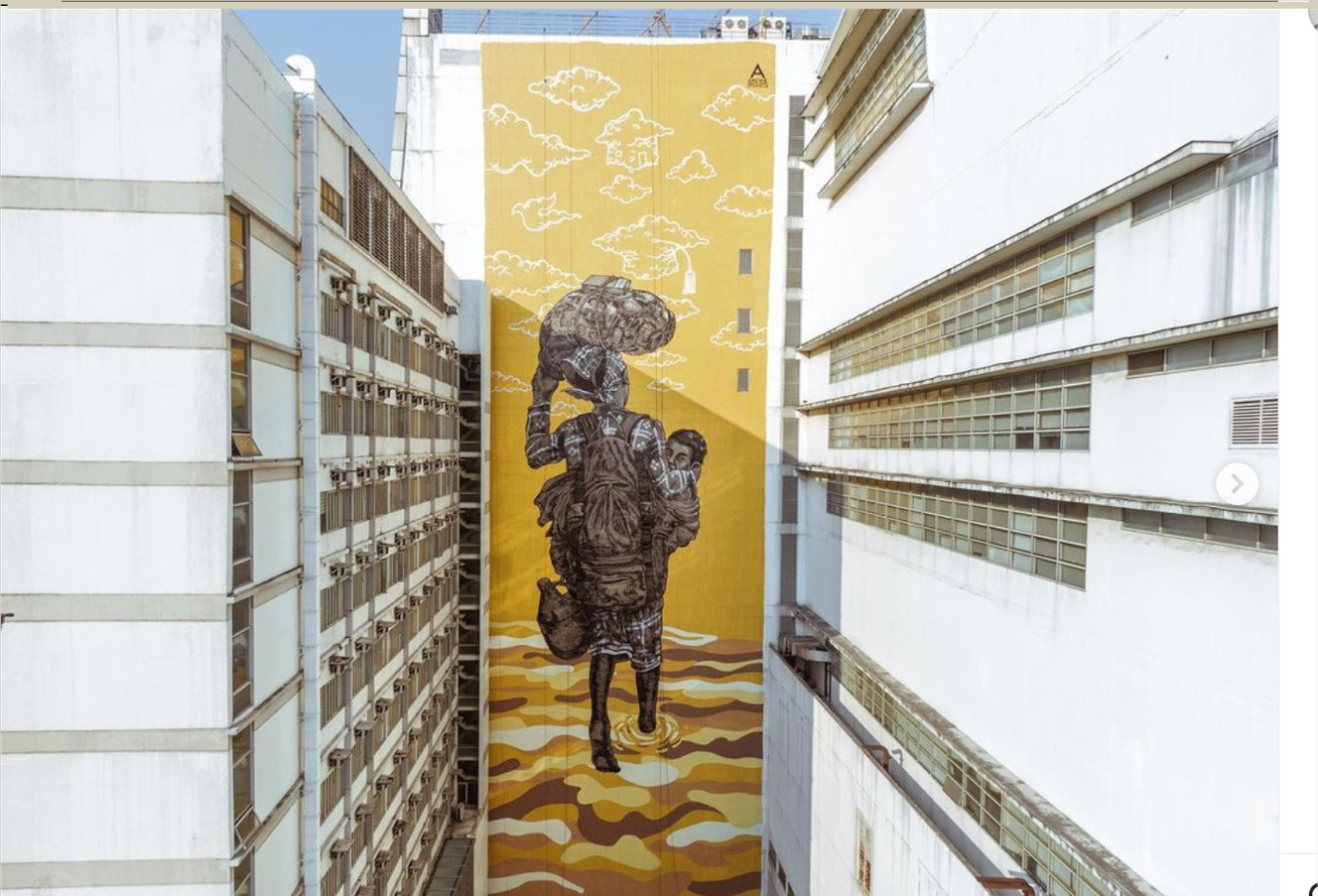 The term bakwit refers to evacuees or evacuation. Bakwit depicts a Lumad girl going down from a mountain, carrying a younger sister and their belongings: a bag full of clothes, water, and a sack of sweet potatoes and vegetables, and a few books. The clouds form a house, a dove, a graduation cap that represent dreams of education and peace for their community, says Oclos. Food, shelter, and safety, basic human needs, that the country could not even assure for the evacuees.
At 70 meters or as tall as a 14-storey building, the mural took 24 days to finish with Oclos working alone, using 80 gallons of paint and a hundred spray cans.
Ang Mamatay nang Dahil Sa Iyo (2019) CCP parking lot.  On a white background, it shows a dead person wrapped in a shroud, another tokhang victim. Oclos made 20,000 black line strokes that represent drug war victims, with its swirls and gradient of shades revealing its form. The killings continue.
Pula ang Kulay ng Saya (2017) Salvador St., Krus na Ligas, Quezon City. It shows an assortment of guns, in dark somber brown, red, and ocher, a reference to the senseless killings at the height of former president Duterte's drug war in 2017. Tokhang has entered Filipinos' vocabulary, stealthily, like the untimely deaths in the streets of Manila.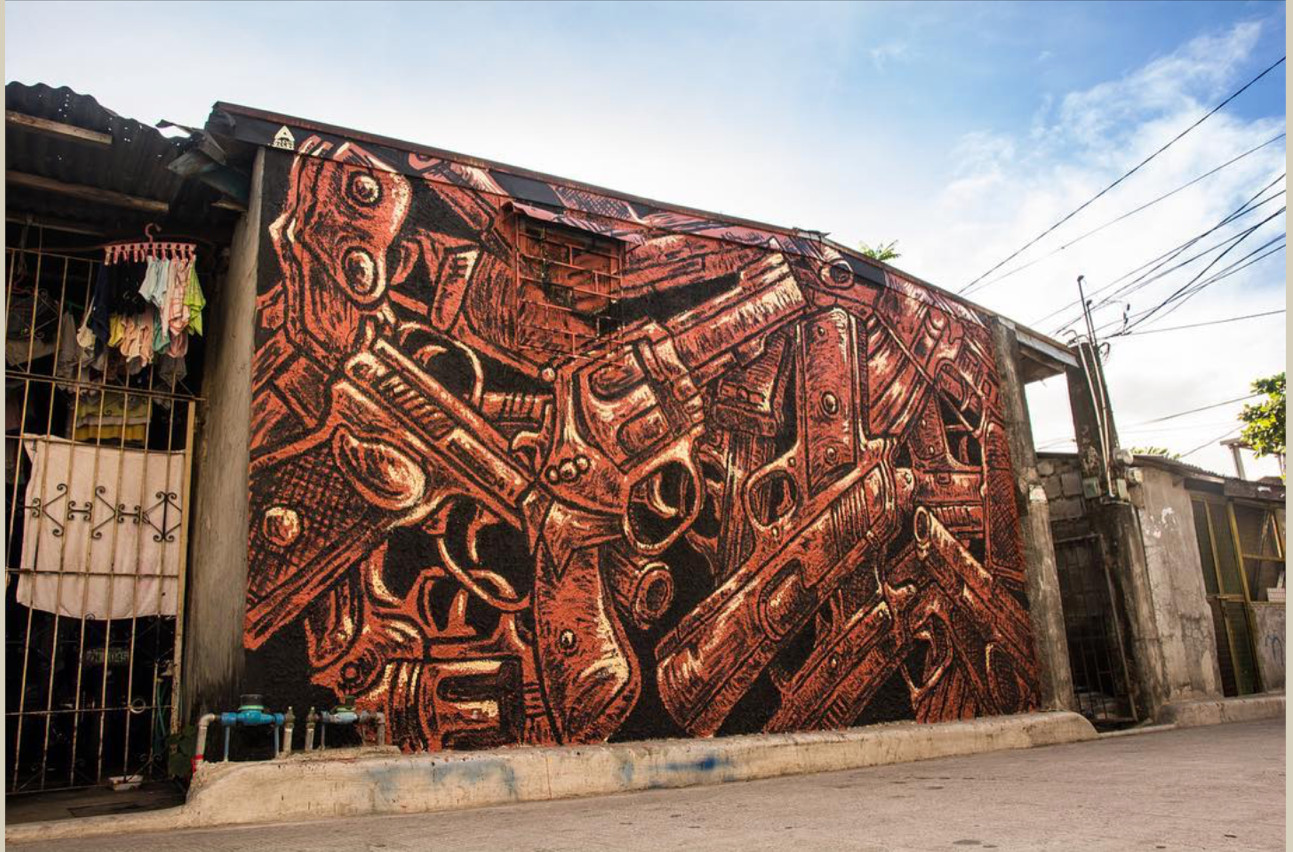 Bugas, Dili Bala! (2017) A. Kamasaga St., Marikina City. Four pairs of naked feet in black-and-white, hardened and calloused soles. Amidst the burden of physical labor and exposure to mud, rain, heat, they remain the poorest, our farmers and workers.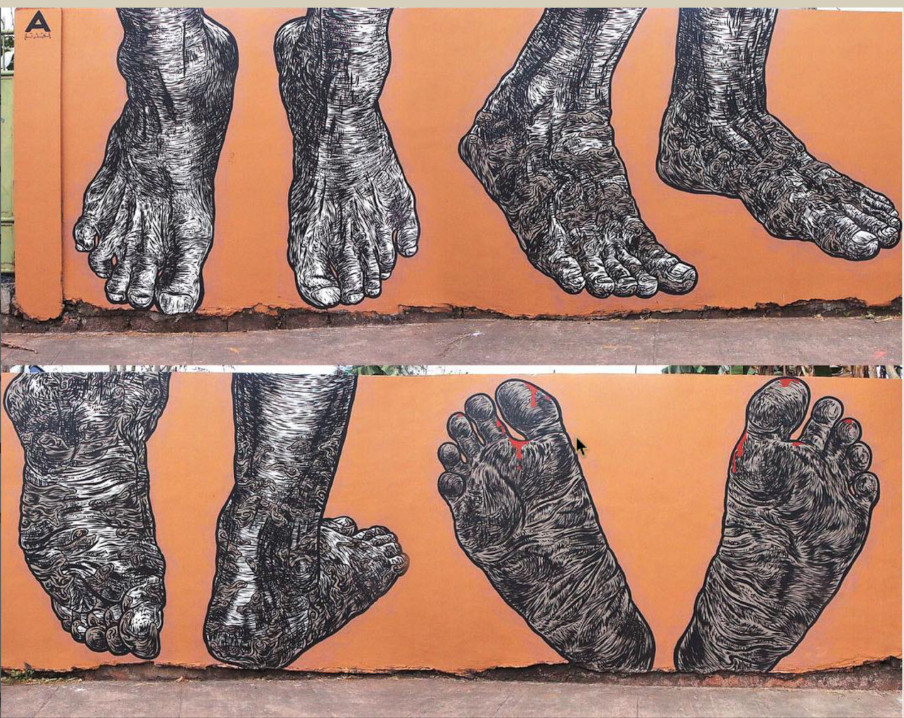 Suong, Sulong (2017) Zuzuarregui St., Commonwealth Avenue, Quezon City. Set in a yellow wall of an art gallery that stands out amidst the grimy gray walls, this mural shows ten carabao heads swimming in the deep flood waters, all determined to survive. One defiant carabao is going against the flow. They represent Filipinos who act, and believe that challenges could be overcome, says Oclos.
Tayo ang Gatilyo (2017) Jupiter St., Makati City. It depicts faces of indigenous persons with a red laser mark in their forehead, dealing with systemic persecution and displacement from their ancestral lands.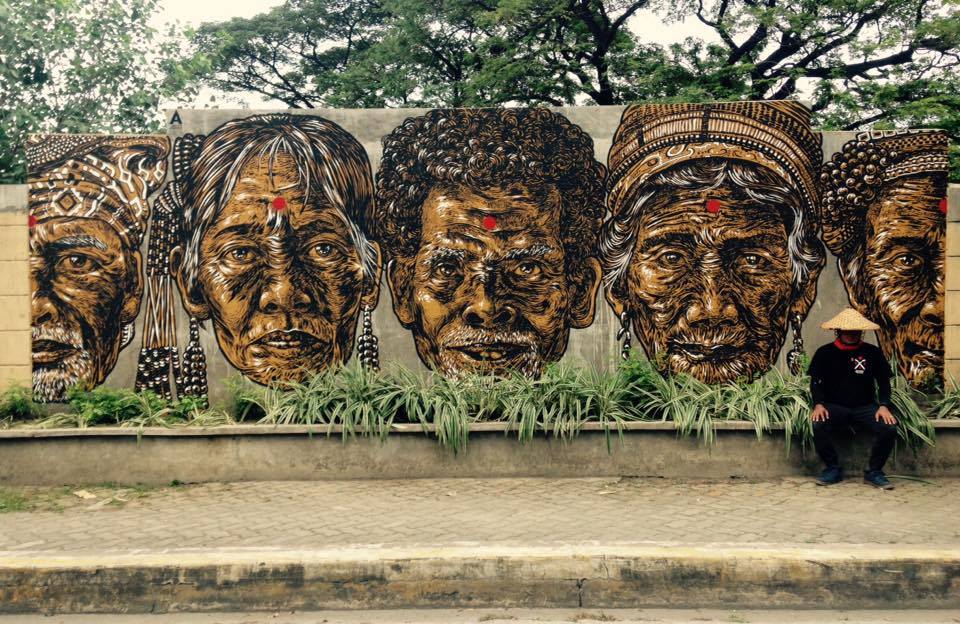 Featuring indigenous people, another one is National Treasures (2017) in SM Aura, features Whang Od, the Kalinga tattoo master and Lang Dulay (1928-2015), the T'nalak weaving master. Hear Them Pray (2018), UP College of Fine Arts, shows two indigenous persons, hands raised, offering their prayers.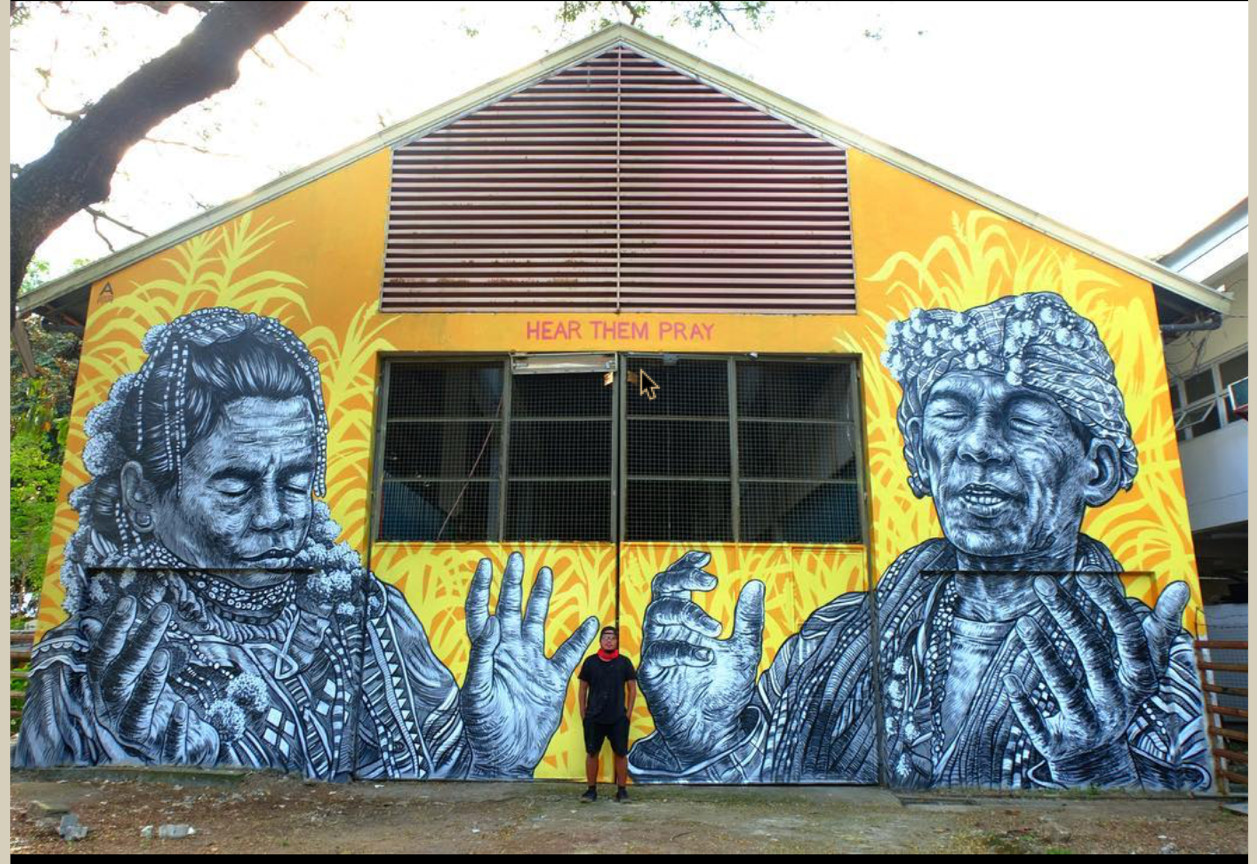 Aside from murals, Oclos also makes paintings suitable for a gallery space. An example is Immigrants of Own Nation (2021) a commissioned work for the 10th Asia Pacific Triennial of Contemporary Art (APT10) in Brisbane, Australia. It depicts a procession of those who have been uprooted or dispossessed in their own country— individuals from different cultural or religious group, in their traditional dress such as those from Muslim Mindanao or the Cordillera mountains, and others clutch the Infant Jesus.
Catching the public gaze
For murals, Oclos uses simple colors and heavy strokes using industrial paint, bold and defiant strokes, to get his message across. He works fast and can finish a painting within three hours. For him, the conceptualization of the work itself remains the most challenging part. Thinking about the idea of a work and transmitting its visual message directly to the public.
As he notes, it only takes three seconds to capture the attention of people passing by and hopefully, awaken their conscience into action.
The artist
A graduate of fine arts in UP Diliman, Archie Oclos is a recipient of the 2018 Thirteen Artists Awards (TAA) by the Cultural Center of the Philippines. He was one of three main winners of the 2019 Ateneo Art Awards, Fernando Zobel Prizes for Visual Art for Lupang Hinirang, a part of his work in the 2018 TAA that depicts a farmer family with their backs turned away and painted on NFA plastic rice bags.
He was honored by Forbes' 30 Under 30 twice, in 2017 and 2018.