By PABLO A. TARIMAN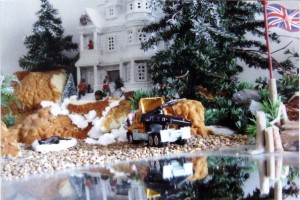 THERE are new figures in pianist Ingrid Santamaria's Christmas Village in her Biñan, Laguna vacation house.
They  are no less  than United States President Barack Obama with wife Michelle and daughters Malia and Sasha.
The "Obamas"  will surely  delight guests who have been enjoying Santamaria's  year-round Christmas tableau  the past several years.  Mounted on  rectangular tables that occupy the entire living room up to the second floor,  the Christmas village features a snow-covered community complete with houses, banks, hotels, church, school, library, grocery, train station, circus attractions and men going to a nearby forest to fetch firewood.
The Obama area has a private  airstrip. A presidential plane is shown with guards all over  the place. Beside the presidential guesthouse is a structure for the security escorts.
On the whole, Santamaria's Christmas village is a spectacular collection surrounded by Christmas decor, most of which were music-inspired. One would see singing angels and choirs on Christmas trees, and violins, pianos, harps and other instruments in several corners of the grand collection.
The Obama guesthouse, partly reflected in the lake, shows  a truck transporting a piano.
The idea of this Christmas village started 10 years ago. The pianist's good friend, landscaper Joey Stevens, executed it marvelously to the minutest detail.
"I really think of myself as a Christmas girl because every Christmas, I love to put out Christmas decor and I share them with family and friends," Santamaria said.
A few years back, her Cebu home was a living Christmas spectacle, courtesy of designer Paul Schroth. When she decided to reclaim her long-abandoned Biñan home, Stevens served as chief designer.
Her original collection of Christmas houses was amplified  by contributions from various sources, including her son Joey and daughter-in-law Cathy, who contributed unique pieces such as Mickey Mouse trains, ferris wheel, carousel and Santa's toy workshop. Cathy's mother, Teresa Palanca, also contributed her Christmas collection.
"The first time we worked on it took us a month because we had to start from scratch building the tables and finishing them with cloth skirtings and figuring out how to do the mountains, snow, lakes and tree," related Santamaria. "We had to figure  the  logical  'zoning' for  the residential/commercial/entertainment areas,  pathways, parks and playgrounds."
Before long, Stevens had finished a massive and extensive Christmas Village which was an instant hit among residents of San Jose Village in Biñan.
"Let's say that this is my second and third childhood now," Santamaria said as she admitted her piano practice played second fiddle to monitoring her Christmas fantasy come to life.
"I never really experienced how it was playing with toys as I was busy with piano practice even in my early youth. Apart from reliving my childhood, I want to give my grandchildren a beautiful memory," she said.
Christmas 2010 for the Santamarias will be the same as the previous years.  "As usual I will be with my grandchildren gathered at the Christmas Village house where for a few moments, we can each share dreams of living and being in a magical bubble where problems and worries are banned from intruding for the day."
Her most unforgettable Yule experience was the week after the Christmas of 1980 when she played  Saint-Saens' Concerto No. 2 with the Metro Manila Symphony Orchestra conducted by Japanese conductor Hiroshi Moriya.
"That was unforgettable with the grand  fireworks  that followed the concerto," she recalled.
The Biñan house is probably where Santamaria re-lives her love affair with the arts. Many years back, she performed at the  Hiroshima Music Festival and  in another  event  she shared the concert stage with Van Cliburn and Dame Margot Fonteyn and Rudolf Nureyev. A landmark performance was her  Philippine premiere of the People's Republic of China's  Yellow River Piano Concerto.
Santamaria's dream is to bring classical music to the remotest parts of the Philippines. She has spearheaded a 10-year Music Development Program that resulted in the creation of the Cebu Youth Symphony, later known as the Peace Philharmonic Philippines. Since 2001, she had undertaken an outreach educational program series with Maestro Reynaldo Reyes that had featured them in over 400 concerts in the Philippines and key cities abroad.
Every Christmas, Ingrid makes the same wish, which is "to own a truck that can carry two upright pianos and bring us to different towns and barrios where we can perform in the plaza or market and with that same truck doubling as concert stage."
In her Biñan home, it's President Obama by the driveway and First Lady Michelle Obama on the porch listening to Chopin's  Piano Concerto No. 1 as Santamaria  rehearses  for her Nov. 28 engagement with  Cebu's Peace Philharmonic  Orchestra   under the baton of Jeffrey Solares at the  Bacolod City Convention Center.