Several Facebook (FB) pages and netizens have spread a fake report attributed to a major media network that suggests Pasig City Mayor Victor "Vico" Sotto was an accessory to the alleged rape of the late actress Delia "Pepsi Paloma" Smith.
The circulating post was published on Feb. 19 and 20 and carries a screenshot of a YouTube video supposedly uploaded by ABS-CBN News, titled, "Vico sotto, kasabwat sa Pepsi Paloma Case (Vico Sotto, an accomplice in the Pepsi Paloma case)?"
Its thumbnail shows an image of the mayor next to the quote: "Kasalanan ng ama ay kasalanan din ng anak (The sin of the father is also the sin of the child)."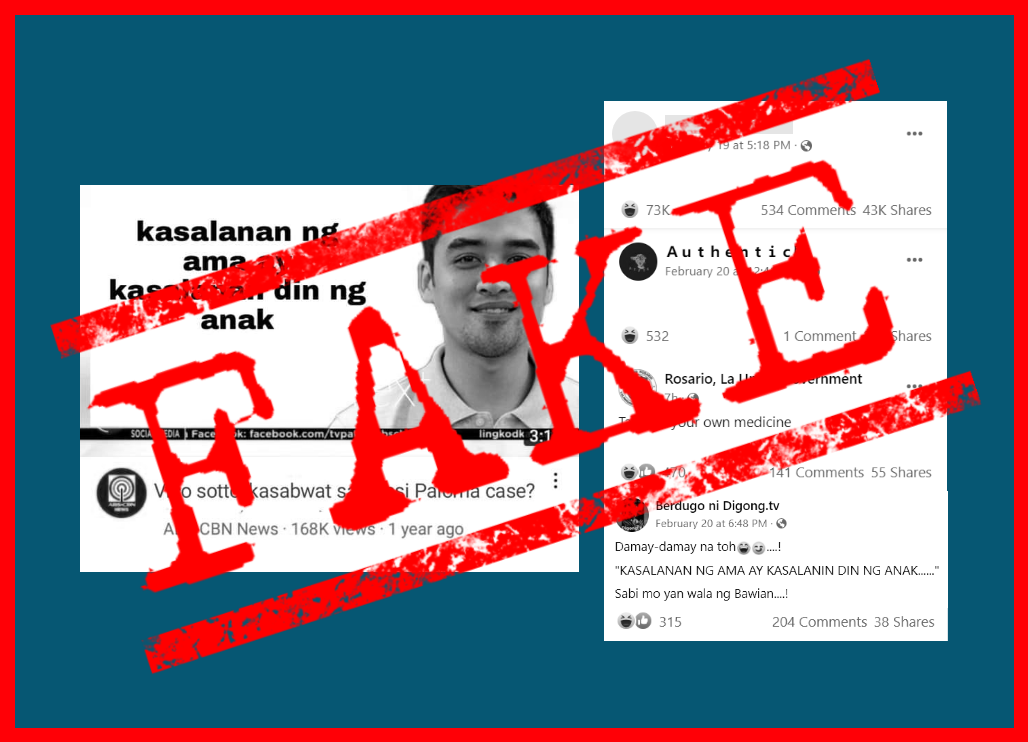 ABS-CBN News Digital's head of engagement and partnerships Arlene Burgos said in an email to VERA Files Fact Check on Feb. 22 that the graphic "did not come from ABS-CBN News."
"There was no such report from us," Burgos added.
The rape allegations of Smith emerged nearly seven years before Sotto was born. Smith accused Sotto's father, Vic, and fellow celebrities Joey De Leon and Ricardo "Richie D'Horsie" Reyes of rape in 1982, but did not to pursue the case in court. She was found dead in her apartment in 1985.
The fabricated graphic was posted four days after the young Sotto said in a Feb. 15 ABS-CBN interview that he will not meddle with national politics.
The fake graphic was posted in the FB group Pinoy Krazy Thumbnails II (created on July 20, 2021) and by the following FB pages: Authentic尉 (March 21, 2020), Rosario, La Union Government (May 27, 2019), Berdugo ni Digong.tv (April 22, 2020), Bullet (Sept. 3, 2017), and Dilawan Pahirap Sa Bayan (Oct. 3, 2021). It was also published by at least 4 FB netizens. Their posts have collectively garnered more than 76,000 reactions, 1,140 comments and 43,500 shares.
Have you seen any dubious claims, photos, memes, or online posts that you want us to verify? Fill out this reader request form or send it to 'VERA, the truth bot' on Viber.
(Editor's Note: VERA Files has partnered with Facebook to fight the spread of disinformation. Find out more about this partnership and our methodology.)