Department of Justice (DOJ) secretary Vitaliano Aguirre II recently criticized Commission on Human Rights (CHR) chair Jose Luis Martin Gascon for urging the DOJ to file charges against policemen who admitted to killing drug suspects who allegedly resisted arrest.

STATEMENT:
Secretary Aguirre hit back at Gascon, questioning why the CHR has not filed any cases.
"Huwag na niya ako pagsabihan, wala naman siyang alam; hindi siya abugado. Bakit hindi sila (CHR) mag-file ng kaso? Sila may karapatan mag-file ng kaso. Kahit siya, yung office niya, may karapatan mag-file ng kaso pero kahit isang kaso wala." (He shouldn't lecture me. He knows nothing; he's not a lawyer. Why don't they (CHR) file a case? They have the right to file a case. Even he, his office has the right to file a case but they haven't filed a single one.)
Sources:
"Aguirre blasts CHR head: Get your figures right" http://bit.ly/2hamn2V
"Aguirre blasts CHR chair for comparing number of drug killings to Martial Law deaths" http://bit.ly/2h0gR2V
"Aguirre slams CHR chair for comparing drug killings to martial law" http://bit.ly/2hlsp3L
Aguirre's statement begs two questions: Does the CHR have the mandate to file cases? Has the CHR not "filed" any case against erring policemen?
FACT:
No, the CHR cannot file cases.
It is an independent agency created under the Constitution as a fact-finding and recommendatory body.
Unlike the Department of Justice, which serves as the government's prosecution arm and administers the government's criminal justice system, the CHR can only assist complainants of human rights violations.
The CHR, on its own, can also investigate, make recommendations and forward its findings to pertinent government agencies for prosecution, a duty which it has in fact done based on records.
CHR has provided VERA Files a document showing it has assisted in the filing of drug-related extrajudicial killing cases with various provincial and city prosecutor's offices under the DOJ since July 1.
According to the document, CHR assisted in four of the eight cases filed. One case, that of Renato and JP Bertes, the father and son killed inside a Pasay police station in July, has been recommended for filing of additional criminal and administrative cases at the Office of the Ombudsman.
All eight cases are being monitored and investigated by the CHR for human rights violations. These cases are lodged at the provincial or city prosecutor's offices in Pangasinan, Cagayan, Quezon, Camarines Norte, Davao del Norte, Zamboanga City and Pasay City.
The data show six of the killings happened during police operations. One killing was committed by suspected vigilantes, and one was labeled "death in custody" with three Chinese inmates allegedly murdered by their co-inmates in Davao del Norte.Gascon, speaking at a press conference last week, reiterated that the burden of enforcing the law is with the whole state.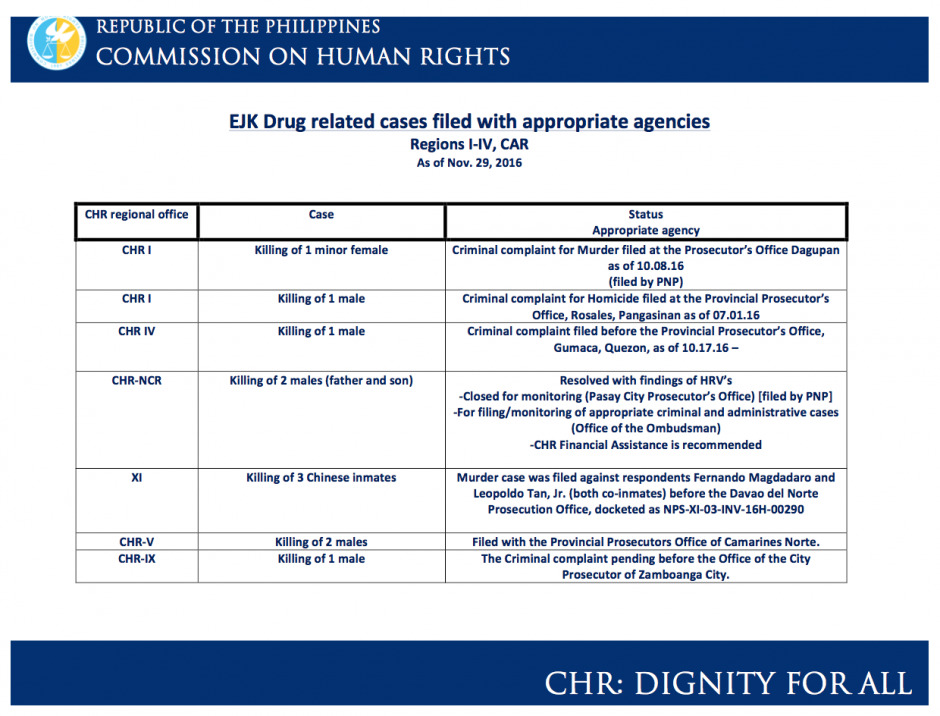 "You (CHR) make a finding and make recommendations. But the Department of Justice can act independent of the CHR. And that is why our call is, they just need to follow the established policy," Gascon said.
He said that whenever a police admits to killing because a suspect resists arrest, the officer is no longer presumed to be innocent, and as a standard operating procedure, charges need to be filed by the DOJ.
"Because if they wait for every single fact-finding investigation of CHR, it will take a while, because we just don't have the resources that they have."
"Ilan po kami? 600. Ilan po ang prosecutor sa DOJ? Ilan po ang pulis na nasa CIDG? Ilan po ang nasa crime lab? (How many are we at the CHR? 600. How many prosecutors are there in DOJ? How many police are members of the CIDG? How many are with the crime lab?) They have all the resources to undertake their own independent investigations and pursue justice and accountability," Gascon said.
Incidentally, Secretary Aguirre also made a mistake in saying Gascon is not a lawyer. Gascon passed the bar in 1996 and was entered into the roll of attorneys in 1999.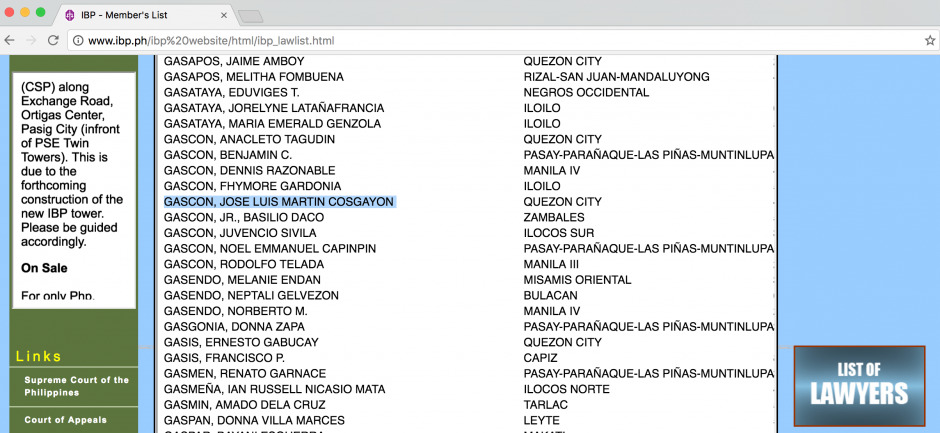 In his profile on the CHR website, he graduated with a Bachelor of Laws (LLB) degree from the University of the Philippines, and a Master of Law (LLM) degree specializing in International Law (Human Rights, Law of Peace, and Settlement of International Disputes) from Cambridge University in the United Kingdom. He is a member of the Quezon City Chapter of the Integrated Bar of the Philippines.
Additional Sources:
Guidelines and procedures in the investigation of human rights violations and abuses and the provision of CHR assistance:
https://www.scribd.com/document/334449447/Guidelin…
IBP List of Lawyers:
http://www.ibp.ph/ibp website/html/ibp_lawlist.h…
Commission on Human Rights: EJK Drug related cases filed with appropriate agencies, Regions I-IV, CAR as of Nov. 29, 2016
https://www.scribd.com/document/334449648/EJK-Case…