A video posted on Facebook (FB) and YouTube falsely claimed the dismissal of the case against suspended Bureau of Corrections (BuCor) chief Gerald Bantag regarding the death of broadcaster Percival "Percy Lapid" Mabasa.
Posted on Nov. 21, the video also falsely claimed in its headline that former BuCor deputy senior officer Ricardo Zulueta was named the real mastermind behind Lapid's murder. 
"JUST IN: LAGOT NA! ZULUETA BUKING NA TUNAY MASTERMIND! BANTAG DISMISS CASE NA! REMULLA NA-SHOCKED (Just in: Oh no! Zulueta revealed as the real mastermind! Bantag's case dismissed! [Justice Secretary Jesus Crispin "Boying"] Remulla was shocked)," the video's headline read.  
These claims are false. Bantag is still under investigation, and no court has declared Zulueta as the sole mastermind behind the crime. 
On Nov. 7, the DOJ named Bantag and Zulueta as "principals" of the Lapid slay case. Both received orders to attend a preliminary hearing on Nov. 23 but did not appear. 
The erroneous eight-minute video showed part of the 77-minute talk show episode on Nov. 16 of the former broadcaster Jay Sonza. He commented on investigation lapses and the unsuccessful sending of subpoenas to Bantag but did not say anything supporting the video's claims in its headline.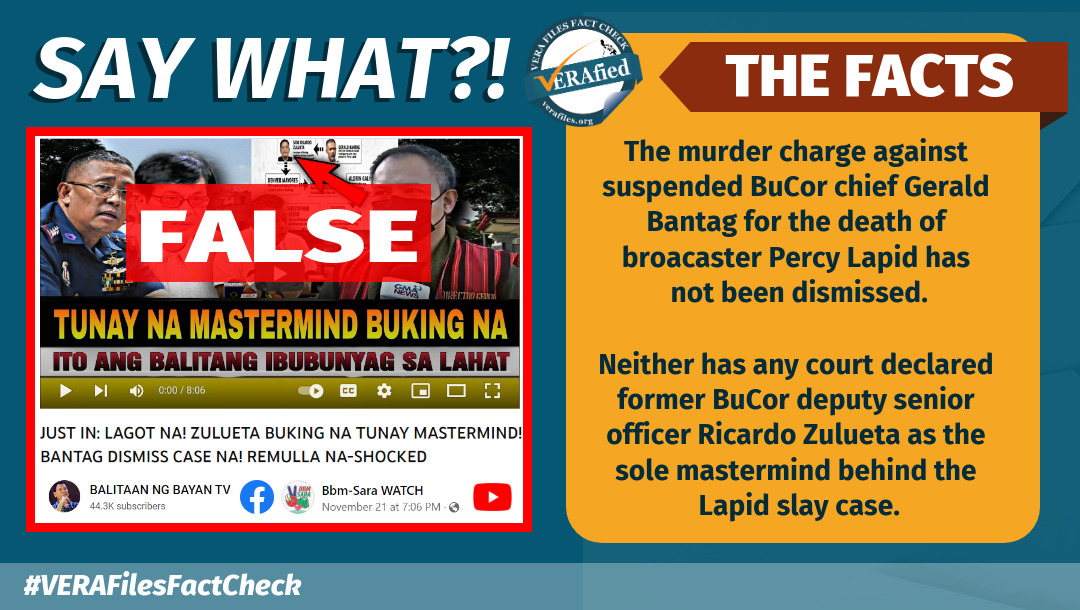 The video with the erroneous headline appeared two days before the Nov. 23 preliminary hearing on the Lapid murder investigation.
FB page Bbm-Sara WATCH (created on April 3) and YouTube channel BALITAAN NG BAYAN TV YouTube channel (created on July 27, 2020) published the video, garnering a combined total of 5,100 reactions, 831 comments, and 116,000 views.
Have you seen any dubious claims, photos, memes, or online posts that you want us to verify? Fill out this reader request form or send it to 'VERA, the truth bot' on Viber.
(Editor's Note: VERA Files has partnered with Facebook to fight the spread of disinformation. Find out more about this partnership and our methodology.)