A recipe for an "effective home remedy" against cough and the common cold is currently making the rounds on Facebook (FB). Circulating as early as September 2020, the FB posts claim a mixture of calamansi, Snow Bear menthol candy, hot water, and an optional pinch of sugar is a "surefire" way to remove one's cough and cold.
Health experts told VERA Files Fact Check that there are no scientific studies to back the efficacy of the concoction and instead recommended other home remedies backed by science.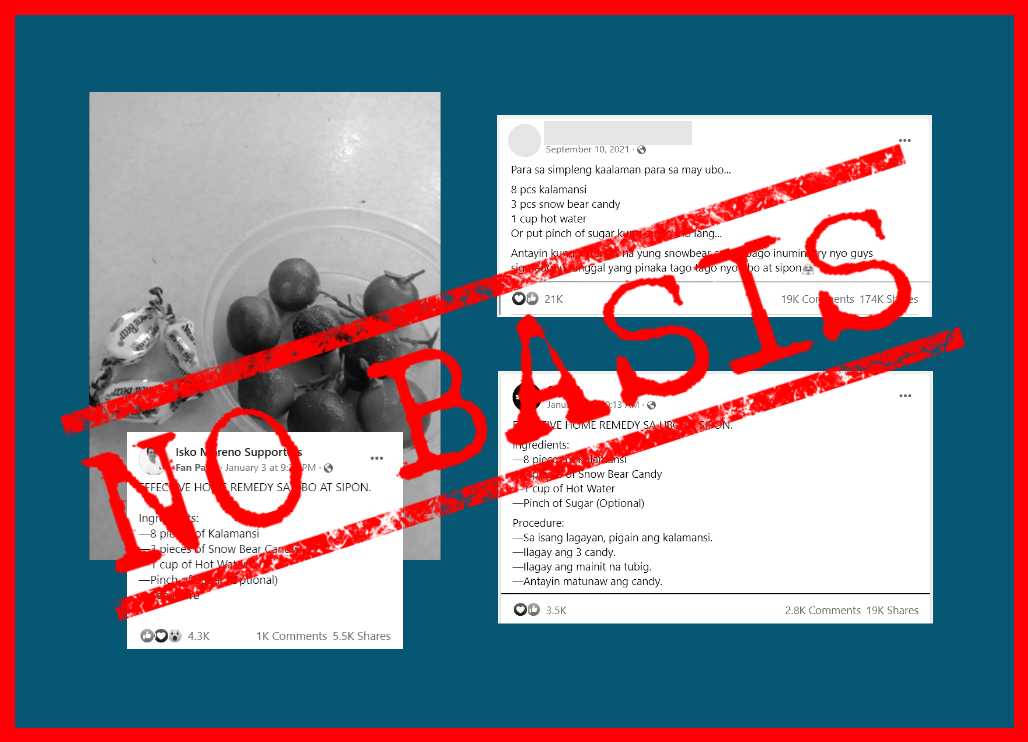 "We are not aware of any study conducted that the mixture is effective for symptoms of cough and the common cold," said Dr. Francis Vicente Ras, head of the social advocacy and training division of the Philippine Institute of Traditional and Alternative Health Care.
However, Ras said calamansi, rich in vitamin C and other minerals, may strengthen the immune system. He added that people who have these symptoms might be taking other remedies alongside the mixture and are mistakenly linking their recovery with the online recipe.
Dr. Cecilia Maramba-Lazarte, director of the Institute of Herbal Medicine under the National Institutes of Health at the University of the Philippines Manila, said she would not recommend the circulating online remedy because of its high sugar content.
Should there be any benefits from the remedy, Maramba-Lazarte said it might be from the vitamin C and the menthol from the candy.
"I would recommend Lagundi more than this concoction for cough and colds and mild COVID," she said, adding that local researchers developed this to address cough and asthma and investigated it for use against COVID-19.
The online recipe gained traction during this flu season and amid the recent surge in COVID-19 infections.
Maramba-Lazarte said netizens may be inclined to try remedies that they see on social media in hopes of looking for a quick fix amid the current pandemic. "There is so much misinformation on social media and it is difficult for the layperson to discern which is true and which is not true," she noted.
The recipe has been published by several FB accounts, including the pages Aksyon Partido, Even Demata, Hook PH Surprise, Isko Moreno Supporters, Negros Oriental Philippines, SHUTA and a netizen. The posts have collectively garnered more than 36,000 reactions, 26,000 comments, and 236,000 shares.
Have you seen any dubious claims, photos, memes, or online posts that you want us to verify? Fill out this reader request form or send it to 'VERA, the truth bot' on Viber.
(Editor's Note: VERA Files has partnered with Facebook to fight the spread of disinformation. Find out more about this partnership and our methodology.)