A YouTube video featured a deep-water platform and falsely claimed it to be a mega project between Japan and the Philippines. Not true. There is no such joint venture with Japan, and the featured photo is Shell's largest floating platform in the Gulf of Mexico. 
Posted on Nov. 4, the thumbnail carried the headline: "DUMATING NASA (sic) PINAS PINAKADAMBUHALANG PROJECT NI PBBM ([IT HAS] ARRIVED IN THE PHILIPPINES, THE BIGGEST PROJECT OF PBBM)."
It bore an image of a deep-water platform with three Philippine flags on a cargo ship. Photos of Japanese Prime Minister Fumio Kishida and President Ferdinand Marcos were also juxtaposed. The texts: "Para sa Pilipinas (For the Philippines)!" and "Salamat Japan (Thank you Japan)" were added. 
The platform in the photo is not a project of the administration and Japan. It is Shell's Appomattox, a deep-water oil and gas development and their largest floating platform in the Gulf of Mexico.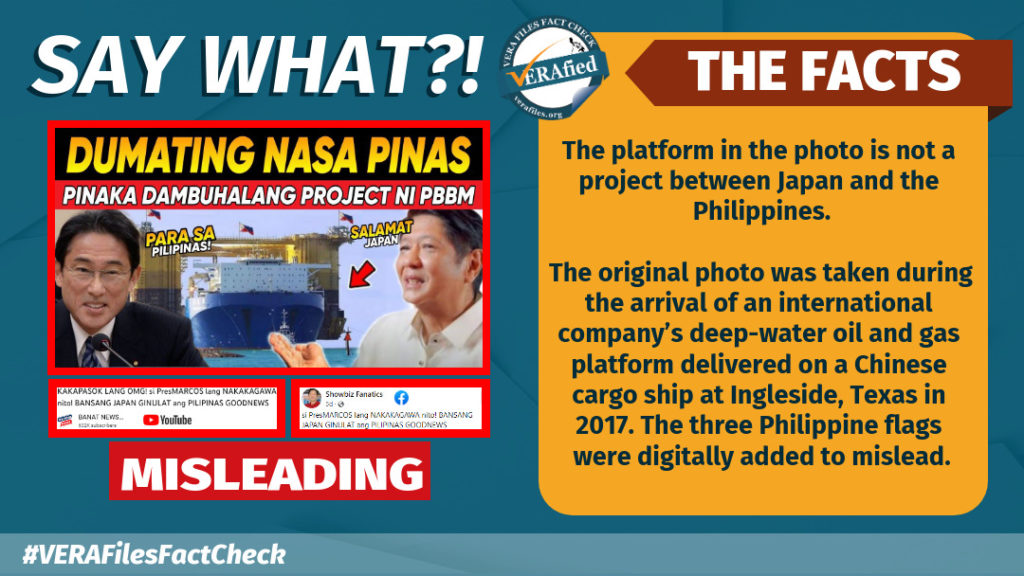 The original photo was from Shell's Nov. 20, 2017 video of Appomattox hull's arrival via Chinese cargo ship at Ingleside, Texas. The three Philippine flags were added digitally to the image.
In an email to VERA Files, Department of Energy's (DOE) Energy Resource Development Bureau Director Lawyer Cesar Dela Fuente confirmed what is stated in the Philippine Energy Plan 2020-2040.
"We would like to inform you that the Department of Energy (DOE) has no existing Upstream Petroleum Deep-Water Platform jointly operated or developed with Japan and we are not aware if there is a deal to do a joint venture between Philippines and Japan," Dela Fuente said.
Dela Fuente added that the Philippines only has two existing operational Offshore Oil and Gas Facilities located in Palawan operated by Shell Philippines Exploration B.V. and NPG Pty. Ltd. 
So far, the Philippines has deep water platforms off the coast of Palawan, the Malampaya Deep Water Gas-to-Power project. It began operating with a first offshore platform in 2001. A second platform started in 2015 – "the first to be designed and built in the country – to help maintain vital supplies of energy for years to come." 
Malampaya gas field is not a joint venture with Japan. It is a public-private partnership under the Department of Energy and developed and operated by SPEX, on behalf of joint venture partners Chevron Malampaya LLC and the Philippine National Oil Company-Exploration Corporation.
The erroneous video used audio clips of a news report about the Nov. 3 Malacañang courtesy call of Mori Masafumi, the Special Advisor to Japanese Prime Minister Fumio Kishida. But there was no discussion on a deal for the joint development of a deep-water platform.
During the meeting, Marcos said he plans to "improve the two countries' cooperation on climate change mitigation, maritime security, agriculture and food security, and infrastructure development."
It also showed Radio Television Malacañang's clips of the signing of two contract packages for the 33-km Metro Manila Subway Project (MMSP) on Nov. 3.
The video uploaded by the previously fact-checked YouTube channel Banat News TV (created on Dec. 26, 2015) garnered 328,085 views.
Several netizens reposted the video link on Facebook (FB). FB page Showbiz Fanatics (July 17, 2022) also reposted the video with the misleading thumbnail getting 98 reactions, 25 comments and 1,100 views.
YouTube channel XCREW's (March 18, 2014) reaction video with a slightly edited version of the thumbnail also garnered 69,992 views.
Have you seen any dubious claims, photos, memes, or online posts that you want us to verify? Fill out this reader request form or send it to 'VERA, the truth bot' on Viber.
(Editor's Note: VERA Files has partnered with Facebook to fight the spread of disinformation. Find out more about this partnership and our methodology.)